Smoked Salmon, Cream Cheese, and Eltana Bagels
As I stated before, after leaving Pike's Place we ended up with a plethora of salmon. I think by far the best tasting find at Pike's Place is the smoked salmon from Pike's Place Fish Company. We always go for the free sample whenever we stop by the market, even if we aren't planning on buying fish. However, the sample always makes us want to purchase. It is that melt in your mouth good. Great marketing technique.
Dustin didn't know I was planning on bringing some home, so I think he was pleasantly surprised when I announced we'd be having smoked salmon with cream cheese on the Eltana bagels we already had in the freezer. Although sweet breakfasts are my favorite, I have to imagine that if I were to pick a savory breakfast to eat every day this would be it.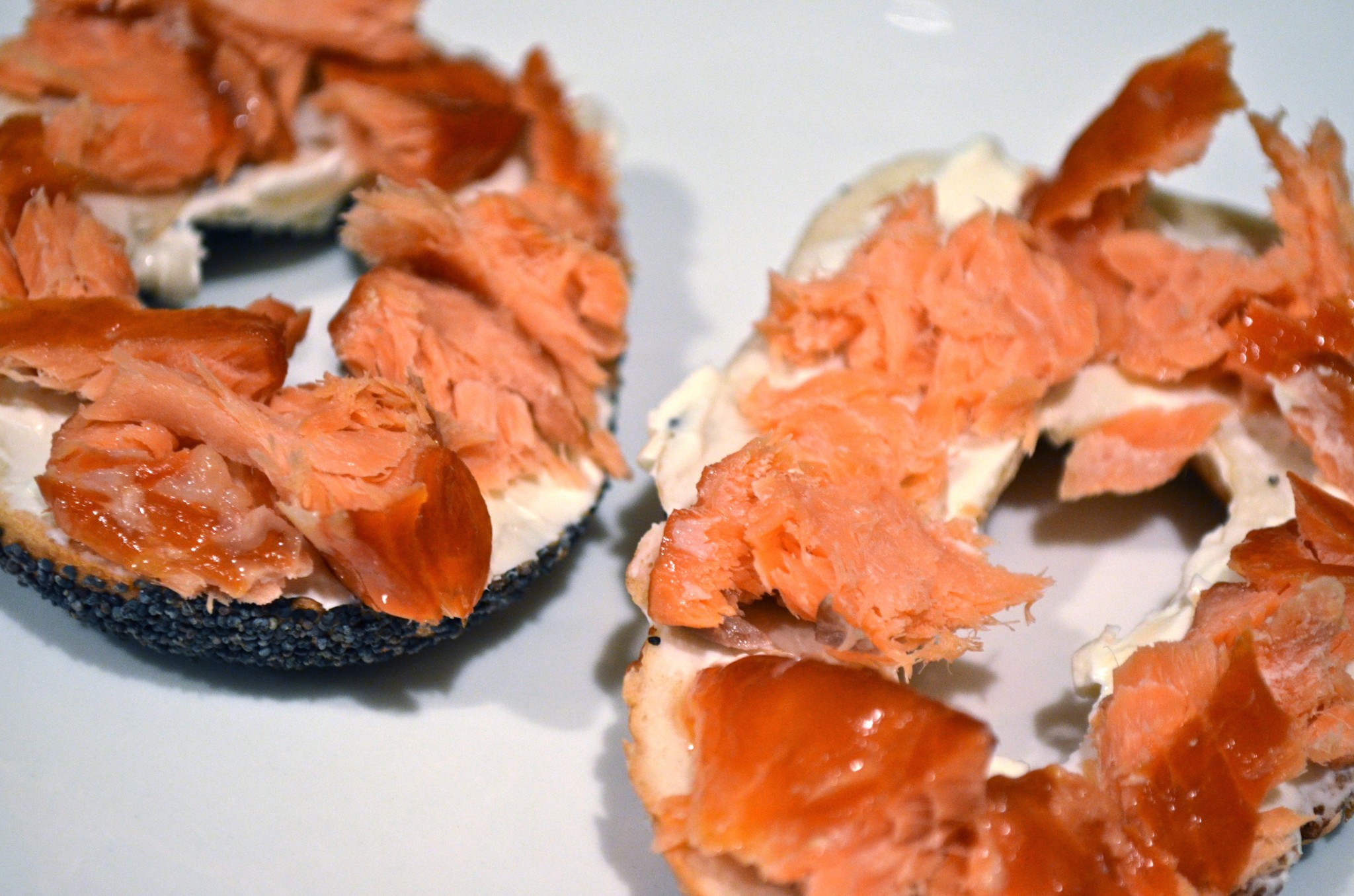 We discovered Eltana from the Seattle Metropolitan magazine when we visited last Spring, and anytime we make it near Capitol Hill, we make it a point to stop for a baker's dozen, which we freeze and proceed to eat over the next few weeks. The bagels are smaller than traditional bagels (I believe these are considered Montreal style bagels), and they have a smokier and slightly sweeter taste. Best of all if you get a sesame bagel, BOTH sides have sesame seeds. If you get a poppy seed bagel, BOTH sides have poppy seeds. I think you get my drift... Coating both sides is great if you are sharing a bagel because you don't have to argue over who gets the better topping-covered side, and if you are saving half for tomorrow you get the pleasure of the topping-covered side both days. No putting your emotional intelligence to work! The only con to Eltana is it's not closer to home, so we can't walk there and get fresh bagels everyday. But that's probably a good thing or else Dustin, being the bagel fiend that he is, would probably want to walk there every morning!
Eltana + fresh smoked salmon from Pike's Place = :) :) :)
We couldn't be happier!