Flavors of Fall Pizza
One of the most different things about living in the Northwest is experiencing consistent fall weather.  South Texas may get a couple days of fall weather, but nothing like what is happening here. I don't care for the crisp and dreary weather, except it does give me good reason to experiment with fall flavors that I haven't eaten very much.
One particular fall flavor I love is the sweet and nutty butternut squash. Butternut squash is one of those ingredients you just don't see on the menu very often in Houston, but it's absolutely delicious and fits the weather here perfectly.
Something I have been wanting to try for awhile is incorporating the flavor of butternut squash into a pizza dish. I thought butternut squash would go really well with a creamy goat cheese and a strong Gorgonzola. I wanted to stay away from a tomato-based pizza so the flavor of the toppings would really stand out, so I stuck with a simple olive oil base.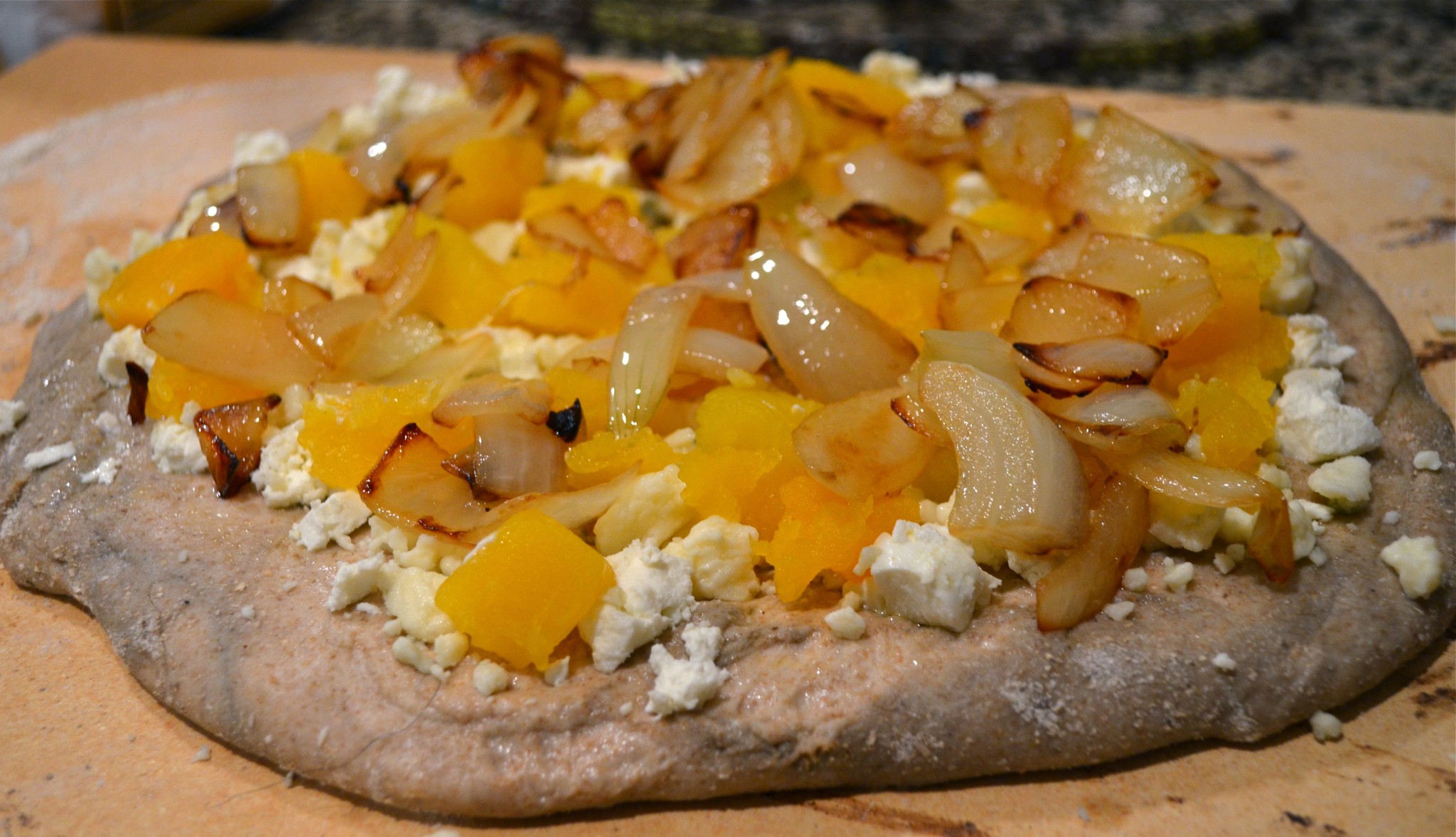 I was unsure of what other flavors might go well with the butternut squash. After some research I discovered caramelized onions were a common ingredient on similar pizzas, so I caramelized some sweet Walla Walla onions in olive oil. The other main ingredient that seemed to be a theme on butternut squash pizzas was sage, but, as we didn't have any sage, to top off my pizza I sprinkled some pizza seasoning to balance the sweetness of the onions and butternut squash with some savory flavorings. Another ingredient Dustin suggested after the fact for the pizza is Yukon gold potatoes, inspired by a pizza we tried at an upscale pizza joint in Seattle, Serious Pie. I think the potatoes would go nicely on the pizza along with a little bit of rosemary.
When I first mentioned this idea for dinner, Dustin seemed a little unsure of what to expect taste wise. I knew we liked all of the flavors separately, but we didn't know how they would mesh.
But things turned out for the best. There wasn't a bite left on the pan. I can't wait to try again and add the potatoes!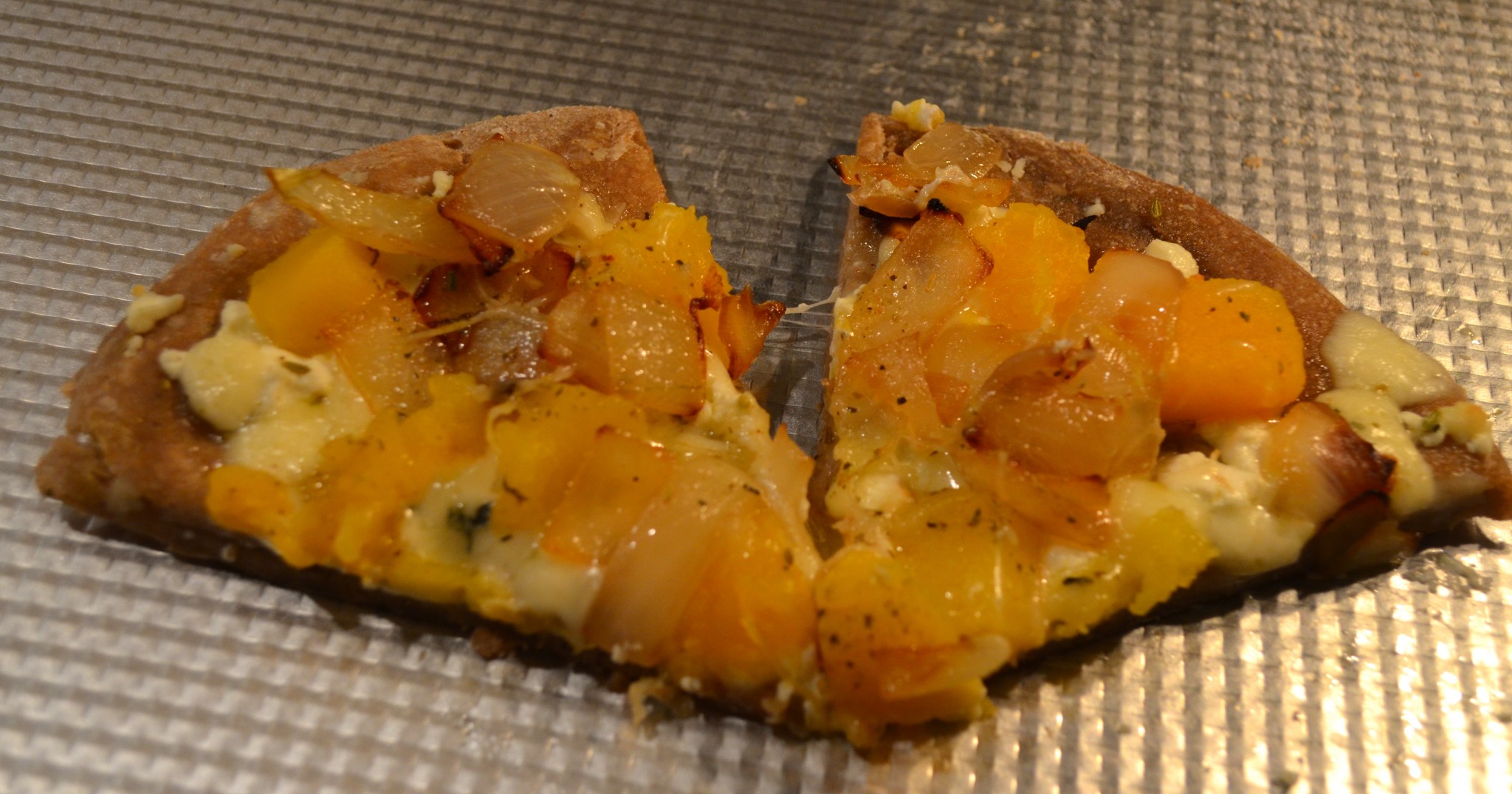 Butternut Squash Pizza
Homemade or store bough pizza dough (we used premade from Trader Joe's)
Olive Oil
Crumbled goat cheese
Crumbled gorgonzola cheese
Sweet onion
Butternut squash (I used frozen so it was already cooked)
Pizza seasoning
Yukon Gold potatoes (optional)
Rosemary (optional)
Parmesan cheese (optional)
Caramelize chopped onion over medium heat until they soft and slippery, making sure not to burn them. Prepare or cook butternut squash.
Preheat oven to 450. Roll out dough according to instructions.
Brush the dough with a thin layer of olive oil.
Sprinkle goat cheese and Gorgonzola.
Top with butternut squash, caramelized onion, and potatoes.
Sprinkle with seasonings.
Top with a tad of Parmesan cheese to lend a more authentic pizza flavor. Bake in the oven for 10-12 minutes. Enjoy!
The only way to improve upon this meal is with a rich and tasty dessert. I had been craving buttercream frosting for awhile, but I didn't want to make any because I know I would be on a constant sugar high. We tried getting cupcakes one day last week at Trophy Cupcakes right by us, but the cupcake place was sold out of all of the interesting flavors. Dustin, being the sweetheart that he is, decided to surprise me on his way home from work with snickerdoodle and a caramel apple cupcakes to split for dessert (and a pineapple upside down cupcake which we polished off the next morning for breakfast). The caramel apple cake was sweet and moist, and the snickerdoodle cupcake had a huge layer of the lightest, sweetest cinnamon frosting I've ever had. Delicious!