Pumpkin and Chorizo Pizza
I think I have found the perfect use for leftover cans of pumpkin. It's after Thanksgiving, and everybody is sick of pumpkin pie and other dessert containing the word pumpkin. Using pumpkin in a savory dish, spiced with paprika and garlic rather than cinnamon and nutmeg, was a really fun way to use up pumpkin puree, allowing me to focus on Christmastime goodies for my baking desires.
You could say we made a different sort of pumpkin pie— as in a pizza pie!
Upon seeing this recipe, I was immediately struck by the idea of using pumpkin puree in place of tomato to make pizza sauce. Something just clicked as I read it, and I was so excited to try it out for myself. Dustin thought it was weird. Before he tried it. I'm pretty sure his brain was focusing on the overabundance of sweetened pumpkin recipes, so it couldn't fathom the flavor of pumpkin as the base of something more hearty. Following the taste test, he was won over by the uniqueness of it all.
This meal took a lot of coordination, and it definitely helped having two sets of hands in the kitchen. There were lots of things going on— making the pizza dough from scratch, making the sauce, and cooking up the chorizo.
First, we heated the oven to 425°. While the oven was warming up, I cut a link of chorizo sausage into circles to resemble pepperonis and cooked them with pepper in a little bit of olive oil over medium heat. I also made the pumpkin sauce on the stovetop, combing a cup of pumpkin puree with about a cup of water to thin it out, along with a couple of chopped scallions, three cloves of crushed garlic, salt, pepper, dried sage and smoked paprika to taste. In the meantime, Dustin was making our standard homemade pizza dough that turned out really, really well this time. It wasn't sticky at all, and it was super easy to roll out. Maybe it will be his job to make the pizza dough from here on out.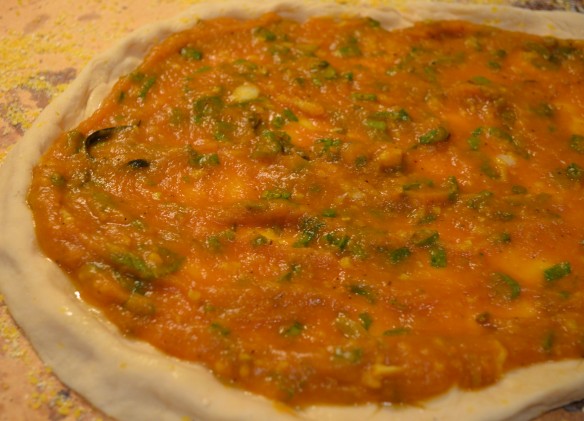 We made the pizza directly on our stone, coating it with cornmeal, as the instructions recommended when we bought it. This trick really helped us remove our pizza from the stone— definitely a good idea. We covered the dough with the pumpkin sauce then placed small slices of fontina cheese, sliced onion, and the cooked chorizo on top. We finished the pizza pie off with some pizza seasoning and a little more dried sage then placed it in the oven for 12 minutes.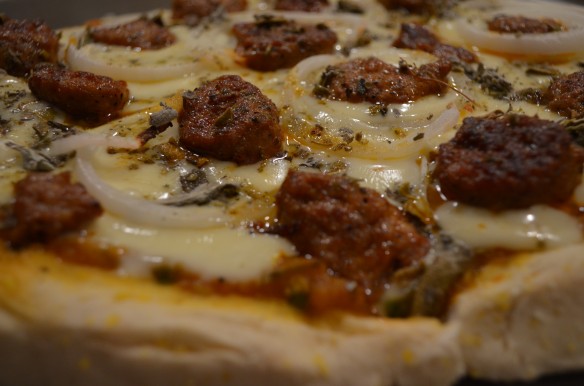 This pizza looked amazing out of the oven. The fontina cheese melted so well and spread out over the whole pizza, creating gooey slices of heaven. The pizza also tasted amazing a few minutes out of the oven. I have to say, we were very impressed by the pumpkin's ability to make a pizza sauce. Who needs tomatoes?