Carrot Cake Bread
My mom always tried to get me to eat carrot cake when I was younger, but carrots in a cake? I didn't like carrots, and I didn't want a delicious cake ruined by a gross orange vegetable, so naturally I refused to even try it. But it's really amazing how you can change to the flavor of something by adding a bunch of sugar. Now carrot cake is always something that jumps out to me on a dessert menu. I'd kill for a good piece of carrot cake. But unfortunately you can't order this dessert too often without also having to order new pants on the side.
As with the spinach and artichoke dip I made a few days ago, carrot cake is inappropriately named. Typically carrot cake is drenched with refined sugar and covered and filled with layers upon layers of rich, fatty, cream cheese frosting. I love the frosting and all of the sweetness, but I find that I really enjoy the general flavor of carrot cake. Thus if you cut back on sugar, amp up the healthier ingredients, and don't include the cream cheese frosting (more on that later) you can actually have a relatively healthy and delicious breakfast bread.
The carrot cake bread I made was inspired by this recipe from Circle B Kitchen (from Mark Bittman) with a few adapations.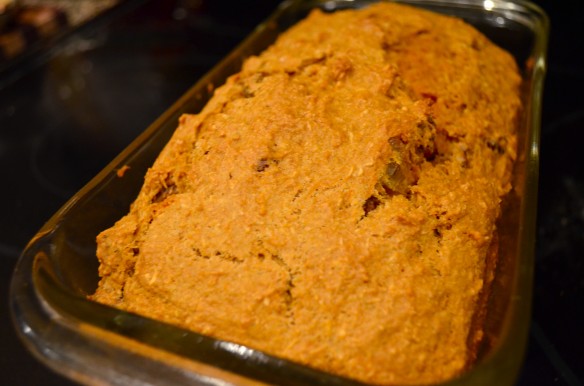 Carrot Cake Bread
(adapted from Circle B Kitchen, from Mark Bittman)
makes 1 loaf
1 cup all purpose flour
1 cup whole wheat pastry flour
3/4 cup brown sugar
1/4 cup flaked coconut
1 1/2 teaspoon baking powder
1/2 teaspoon baking soda
3/4 teaspoon salt
4 tablespoons of Earth Balance, cold (or butter)
3/4 cup almond milk
1 tablespoon of lemon zest
1 egg
1 cup carrots, grated
1/2 cup candied pecans
1/2 cup golden raisins
Butter flavored non-stick cooking spray
Cinnamon, for sprinkling
Preheat oven to 350°.
Combine flours, brown sugar, baking powder, baking soda, salt, and coconut in a large bowl.
Break Earth Balance or butter into small pieces using hands and incorporate into the dry mixture until there are no chunks larger than the size of a pea.
In a separate bowl combine the almond milk, egg, and lemon zest then add to dry mixture.
Add in the carrots and gently fold in nuts and raisins until mixture is uniform.
Pour into loaf pan sprayed with non-stick cooking spray. Bake for approximately 50 minutes or until an inserted toothpick comes out cleanly.
Allow to cool in pan for 30 minutes then use a knife around the edges of the pan to ensure the bread doesn't stick to the sides. Transfer to wire cooling rack and serve in generous slices sprinkled with cinnamon.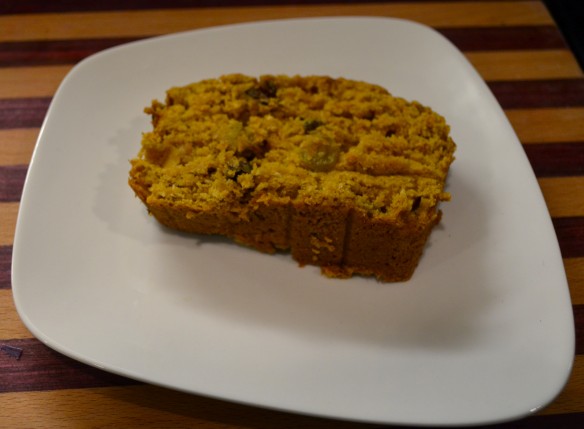 If you are really missing the cream cheese frosting, you can make your own healthier frosting by spreading a little bit of reduced fat cream cheese with a drizzle of honey on top for some sweetness.