Peanut Chicken
This recipe is related to our Peanut Sauce and Chicken Flatbread, not surprising since we still had a mostly full jar of Trader Joe's peanut sauce. I was inspired to make this dish based on an episode of the Nate Berkus Show I happened to catch while I was visiting my parents for the holidays. Jamie Oliver was visiting Nate's house teaching him how to make a homemade Chicken Skewers with Peanut Satay Sauce, reminiscent of Chinese food takeout, which I believe is from his Meal In Minutes book. When I was watching I basically thought we can do that and we don't even have to make the sauce since we have some in the fridge making it a meal in even fewer minutes. It also really reminded me of the chicken satay with peanut sauce from one of our favorite happy hour restaurants out here, Wild Ginger, which made me really start craving this dish.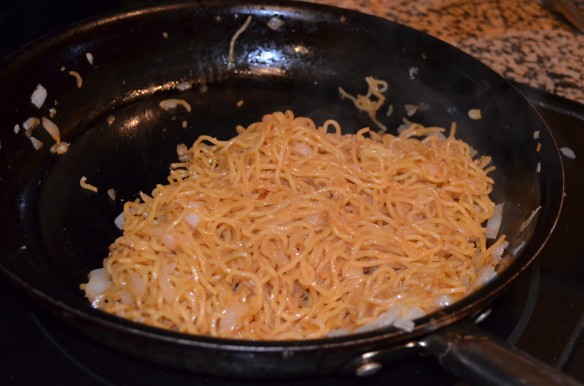 We decided to make a few changes to the recipe by not making skewers, but rather just dicing the chicken up. We also decided to marinate our chicken in the sauce before we baked it, and we used a lot fewer ingredients since this was one of those meals where we were just throwing together ingredients we already lying around the house. If I didn't have peanut sauce on already on hand, I would have followed the recipe given by Jamie Oliver which basically calls for dumping peanut butter and several other ingredients in a food processor and processing until smooth. Not too difficult.
In a large baking pan, coat the diced raw chicken with a few splashes of soy sauce and the juice of a lime along with a hearty layer of peanut sauce. Shake some granulated garlic, a few teaspoons of lime zest and black pepper to taste on top, making sure that the all sides of the chicken are covered with marinade. Cover with aluminum foil and place in the refrigerator for flavors to meld for as much time as you have (ours sat for about six hours).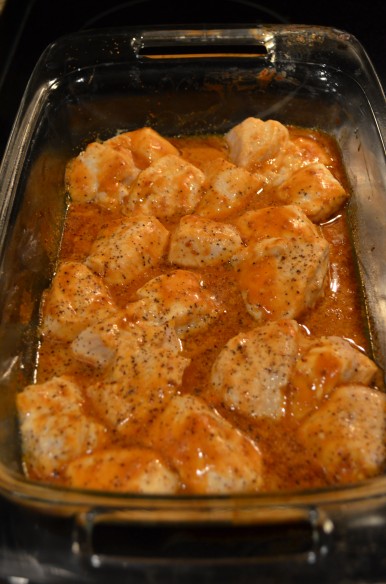 When ready to cook up the chicken, remove from the refrigerator and place in a preheated oven on the top rack at 425° for approximately 15 minutes or until golden brown.
While the chicken is cooking, heat up some olive oil in a pan over medium heat and and cook up some onions with crushed garlic. Once the onions are translucent, add stir fry style egg noodles to the pan (we had to microwave our little packets for a few minutes so the noodles were easier to break up). Instead of using the seasoning packets that came with the noodles, we made our own with a few splashes of soy sauce, the juice of a lime, and just a dash of honey. Add in some peanuts for a little bit of crunch. Cook for about five minutes once the noodles have been added. Feel free to taste at this point and add any other seasonings that might add to the flavor, like chile powder if you'd like to add a little spice.
Once the everything is cooked, plate the noodles and place the diced chicken on top. The peanut/soy/lime mixture that has formed on the bottom of the chicken dish is great to drizzle over the noodles and chicken for a little extra flavor. Garnish with cilantro and chopped green onion and serve.