Stuffed Meatball Sliders
I have five words words for you. The perfect Super Bowl food. This recipe is also from How Sweet It Is. I told you I really like this blog. There are a ton of inspiring recipes including these cheesy Mozzarella stuffed meatball sliders.
We served these for football watching on Sunday, and they couldn't have gone over better. We've started grocery shopping online and picking up the groceries curbside at this new organic market that opened near us. It's really convenient, and when I saw they had slider buns, I was psyched. Unfortunately after I placed the order, I got a phone call saying they were out of the buns. Instead they replaced them with really tasty dinner rolls, so all was good.
Make these for a Super Bowl party, and you are sure to be popular. They are the perfect finger food and can be served as an appetizer or a main dish. These meatballs are big; I was able to eat one without feeling stuffed (thanks in part to the other food we had, i.e. addictive spinach and artichoke dip). We also got more than 15 (larger than golf ball sized) meatballs, so we were eating leftovers for several days. But they were so tasty so there were no complaints around here. This is a hell of a meatball recipe sure to please everyone.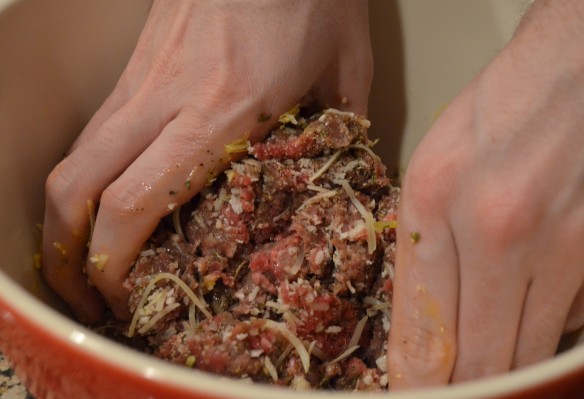 Meatballs are so much fun to make. You get your hands dirty. Of course this is when Dustin wants to volunteer in the kitchen!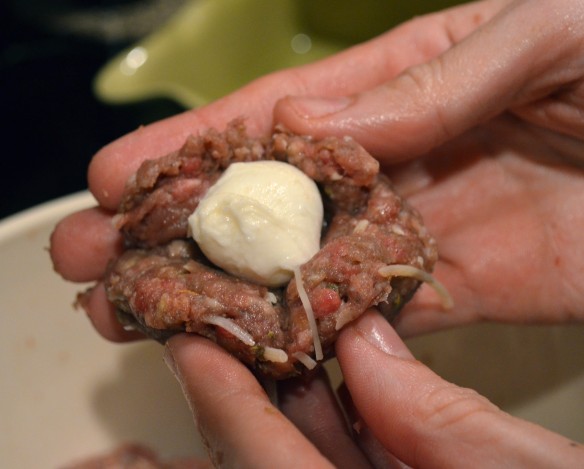 Meatballs are good, but infinitely better when stuffed with cheese.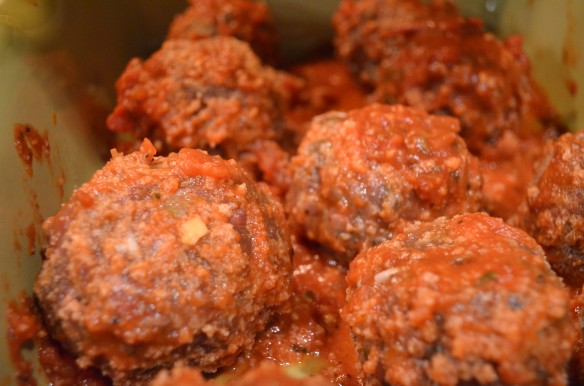 We rolled the meatballs in additional breadcrumbs before we added the tomato sauce for extra crunch. Yum!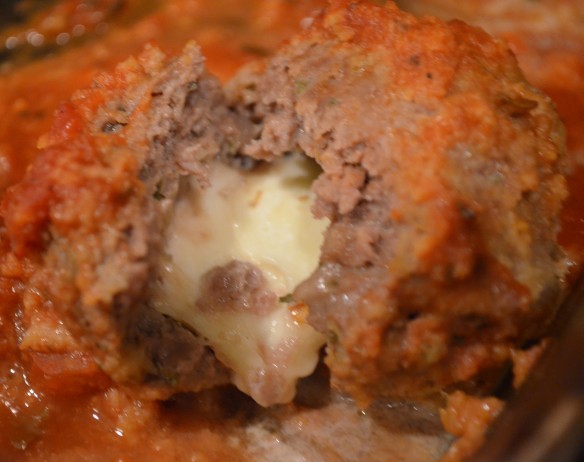 Oh my God, when these came out of the oven there was cheese oozing everywhere. Heavenly!
Like a meatball sub sandwich, but smaller and served on a dinner roll.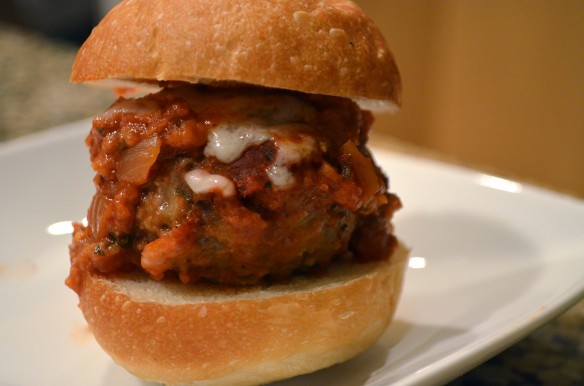 And much cuter.