Vegetable Omelette
Dustin's aunt, uncle, and cousins sent us a cool kitchen gadget for Hanukkah— an omelet pan. Seeing all of our experimentation in the kitchen, I think that was a pretty perfect gift!
We've never tried making omelets, as I'm sure we'd never be able to make them look pretty. We're better at scrambles. But now we have a cool new pan to make things a little easier.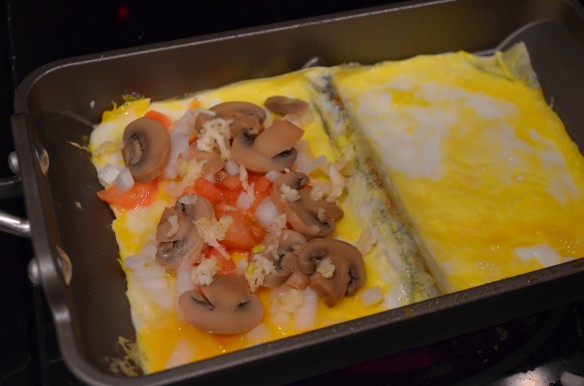 We mixed two eggs in a bowl and poured them over the omelet pan on medium heat, coated with a layer of non-stick butter flavored cooking spray.
Once the eggs began to set (about two minutes), we added diced tomato, chopped onion, crushed garlic, sliced mushrooms and a slice of Muenster cheese, using the spatula that came with the pan to ensure the edges weren't sticking.
Once the omelet cooked for another couple of minutes, we used the spatula to roll the omelet on to the plate, and there we had a dish that actually resembled and omelet. We'll need to practice because it wasn't perfect looking, but it did come out much better than expected!
The pictures aren't perfect either because we were running a little late and wanted to eat our breakfast, but we wanted to say thanks for our omelet pan and show it will be put to good use!