Berry Cheesecake Oatmeal
As I've previously mentioned, I think cheesecake makes for a very delicious breakfast! I really like that this oatmeal allows me to do so with slightly less guilt than the previous time I ate cheesecake.
This is my favorite oatmeal I've made so far. I remember reading about a blueberry cheesecake oatmeal recipe in the Rocco DiSpirito Now Eat This! Diet book my mom purchased over the summer. I didn't have the recipe, but was pretty confident I could create my own.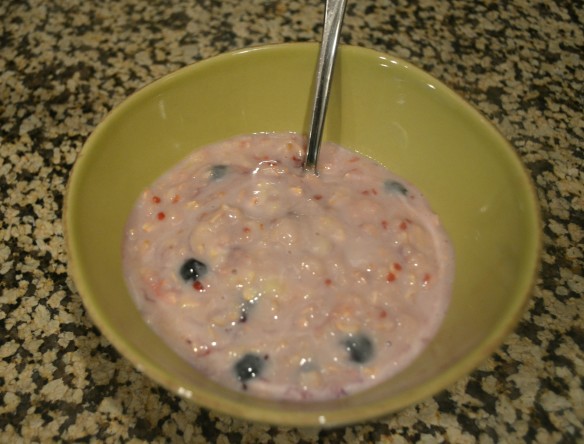 I combined 1/4 cup of oats, 1/3 cup of milk, 2 teaspoons of whipped, reduced fat cream cheese, 1 tablespoon of honey, half of a banana, 1/4 teaspoon of vanilla extract, and a few handfuls of blueberries and raspberries. I actually had graham crackers in the cabinet, and I really wish I had added a few crumbles to represent the graham cracker crust. Also a little bit of lemon or orange zest would add another dimension of flavor. I can't wait to play with these variations.