Chicken Pizzaioli Sandwich + Microwave Potato Chips
Lately I've been seeing advertisements for Subway's Chicken Pizzaioli Sandwich, one of their March featured sandwiches. Basically, it's a sandwich with slices of chicken breast, pepperoni, marinara sauce, and cheese. The flavor combinations sounded really good to me, but I thought Dustin and I could make this sandwich a lot better than Subway using his Oven Toasted Italian Sandwich methods.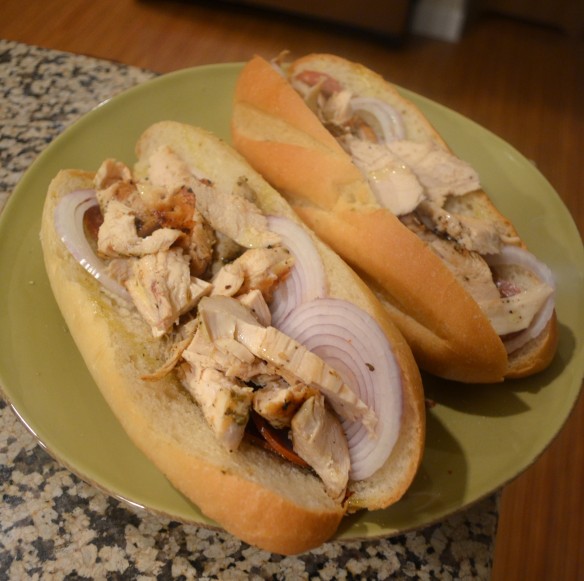 We quickly grilled up a chicken breast, covered with a blend of Italian seasonings, on the George Foreman . Once the chicken was grilled, we cut open some hoagie rolls, drizzled some olive oil on the sides, and placed down the grilled chicken, slices of pepperoni, and red onion. Next we covered the sandwich with a layer of marinara sauce and topped with sliced mozzarella and grated parmesan cheese, a little more olive oil, crushed red pepper, and a hefty dose of oregano.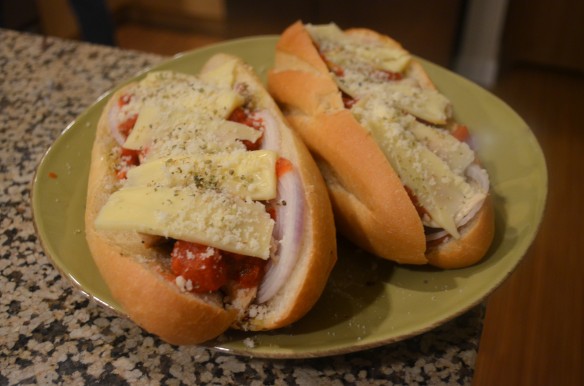 We wrapped the sandwiches in foil and let them toast in the oven for ten minutes at 250°. These sandwiches were divine and far superior in flavor to anything we could have ordered from Subway.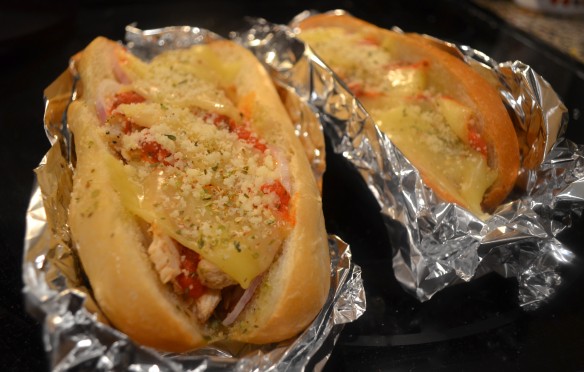 We served the sandwiches alongside microwave potato chips, so much healthier than the fried kind and way different than the baked kind. Basically all you have to do for these chips is slice a Russet potato into really thin slice and drizzle with olive oil and add salt and pepper. Then you place the potato slices on a large sheet of parchment paper and fold some more parchment paper over the top before you place in the microwave and cook on high until the chips are evenly browned to your desired crispiness (for us, it was about six minutes, but cooking times will definitely vary based on how thick the potato slices are).
The potato chips reminded us a lot of the ones you can get at the Houston rodeo, which we'd go eat each year. I managed to go while I was at home this year, but Dustin missed out. We'll definitely miss our annual trip to the rodeo. But now that we have found an acceptable substitute for Dustin's favorite rodeo food, maybe it will make everything a little easier. Now I'll have to find a way to make fried cookie dough, my favorite rodeo treat that I only discovered this year. Knowing it was probably my last trip to the Houston rodeo, I finally broke down and hit the ridiculous fried treats cart for my first time. It's amazing how you can fry cookie dough and keep the texture the same.