White Chocolate and Tomato Beurre Blanc Scallops + Truffle Risotto
It's not like we've been deprived of fancy meals lately, but we still like to make elevated cuisine at home from time to time. I was watching an episode of Kelsey's Essentials on the Cooking Channel all about how to work with chocolate. Kelsey did several cool things, including making chocolate pasta, something we have also done, but I was  really intrigued by her incorporation of white chocolate into a savory tomato butter sauce served over scallops. Needless to say Dustin was a little freaked out by the flavor combination. But I must say, you don't really get a distinct white chocolate flavor, just a rich orange colored beurre blanc that was really great over seared scallops, which we managed to do correctly this time around (unlike when we tried caramelizing scallops). It was pretty fancy. If only we had remembered to buy some scallions or fresh parsley to sprinkle on top for a fancier look. Something we'd really like to work on is our plating.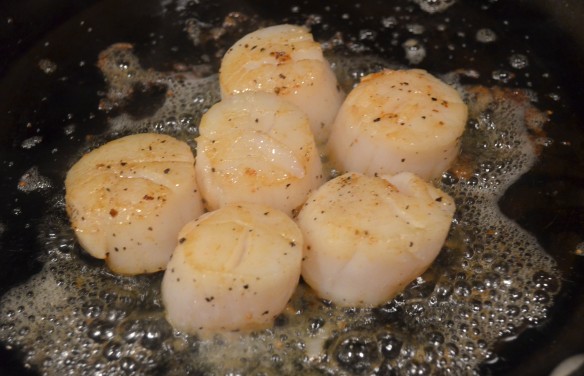 We also needed a fancy side dish to go with our scallops, so we made risotto with truffle oil, with which we have recently become slightly obsessed. To begin with we followed a pretty basic risotto recipe. We cooked some shallots in olive oil until they were translucent and then added 1 cup of arborio rice and cooked for a few minutes. Next we added 1/4 cup of sherry until it was all absorbed by the rice. Following the addition of the sherry, we reduced the heat and began slowly adding chicken broth until it was all absorbed and the texture had reached the consistency we wanted. I believed we used approximately 3 cups of chicken broth and took approximately 20 minutes. When the risotto reached the proper texture, we added 1/4 cup of parmesan cheese and 1/3 cup of heavy cream that we whipped until foamy followed by 2 tablespoons of truffle oil and salt and pepper to taste. I heard on a different cooking show a few weeks back that the secret to fluffy, creamy risotto is adding whipped cream. It worked. Make sure to serve the risotto immediately because as the rice releases gluten, the texture will change.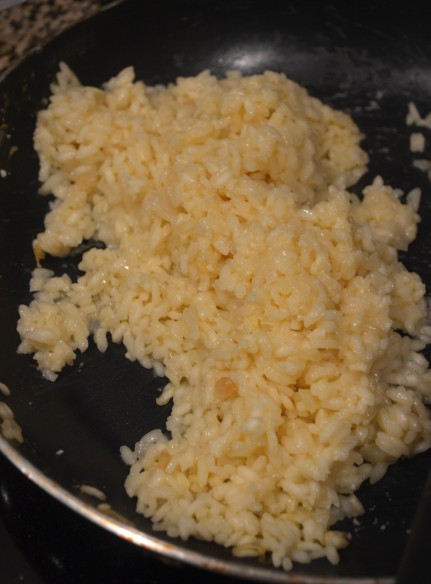 This meal took quite a bit of coordination, and when we first started making this meal, I was unsure it would all come together. I'll admit I was feeling pretty stressed in the kitchen that day, but we managed to complete everything, and it tasted great alongside a chilled bottle of white wine. There is no more satisfying feeling in the world.