Carmelized Onion and Beecher's Grilled Cheese Sandwich
There is no way I can have leftover Beecher's cheese in the house without making a grilled cheese sandwich. The Beecher's store at Pike's Place Market makes amazing grilled cheese sandwiches, and one week when Dustin and I hit up John Howie Steak for lunch I saw a caramelized onion and Beecher's grilled sandwich on the menu that inspired my lunch one day.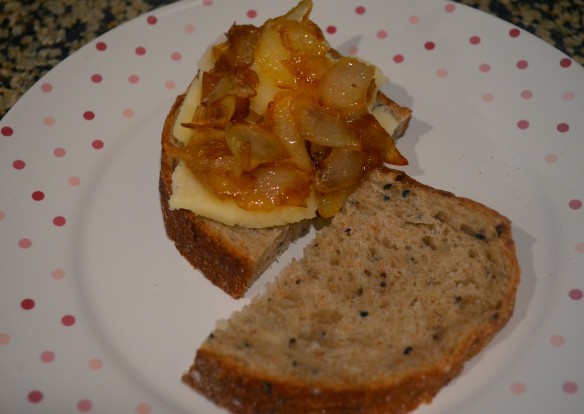 Caramelizing onions for lunch for one sandwich does take quite a bit of time and attention. I let my onions cook for about 45 minutes, but the payoff was totally worth it. Once the onions were placed on top of the cheese, I grilled the sandwich in the same pan I used to cook the onions with the leftover mixture of butter and olive oil. The onions were sweet and buttery, and next to the creaminess of the Beecher's, they were amazing.
The flavors are so simple, but really hit the spot. I purposely made a small sandwich to moderate myself because this isn't the healthiest of lunches. I probably ate my little sandwich in about three bites, and my mouth was left wishing for more.