Hawaiian French Toast
My mind has been on the tropics lately. As our trip to Jamaica approaches, I have been thinking about the amazing trip Dustin and I took to Hawaii together in summer 2009 when he was working as in intern out there. With our housing paid for by Dustin's company and a free flight using frequent flyer miles for me, we were able to visit this amazing place for relatively cheap. We even wrote a blog post together about it, Hawaii for the College Student (or college-like budget), on Dustin's blog a long, long time ago. It's amazing how many awesome places Dustin and I have been able to visit together at such a young age!
One of the highlights of the trip was our visit to Dole Plantation where we tried their amazing Dole Whip, this delicious soft-serve pineapple ice cream, the perfect refreshing treat on a Hawaiian afternoon. Since there is no way we can recreate that sort of perfection, I've been thinking of other ways to use pineapple. Hence Hawaiian French Toast with pineapple and Macadmaia nuts was born.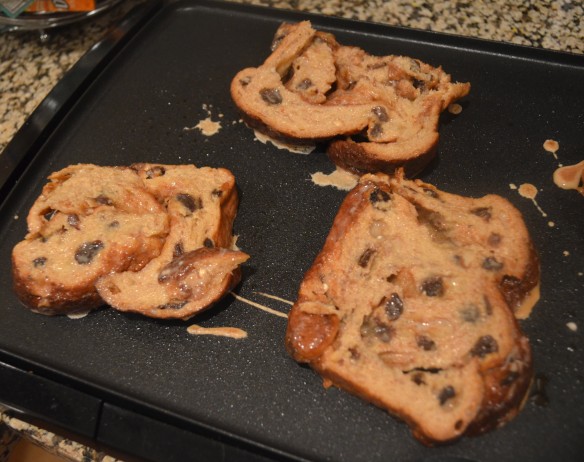 We used the same fresh brioche bread we used when we made our decadent Frangelico French Toast.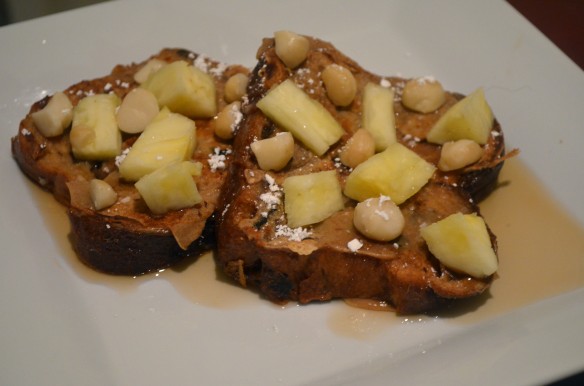 I don't know if I can profess my love for French toast anymore than I already have in the past, but this was once again amazingly delicious. The pineapple and Macadamia nuts were the perfect combination of flavors and definitely took me back to Hawaii.
Hawaiian French Toast
(serves 2)
4 slices of thickly sliced Brioche bread, slightly stale (leave out overnight covered with a towel to achieve staleness)
2 eggs
1/2 cup milk
3 ounces of Frangelico
1 Tablespoon sugar
1 Tablespoon cinnamon
1 teaspoon vanilla extract
1/2 cup cubed pineapple
1/4 cup Macadamia nuts, chopped
1/2 cup maple syrup
non-stick butter flavored cooking spray
powdered sugar, for sprinkling
Heat a nonstick griddle to 350° and spray with cooking spray.
In a small bowl whisk the two eggs. Add the milk and vanilla. Mix. Next add the sugar and cinnamon.
Soak each slice of bread in the mixture, allowing the bread to absorb mixture.
Place slices on hot griddle and allow this side to turn brown (about 3 minutes). Flip and allow the other side to brown.
Pour maple syrup over toast and top with pineapple chunks, Macadamia nuts and add a sprinkling of powdered sugar.
Serve with fresh pineapple juice for the ultimate island treat!