Brown Butter Chocolate Chip Cookie Dough Brownies
How do you top brown butter chocolate chip cookies? Don't bake them and place them atop a brownie. I think I have died and gone to heaven.
These may not look like anything special, but believe me they are. These chocolate chip cookie dough brownies don't need ganache or extra chocolate on top to make them taste better like so many variations out there on the Internet (I think the original came from Recipe Girl). Other versions might look a little fancier than mine, but the real stars of this dessert are the fudgy brownies topped with (eggless) brown butter chocolate chip cookie dough. This is probably my favorite dessert I've made to date. It's like Ben and Jerry's Half Baked Ice Cream minus the ice cream, but honestly who needs the ice cream when the other main ingredients completely steal the show?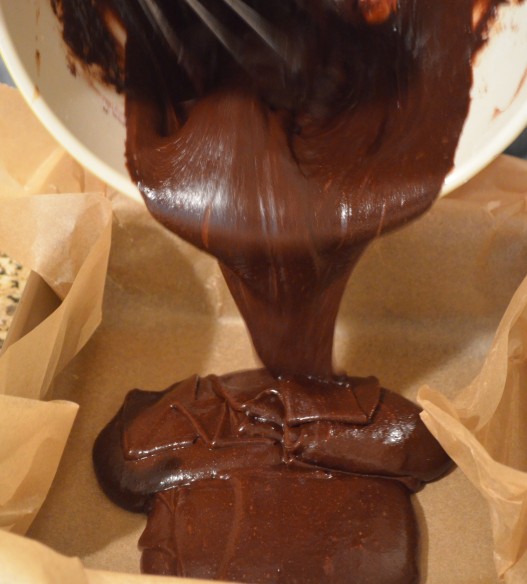 This brownie would be absolutely delicious on it's own— perfectly fudgy.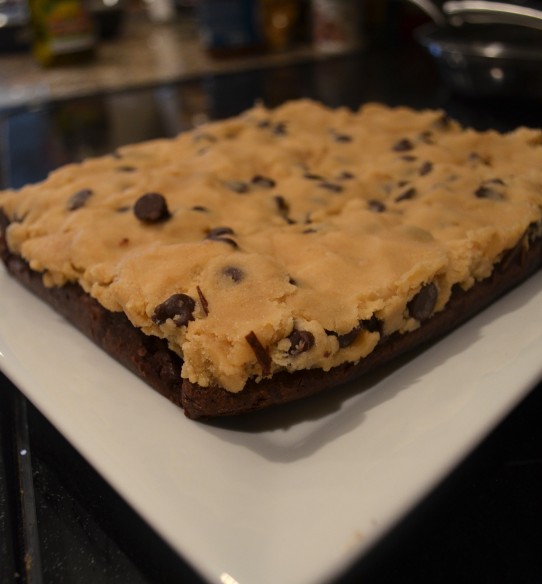 The cookie dough wasn't missing anything by not having egg. It tasted exactly like regular cookie dough, and I know because I ate a lot of it before it even made it on top of the brownies.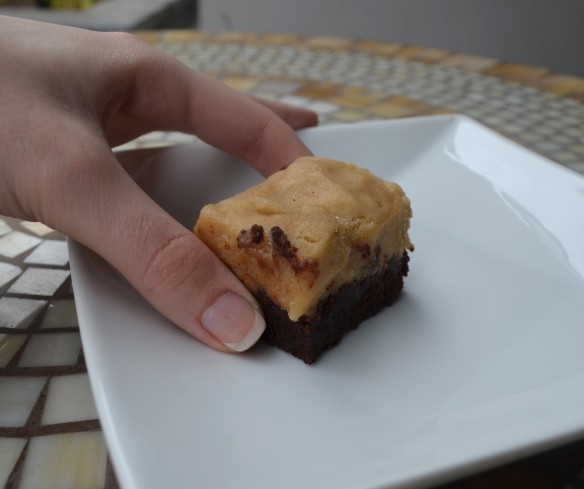 You really only need one because these are so rich and sinfully indulgent, but it's really hard to stop after just one because the flavor is out of this world. My advice is make them and give them away after your first tasting or else you may have to go out and buy new pants!
Brown Butter Chocolate Chip Cookie Dough Brownies
(makes 16 squares)
Brownie Layer:
10 tbsp unsalted browned butter, melted (for information on how to brown butter visit this site)
1 1/4 cup white sugar
3/4 cup cocoa powder
1/2 tsp salt
2 tsp vanilla extract
2 eggs
1/2 cup all-purpose flour
Brownie Instructions:
Preheat oven to 350° and line a 9"x9" pan with parchment paper allowing the edges to hang out.
Combine brown butter and sugar with an electric mixer in large bowl.
Add cocoa powder, salt and vanilla and combine.
Add eggs one at a time and continue to mix.
Stir in flour until you have a nice thick mixture.
Pour into pan and bake for 25-30 minutes or until toothpick comes out cleanly.
Allow to thoroughly cool in the pan.
Cookie Dough Layer:
3/4 cup unsalted brown butter, room temperature
1 cup light brown sugar, packed
1/2 cup granulated white sugar
3 tablespoons milk
1 1/2 teaspoons vanilla extract
1 1/2 cups all-purpose flour
1 1/2 cups semi-sweet chocolate chips
Cookie Dough Instructions:
Cream together brown butter and both kinds of sugar with an electric mixer until light and fluffy.
Add in milk and vanilla extract and mix.
Add in flour and mix.
Fold in chocolate chip with wooden spoon.
Assembling Instructions:
Take spoonfuls of cookie dough and press firmly on top of cooled brownies (still in the pan) until the entire brownie is covered with a layer of cookie dough.
Place in the refrigerator for at least 30 minutes so that the layers will stay together.
Cut the brownie into 16 squares.
Cleanly remove the bars from the pan using the parchment paper to pull them straight up and out.
Serve and enjoy!