Fried Matzo: Two Ways
Passover is long gone, but we still had matzo (matzah?) leftover, which I know for Dustin means just one thing— fried matzo or matzo brei as I've been seeing it called on the Internet.
Matzo soaked in water or milk, then cooked in the frying pan with eggs is a great base for some delicious breakfasts— both sweet and savory. We made both kinds— one with cinnamon and sugar and the other with green chile and cheddar. Both were excellent.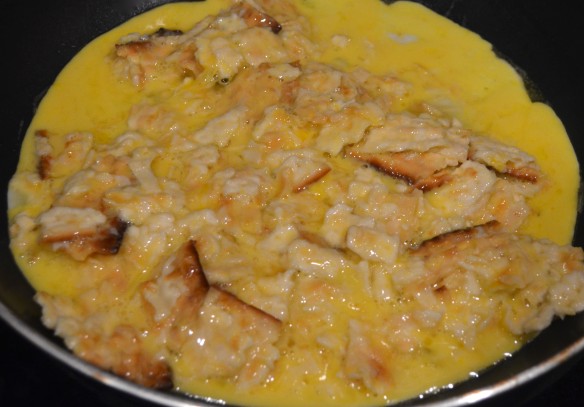 Dustin and I are the perfect complement to each other in this instance— he prefers savory and I prefer sweet. Thus, we split 75% savory, 25% sweet for Dustin and 75% sweet, 25% savory for Erin. No fighting in this house.
For the sweet, we eyeballed a mixture of brown sugar, vanilla sugar, cinnamon, and the tiniest drop of vanilla extract in a little bowl before we spooned it over the matzo and egg mixture. For the savory, we added some of the green chile that D's parents sent us in the mail (you'll probably be seeing lots of recipes with green chile soon!) and shredded cheddar until it was melty then topped with a sprinkling of salt and pepper.
This was a perfect and surprisingly very filling way to start the work day. I couldn't even finish my portion and was more than satisfied until lunch.