Pesto Biscuits
After the success of the cheddar bay biscuits, I definitely was ready to make another cheesy biscuit to go with dinner. I decided to make parmesan biscuits, which I thought would pair nicely with the leftover pesto from the homemade gnocchi that was just sitting in the fridge and would taste awesome incorporated into a biscuit.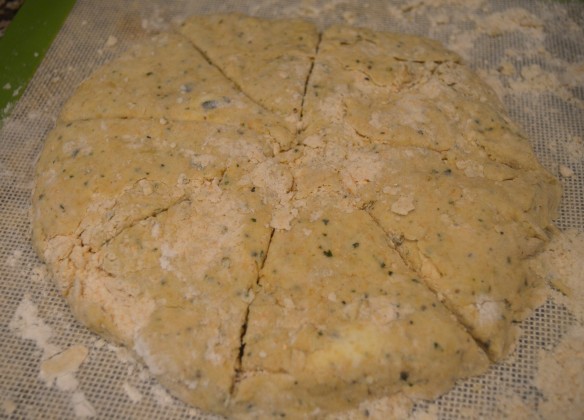 I played with the recipe and another recipe for savory bacon-cheddar biscuit from a cookbook I bought to create my own recipe. The dough was much thicker than the cheddar biscuits I made before, so I rolled the dough into balls and cut them scone style instead of making drop biscuits.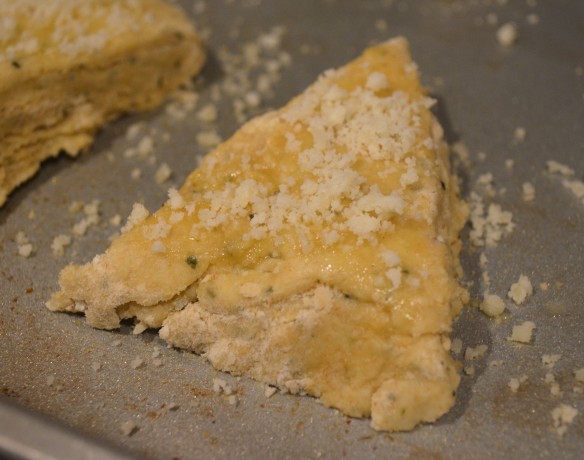 These biscuits made an amazing accompaniment to dinner and were wonderful the next morning for breakfast with fried eggs, bacon, and truffle oil. I definitely went back for seconds, and it was so hard not to go back for thirds. The pesto was subtle, but still recognizable and fresh from the oven, these were melt in your mouth good.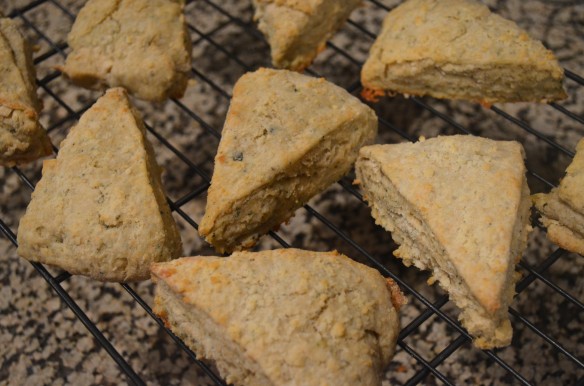 Pesto Biscuits
(makes 16 scones)
3 cups flour
1 tablespoon sugar
1 tablespoon baking powder
1/4 teaspoon salt (plus more for sprinkling)
1/4 teaspoon pepper
1/4 teaspoon garlic powder
1/2 cup butter, in small squares + 1 tablespoon, melted
1 cup parmesan cheese (plus more for sprinkling)
1 cup low fat buttermilk
1/4 cup applesauce
1/4 cup pesto
non-stick cooking spray
Combine flour, sugar, baking powder, salt, pepper, and garlic powder in a large bowl.
Cut butter into flour mixture until mixture resembles a crumble.
Stir in applesauce, buttermilk, and pesto until everything is just incorporated.
Fold in the parmesan cheese.
Divide dough in half, roll into a ball and press down.
Cut the dough into 8 triangles.
Spread melted butter, sprinkle salt and remaining grated parmesan on top.
Bake on cookie sheet sprayed with non-stick cooking spray in oven at 450° for 10 minutes or until brown and flaky.