Spinach and Artichoke Goat Cheese Mac
This recipe for creamy goat cheese mac and cheese has been in my recipe queue for months, but I've been toying around with exactly how I wanted to make it. Do I want to follow the recipe exactly or do I want to try to healthify it? Goat cheese is actually a relatively healthy cheese and is so creamy that I knew it would make a fantastic cheese sauce, but this recipe also had a lot of heavy cream in it. I really wanted to lighten up the dish, but was worried it wouldn't taste rich enough without the cream. After struggling with this dilemma for quite some time, I decided to healthify it. I also decided I wanted to add some veggies to the dish to make it a little more filling and a little healthier and eliminate the chicken as part of our vegetarian week. Since goat cheese is so creamy, I thought spinach and artichokes would go quite nicely and create a dish reminiscent of spinach and artichoke dip.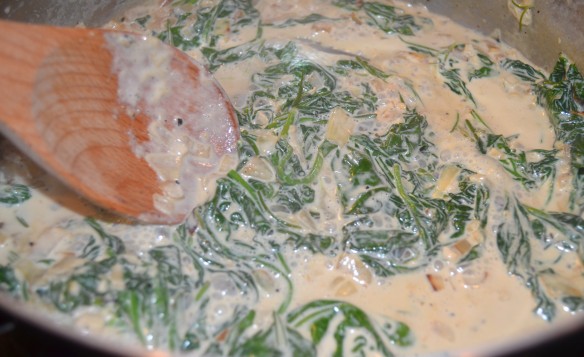 To lighten up the cheese sauce I used a mixture of half and half and greek yogurt instead of cream. I don't know how the original tastes, but I don't feel as though I was missing a thing eating a healthier version.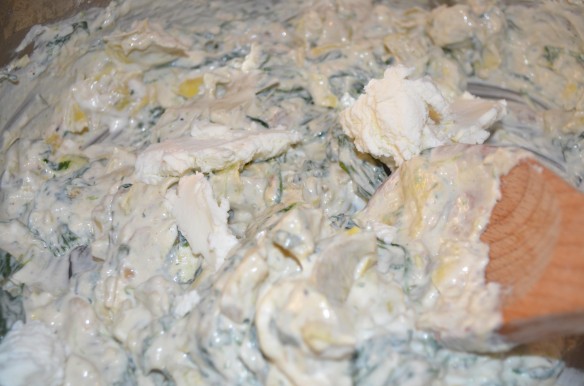 Spinach and Artichoke Goat Cheese Mac
serves 3-4
1 shallot, minced
3 cloves of garlic, minced
2 tablespoons rosemary
1 cup half and half
4 cups fresh spinach
1 cup quartered canned artichoke hearts
1/2 cup greek yogurt (I used 0% fat and it turned out great)
5 ounces goat cheese
1/2 pound of your choice pasta (we used a blend of spirals, penne, and shells)
olive oil
salt
pepper
parmesan cheese, for sprinkling (optional)
Bring large pot of water to boil.
Cook the shallot and garlic in olive oil in a large saucepan over medium-high heat until just browned.
Add the half and half, rosemary, and salt and pepper to taste.
Bring to a simmer then lower heat to reduce the mixture.
Add pasta to boiling water and cook until al dente (approximately 10-11 minutes)
Stir in the fresh spinach and allow to cook.
Turn heat to low and stir in artichoke hearts, greek yogurt and goat cheese until thoroughly incorporated and heated throughout.
Drain pasta and add to saucepan, coating pasta in the creamy cheese sauce until covered.
Stir for a few minutes to ensure pasta cooks to desired texture and plate.
Sprinkle with parmesan cheese if desired.
Adapted from Michael Symon's Mac and Cheese with Roasted Chicken, Goat Cheese and Rosemary