White Chocolate Macadamia Nut Cookies
As a kid I was never a huge fan of white chocolate macadamia nut cookies. It was chocolate chip cookie or bust for me. But as my palette has grown to love and appreciate all kinds of nuts, I've found macadamia nuts in cookies to be heavenly. I've learned when presented with a tray of cookies to eat the white chocolate macadamia because it's a lot cheaper to have the ingredients on hand for the other kinds of cookies than it is to have all of the ingredients for white chocolate macadamia nut cookies on hand. I almost had a heart attack when I saw how much a little tub cost at Whole Foods. But we have found many uses for macadamia nuts— these cookies, on top of French toast with pineapple, and even as a delicious homemade trail mix snack with a little bit of salt, honey roasted peanuts, and some dark chocolate M&Ms.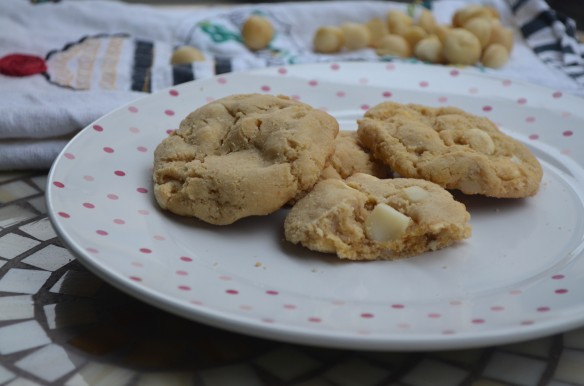 I tried this recipe from Messy Witchen I found through foodgawker, and my dough was really dry, so I might have done something wrong. The dough was hard to work with, but I did my best with what I had and the taste was phenomenal! I did tweak the recipe slightly by replacing boring butter with brown butter because yes in fact, I am obsessed, and will not make cookies without it unless I am completely strapped for time. The rich, nuttiness of the brown butter goes so well with brown sugar based cookies and, of course, any type of nut (and chocolate).
White chocolate + macadamia nuts + brown butter = pure deliciousness. We polished off the entire batch, and every single calorie was absolutely worth it!