Bourbon Brownies
Originally a recipe from Cooking Light, these brownies are rich, chocolatey with the slightest hint of bourbon, and they aren't that bad for you (compared to a regular brownie that is), and they also contain bourbon like yesterday's recipe.
Even if you don't like bourbon, you can still enjoy these brownies because the bourbon flavor is pretty mild and you probably wouldn't even realize that it contained bourbon if you weren't told do. Just don't eat the chocolate bourbon syrup you make on the stove. On the other hand if you like chocolate and bourbon, you'll probably burn your tongue wanting to lick the hot saucepan.
I decided to you use chopped high-quality, dark chocolate instead of bittersweet chocolate chips for a more intense flavor, and we upped the amount to 1/3 of a cup. What can I say— we really love chocolate? Personally we thought it made these brownies incredibly decadent.
To make these brownies, first begin by making a chocolate and bourbon sauce. Bring to a boil 1/4 cup bourbon, remove from heat, stir in 1/3 cup of dark chocolate chunks and whisk until the mixture in smooth. Set aside and let cool slightly.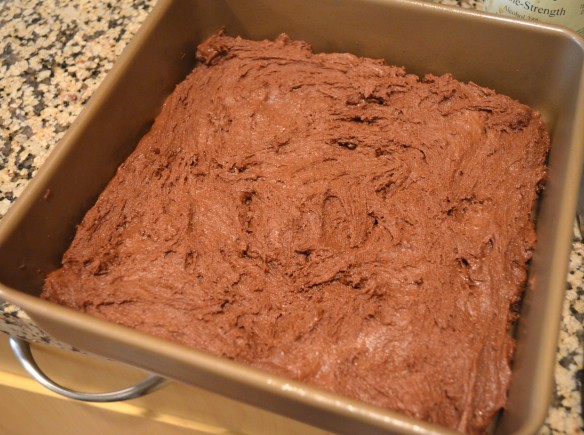 Next combine 1 1 /2 cups of flour, 1/2 cup unsweetened cocoa powder, 1 teaspoon of baking powder, 1/2 teaspoon of salt and set aside.
Combine 6 tablespoons of softened butter and 1 1/3 cups granulated sugar with an electric mixer until light and fluffy. Add in two eggs, one at a time, followed by 1/2 teaspoon of vanilla. Slowly stir in the chocolate bourbon syrup followed by the flour mixture until just combined.
Spoon into a 9" square baking pan coated with cooking spray. Bake in the oven at 350° for 25 minutes or until a toothpick comes out cleanly.
Based on my calculations, if you cut this pan of brownies into 16 parts, each sinfully rich brownies checks in at under 200 calories.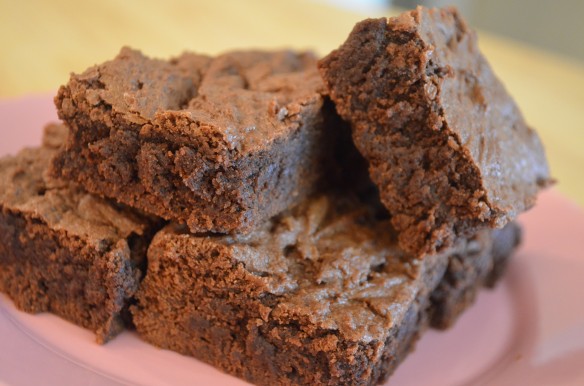 These brownies had a slightly crunchy top but a soft, moist, chocolatey interior and were devoured pretty quickly at our party. This might be my new go-to brownie recipe. Dustin's already begging me to make these again.