Croque Madames
As promised— more uses for leftover bechamel suace! Aren't we resourceful?!
Now may I present to you, the beautiful croque madame!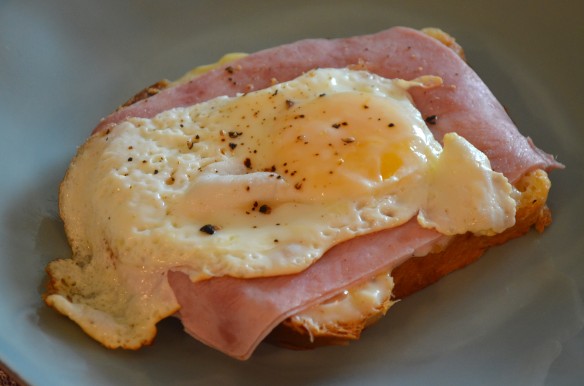 The croque monsieur will forever remind us of our trip to Paris where we got these delicious grilled ham and gruyere sandwiches covered with bechamel sauce from a little corner shop and devoured them in front of the Eiffel Tower. Just talking about the memories makes me want to go back.
We decided to make ourselves some sandwiches at home, but make them croque madames instead by adding a fried egg on top using this recipe from Rachael Ray as a brief guide.
These are ridiculously easy to make even on a weekday morning if you already have the bechamel sauce made like we did leftover from our crab and ricotta manicotti. All I did was add a little milk to thin out the sauce, add a bit of Dijon mustard and warm it in the microwave as we prepared our open-faced sandwiches.
We began with two thick slices of brioche in butter on a hot pan.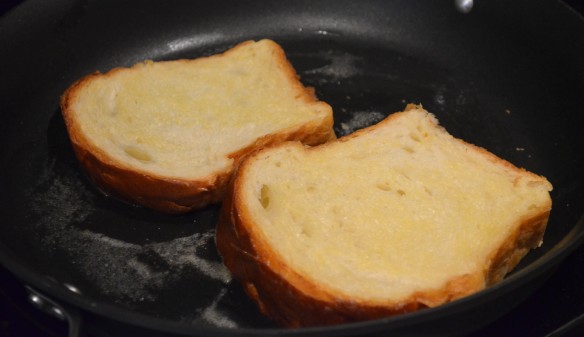 Next the brioche was topped with slices of gruyere followed by deli ham. Once the butter had absorbed nicely and lightly toasted the bread and melted the gruyere, we fried an egg on another pan, transferred it to the top of the sandwich which we covered in foil and let sit for a few minutes to get ensure everything was warm and melty. Top with salt and pepper, and you have a rich and fancy breakfast in 10 minutes!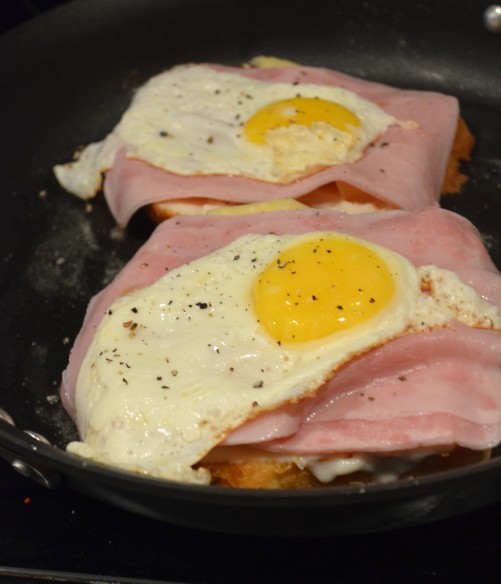 Dustin's been asking for another each morning, but unfortunately we are all out of bechamel... We might have to add this to our breakfast rotation on a more frequent basis!