Wedding Recap!
Well, it's been a little over three months since the big day, and things are going fine as we settle into our regular married life. For all our friends and family who couldn't come to the wedding, we thought we'd share some details and pictures summarizing our big day.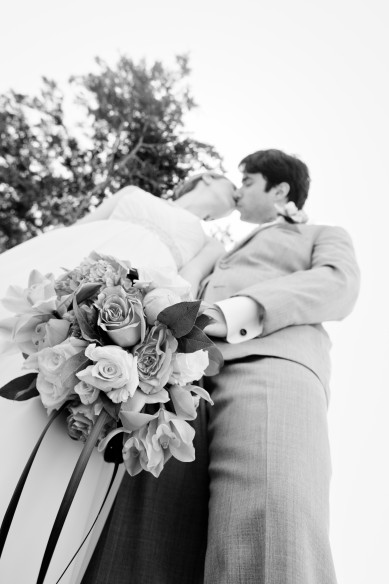 On Friday, everybody gathered in the Austin area, and we headed out to Dripping Springs for the rehearsal at our beautiful venue, The Terrace Club. Here is a birds-eye view of the ceremony area at The Terrace Club. I'm not sure the pictures do it true justice. It's absolutely lovely and the major reason we selected The Terrace Club as our venue. That and the fact that they have so many decorations and they handle all of the hard decorating work. They have so much experience setting their place up, we just gave the wonderful ladies there our decorations and they said they'd "make it look pretty." Oh, and The Terrace Club is BYOB, an important factor for Dustin!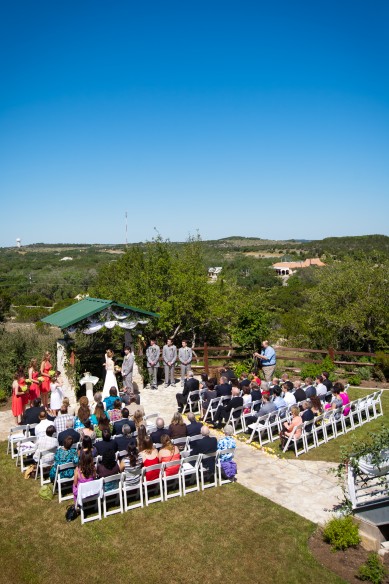 Afterwards we gathered at my aunt and uncle's nearby house where we had a barbecue feast, Texas-style! We chowed down on Salt Lick brisket and sausage and all the fixins— potato salad, baked beans, coleslaw, and the like— all served on Texas flag plates!  Also served were margaritas made with Republic Tequila, manufactured in Texas. Cowboy boots were required for such an occasion!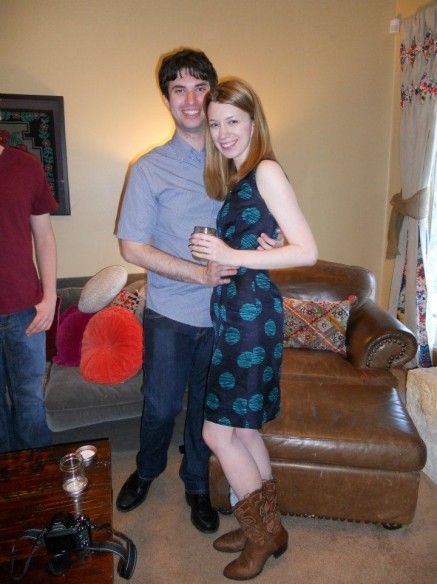 For dessert we had cupcakes decorated with adorable Texas themed cookies and owl cookies (we had a mini owl theme run through the wedding, not because it's popular, but because we are Rice Owls!) cut by hand and decorated by a friend of my aunt. We had a great time hanging with our friends and family before our big day, but we didn't stay partying too late since our ceremony was 11 o'clock the next morning.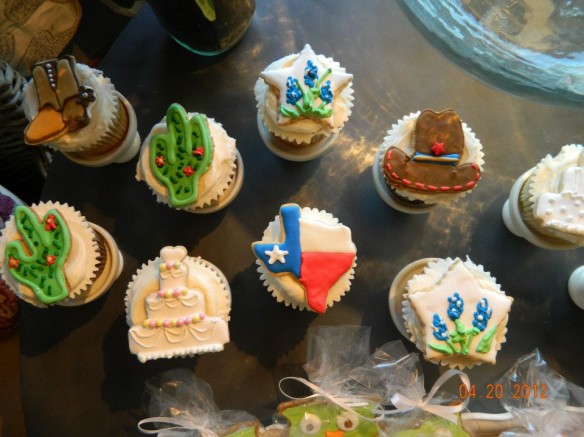 Because our ceremony was so early in the day we had to rush to get dressed and ready the next morning. I had my hair and makeup done in the hotel across from the venue starting at 7 in the morning. Considering I maybe got an hour or so of sleep the night before, it was an early morning. We ended up running out of time to take all of the pre-wedding pictures— like me getting to take a bunch of silly shots with my beautiful bridesmaids, whom I am so very appreciate of for all of their love and support. However, we did have a photobooth area where we were able to make up for that later! We had to rush in quite a few more shots in after the ceremony among all the other things we were trying to accomplish. We hired Whitney from Whitney Lee Photography out of Austin and absolutely love our pictures (most of what you see on here was taken by her except for the few point and shoot pictures from our personal cameras— I'm sure you can tell the difference). Her pictures are so creative and such works of art. We couldn't be more pleased with our choice of photographer as we will have a lifetime of memories in living color (and some awesome black and white, as well!) thanks to her! By the way, here is a link to her blog where she shows off our engagement shoot pictures and briefly talks about how we met.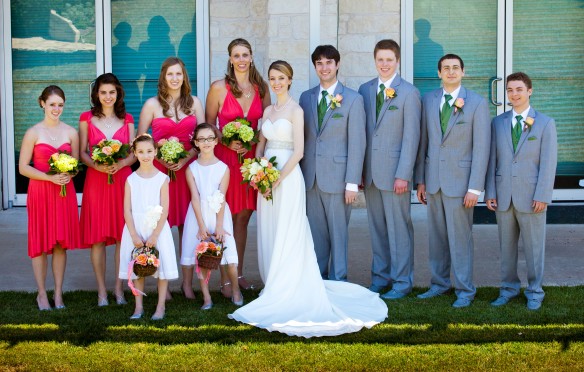 My dress was Winnie Couture's Theola style that I got from the flagship store in Houston. All I knew when I started looking for a wedding dress was that I wanted something flowy, not huge and poofy. I never thought I'd wear a strapless dress, but when I tried on a sweetheart strapless for the first time, I knew it was a flattering style on me. I also really wanted to accentuate my waistline with a jeweled belt of some sort. In the end finding a dress for me came down to finding a combination of all of those elements. I knew my Winnie Couture dress was the one immediately when I put it on. The skirt was a soft, flowing chiffon, and I felt like a goddess. The best part was I ordered a straight size and didn't have to have any alterations done anyweher including the length! Oh and because I bought when I did, I even got 30% off because the store was having their big sale that we found out about last minute and went to on a whim. Could getting a dress have been any more perfect?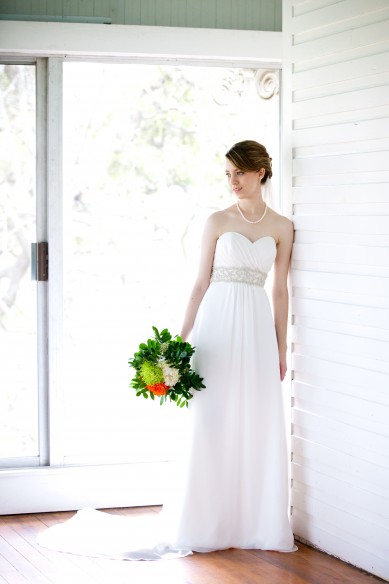 I was honestly never worried about getting married, except for the whole part about being the center of attention and potentially making a fool of myself in front of anyone and everyone I cared about. I was only concerned with the day of, not what would be happening afterwards. Getting ready was the most exciting and nerve-wracking experience I've ever felt. When it was time to for everyone to start walking down the aisle, I stood in the dressing room all by myself, staring at myself in the mirror. Those were the longest few minutes of my life. My legs were literally shaking, and they continued to do so until several minutes into the ceremony when I finally was able to relax and get caught up in the moment.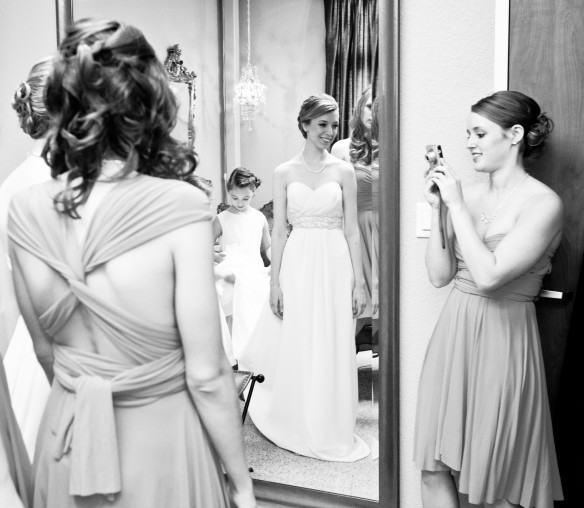 On the morning of April 21, 2012, as my dad walked me down the aisle, and I met eyes with Dustin, I couldn't stop smiling.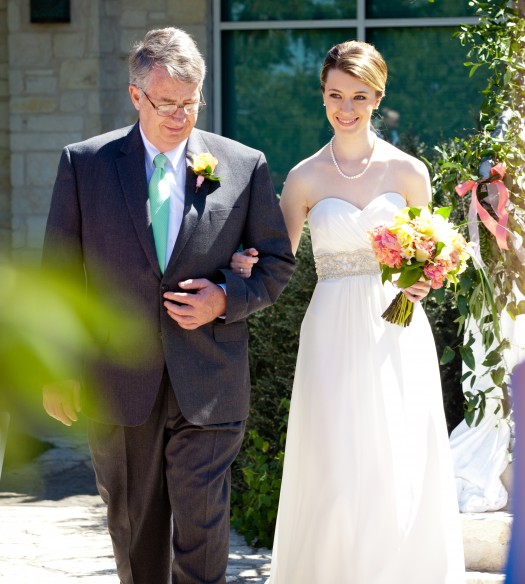 The rest of the ceremony was kind of a blur. It went by so incredibly quickly, but was absolutely beautiful. We had a lovely wine ceremony involving Dustin's best man, and oldest San Antonio friend, and my maid of honor, my Aunt Kathleen, and two of our aunts read some lovely readings/song lyrics by e.e. cummings and Bruce Springsteen. We also wrote our own vows for each other, which was another incredible moment of the ceremony. A few tears were almost shed here (actually by Dustin, not me!), but we held everything together and reveled in each other's sweet words.
Hiring someone to officiate our wedding without ever having met in person was another nerve-wracking experience, but our officiant Carolina was amazing, and after many emails back in forth, crafted a lovely, spiritual, and deeply personal ceremony based on us. She even sweetly gave us a beautiful, handwritten card of our vows to one another, which we have since framed and put on display in our apartment.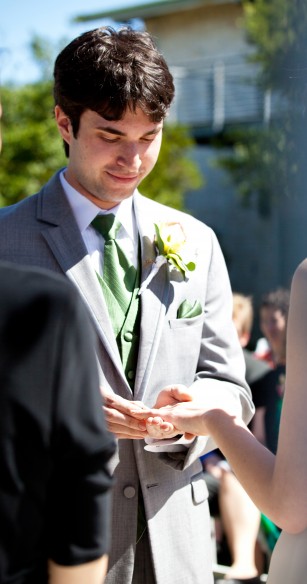 We exchanged coordinating rings we bought together over our Christmas trip to Santa Fe. Dustin's had turquoise and mine alternated between baguette diamonds and a blue-green opal, which we think makes them pretty unique. Everything could not have gone anymore perfectly (unless of course Bonnie could have been there to celebrate with us, but alas, no dogs were allowed).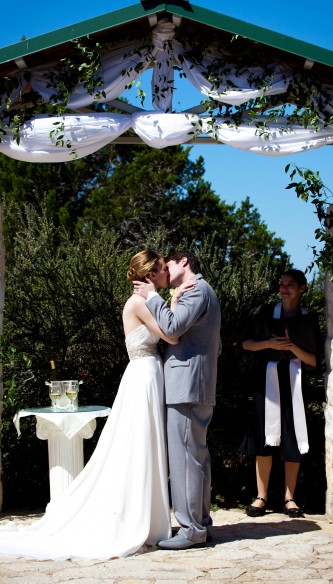 Although everything feels surreal, I do remember walking out of the ceremony to the Beatles' All You Need Is Love played on the celtic harp and viola and thinking how lucky I was and that I wanted to remember this moment forever more than anything in the world.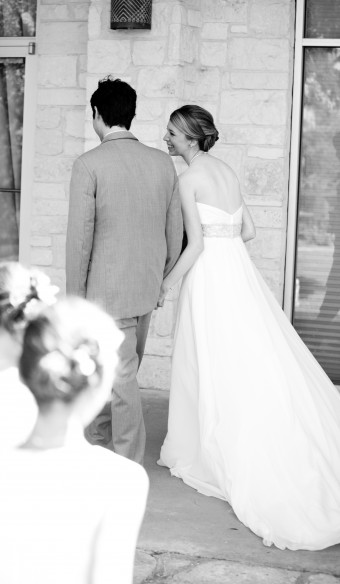 I had been closely watching the weather forecast. We decided to get married in April because usually April in Texas hasn't gotten too hot yet and the weather is generally nice. Well the day before the wedding it rained, and according to forecasts there was some potentially bad weather out there. I was super freaked because when I envisioned my wedding before any planning went down the only detail I had nailed down in my head was that I wanted a beautiful, green outdoor weddings. That's why we settled on a mini-destination wedding in the Hill Country. That and it was a good balance between Houston and San Antonio for our friends and family to travel from. I would have been devastated had we had to move the wedding indoors, although The Terrace Club did have wonderful pictures of their rain contingency plan. In the end all of my worrying was for naught, as we had beautiful blue skies and perfect not-too-hot-not-too-cold temperatures in the mid-70s, which as you may know, it's rare to have such absolutely perfect weather any time in Texas. We feel pretty blessed!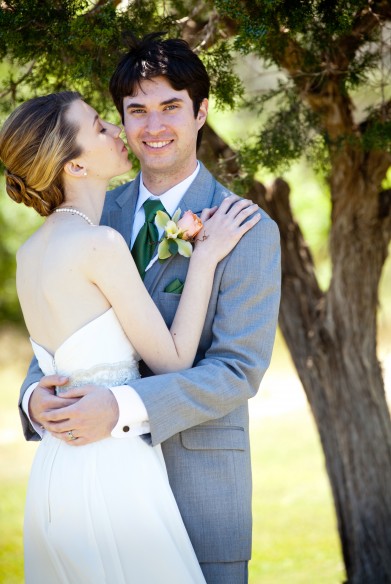 Our reception was lovely as well. We had a delicious meal of what I would consider to be "elevated brunch" cuisine, but we hardly tasted it since we had to scarf it down to begin mingling with our guests. Since this is intended to be a food blog, I guess we should share what we feasted upon! We had smoked salmon eggs benedict (a slight homage to our new Pacific Northwest roots), a green chile egg casserole, a couple of types of bacon, chicken salad veronique with croissants, fruit with chantilly cream, and lots of mimosas, champagne, wine from Becker Vineyards (our inspiration to get married in the Hill Country), and beer from St. Arnold's Brewery in Houston (with the awesome labels like Centenni-Ale packaged to commemorate Rice's 100th anniversary in 2012).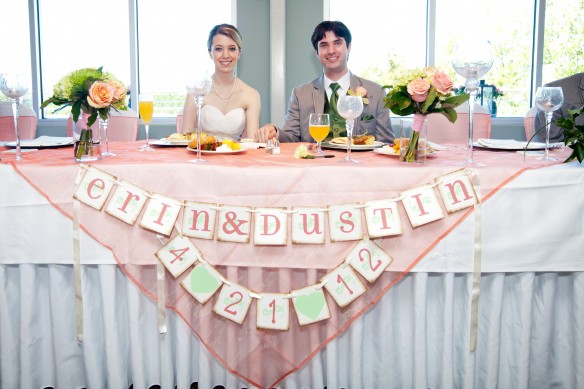 We did all of the traditional things— touching toasts from the people we love the most, a first dance to Hey There Delilah by the Plain White Ts (one of the first songs Dustin played for me in his room back at Sid freshman year), cake cuttings (where Dustin kicked some chocolate cake on my white dress!), and garter and bouquet tosses.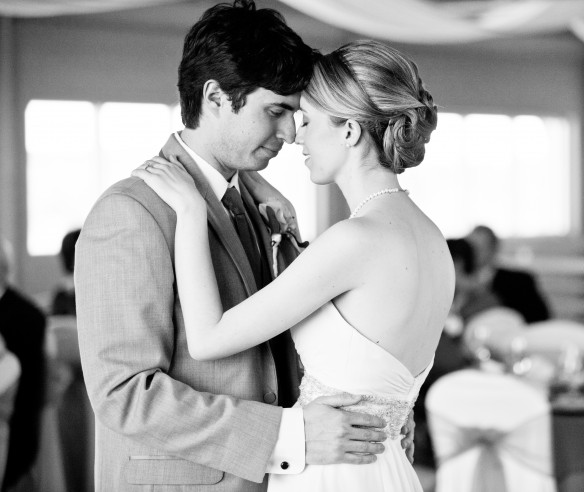 Here is a picture of our wedding cake, designed by Classic Cakes by Lori. It was a simply decorated with a loopy pattern intertwined with hearts. Coral colored roses (our colors were coral and pistachio green in case you couldn't pick that up from the pictures) sat up on the different tiers, and it tasted absolutely delicious. It was an incredibly light French vanilla cake with a fresh strawberry filling covered in vanilla buttercream. I tasted this cake at the bridal show in Austin and knew this was the perfect cake for me. No crazy fondant for me... I could live off of straight buttercream.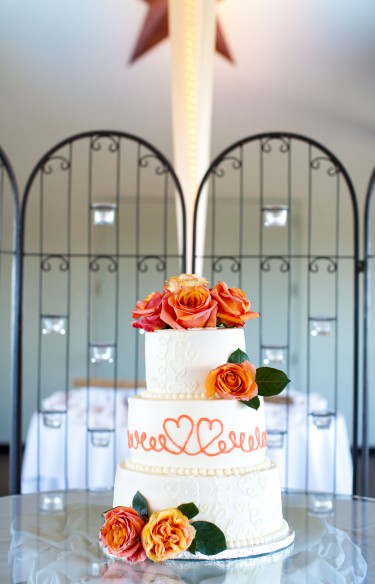 We also had a Texans-themed groomscake to celebrate our shared love of the Texans (and recent trip to the playoffs). This cake, also from Classic Cakes by Lori, was dark chocolate, filled with raspberries, covered with milk chocolate and chocolate ganache to top it off. It was so over the top decadent! Poor Dustin was plagued by nerves and wasn't very hungry, so he didn't eat very much of it. I, on the other hand, ate plenty of this rich chocolate cake, even stealing some of his ganache because my slice didn't have nearly enough. All of our lucky guests got to have a slice of each type of cake, which is how I think every wedding I go to in the future should operate!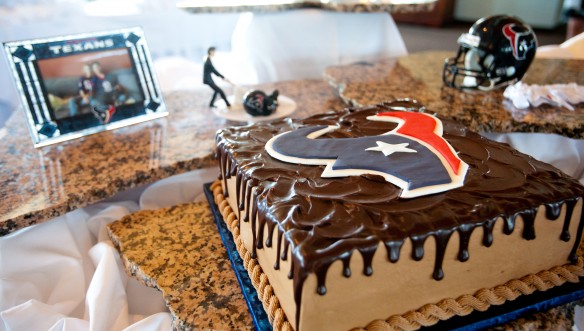 The reception also went by ridiculously quickly as we went to each table to welcome and thank our guests. Everyone's wedding advice is to take everything in and not let it go by so quickly, but I have no idea how you can do that. I promise we really tried to absorb everything, but everything went by in the blink of an eye. However, I must say without a doubt, it was the best day ever. I felt absolutely beautiful and so happy to be standing with my new husband.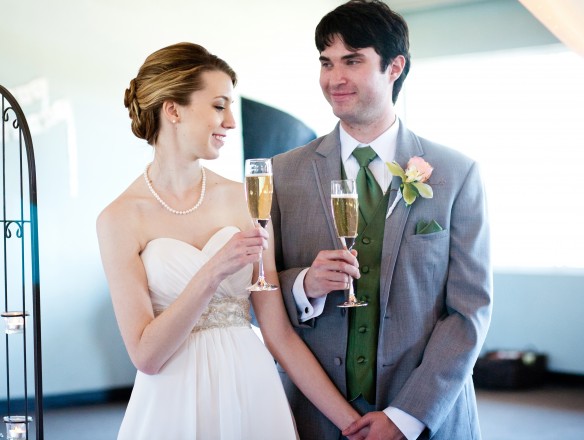 At first we had a mini mishap with the arrival of our town car, but timing ended up being perfect after all. I changed into an off-white lace dress I fell in love with from Urban Outfitters (and have gotten a million compliments on) and my cowboy boots, and Dustin changed out of his tux, and we headed off to downtown Austin and a fabulous, fancy suite at The Driskill as our guests tossed lavender buds on us (and straight into Dustin's face). I feel a little guilty because we got so much lavender in that town car. But I promise we tipped well.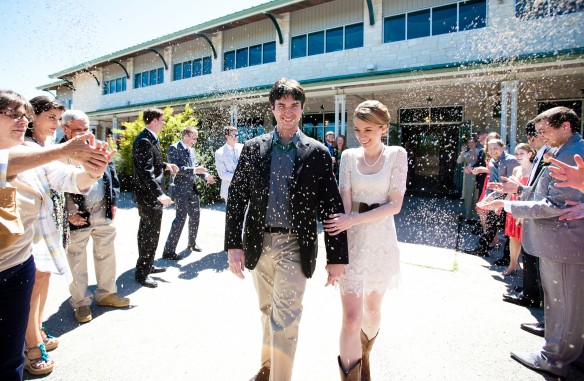 I also wanted to include some pictures of my cousin, Gunnar, our ring bearer, who is without a doubt the cutest, sweetest little boy in the world! He put on quite a show in the photo booth area for everyone.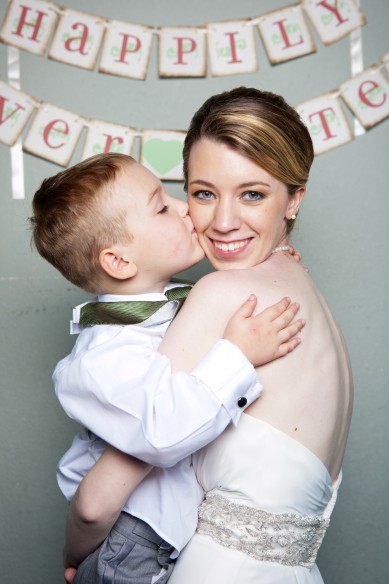 Just writing this post and being able to relive those magical moments (yes, I know it's cliche to say they were magical) is bringing a smile to my face. I'm a little sad it's all over, and I won't get to experience getting married again because it was all so incredible. It's also a little crazy that after over a year of planning, everything was over in the span of a few hours. It was absolutely worth all of the hard work, and I'm really enjoying our married life, although it really feels no different. I'm very looking forward to our continued happy future as husband and wife. Thanks for reading all the way through, and if you weren't able to come to the wedding, we hope you now feel like you got to be a part of our special day!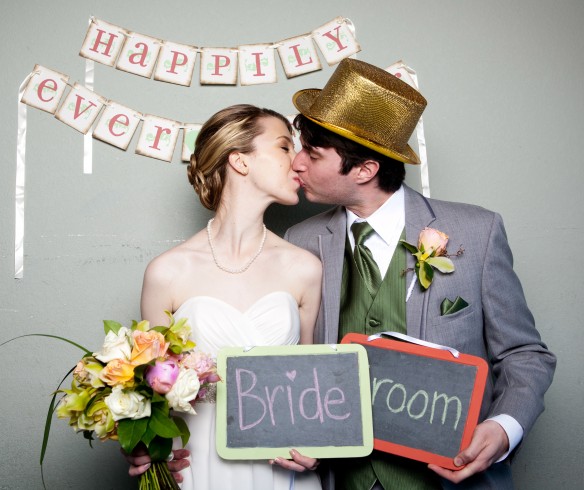 The beautiful flowers were done by my mom's cousin at Ryan's on Main in Cuero, Texas.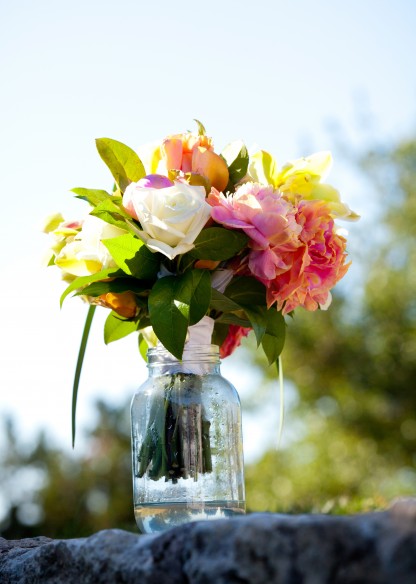 And a final parting shot for your enjoyment.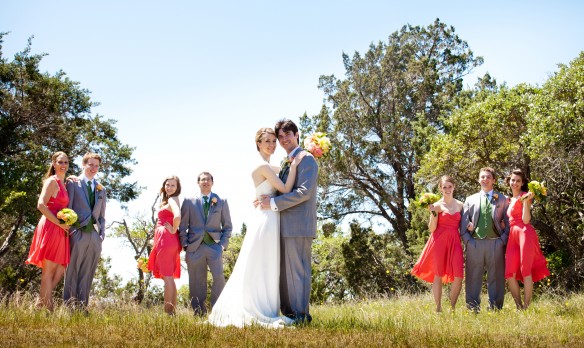 For pictures from the honeymoon in Jamaica, check out this post.