Savory Crab and Shrimp Cheesecake
I have been completely smitten with this recipe ever since I first saw it in the Pastry Queen cookbook. Savory cheesecake made with cream cheese and mascarpone, filled with Dungeness crab and shrimp? Sounds exactly like my kind of thing and another great excuse to use my springform pan.
The first step is to make a saltine cracker crust by crushing approximately two sleeves of plain saltine crackers with twelve tablespoons of butter (yes, a lot of butter, but still 25% less than the original recipe, and a little bit of pepper. The original recipe called for white pepper, as not to mess up the aesthetics of the crust, but that was no big deal to me, and I didn't want to buy special pepper. The crust also called for salt, but given one of the main ingredients is saltines, I felt it would be alright to omit the salt. It was. Pressed into the springform pan, this is what the saltine crust looked like.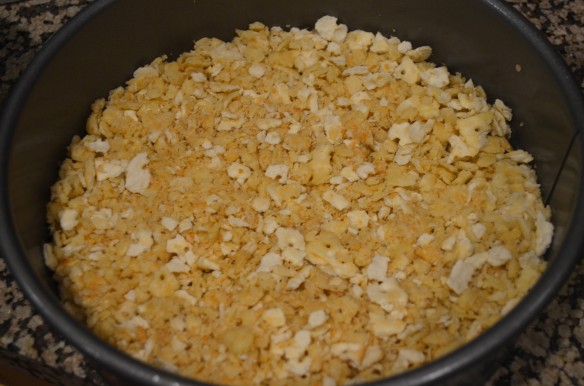 While the oven preheated to 350°, I heated a tablespoon of butter over medium heat and cooked a pound of peeled and deveined shrimp until they were just pink, then refrigerated the shrimp in a small bowl until further usage was required. In the stand mixer, I combined 12 ounces of room temperature cream cheese (8 ounces of reduced fat and 4 ounces of regular), a one pound container of mascarpone cheese and a half cup of low fat sour cream until everything was light and fluffy. Next I added in five large eggs, beating the mixture for about 30 seconds following the addition of each egg. Then add 1/2 cup of flour and mix until the creamy mixture thickens. Next I folded in two scallions, chopped, along with the shrimp and the beautiful, sweet, local Dungeness crab meat (1/3 of a pound instead of half a pound because the stuff is so damn expensive).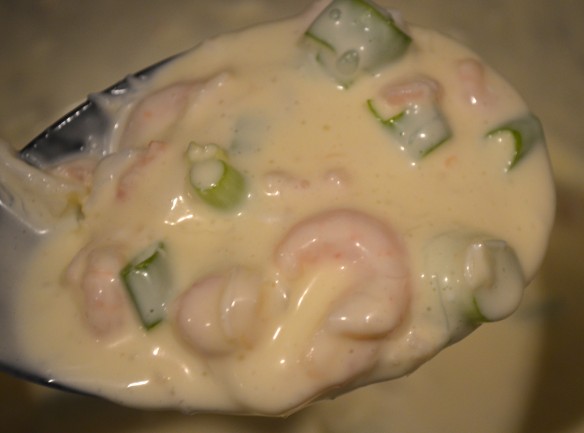 The creamy mixture gets spread evenly over the saltine crust and baked in the oven for about an hour until the top is brown and the cheesecake is no longer jiggly.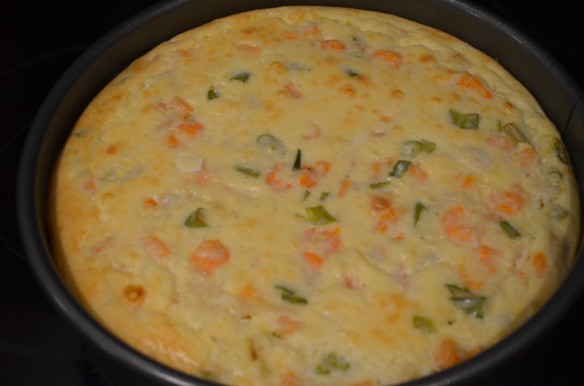 Once the cheesecake completely cooled (at least an hour), I cut it into eight slices for the perfect dinner sized portion to serve alongside a light spinach salad with walnuts, dried cranberries, and raspberry vinagrette.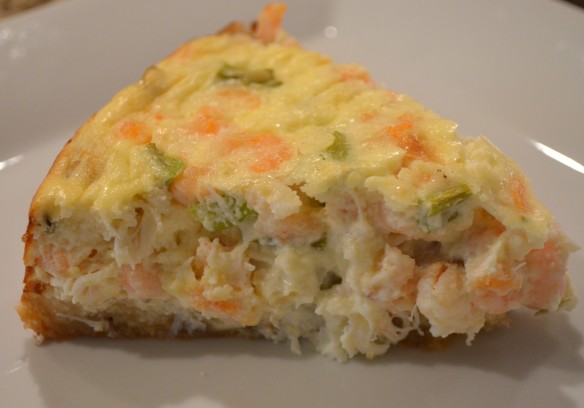 This dinner is most definitely not the healthiest (and I definitely ate my fair share of leftovers for lunch the next couple of days), so I'm sure it contributed to a few pounds of weight gain, but each bite is absolutely worth it. Despite the high cost of fresh crab meat and price tag of that much mascarpone, this was a great splurge dinner in multiple ways.