Lemon Gingersnap Cheesecake
During Dustin's cook off challenges awhile back, he might have you believe that the judges got the best end of the deal, implying that we just sat back and did nothing. However that was far from the case, as each and every time I made sure to supply a delicious dessert (mini cannoli cups and mint chocolate chip cookies to be specific) for each challenge. My role in all of our friend groups is quickly becoming dessert provider. For the final Chopped VS challenge, I made this lemon gingersnap cheesecake that went over to rave reviews.
This was my first ever attempt at making a legitimate cheesecake, so you'll have to excuse the less-than-smooth topping. I was a little worried about overwhipping the filling which causes cracks, so I erred on the side of caution, trying not to overwork my mixture. It didn't work. I still had cracks. It didn't matter though. This cheesecake was rich and luscious, and most importantly, it tasted smooth going down!
I really like the idea of combining the flavors of lemon and ginger in cheesecake form, particularly gingersnap cookies as a crust, after tasting Trader Joe's Lemon Gingersnap ice cream.
First, I made the lemon curd according to the recipe. It took a little longer than I anticipated to thicken up, but in the end it turned out to be a perfect lemon curd. All I did was simply whisk together a teaspoon of lemon zest, 1/2 cup of lemon juice, 1/2 cup of sugar, and three eggs over medium heat, stirring continuously. Then I added in 1/4 cup of cubed butter until the curd thickened up enough to coat the back of a spoon. I transferred the curd to a bowl and put it in the fridge to finish setting.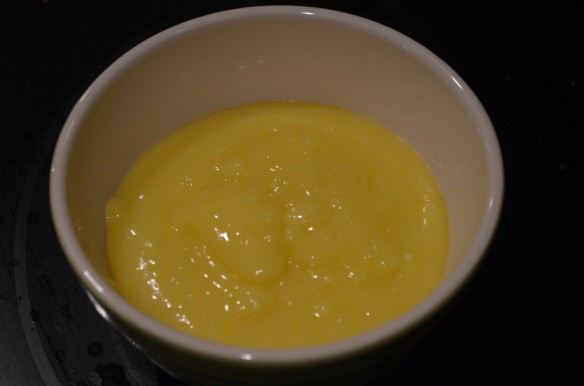 Next I preheated the oven to 350°, and while it was getting hot, I made the crust, combining 5 tablespoons of melted butter with 1 1/3 cup of gingersnap cookies (I used Trader Joe's Triple Gingersnap Cookies), which I believe was close to 30 or so cookies, but don't quote me on that. I pressed the crust into my 8" springform pan covered with a circular sheet of parchment paper, and my crust ended up a little thin, so maybe I'd up the butter to 6 tablespoons and 1 1/2 cups of cookies if I were to use this crust base again (which I think I will, maybe around the holiday season when I'm really craving the ginger flavor). The crust is baked for 10 minutes and then removed from the oven to cool before being covered with the cream cheese filling.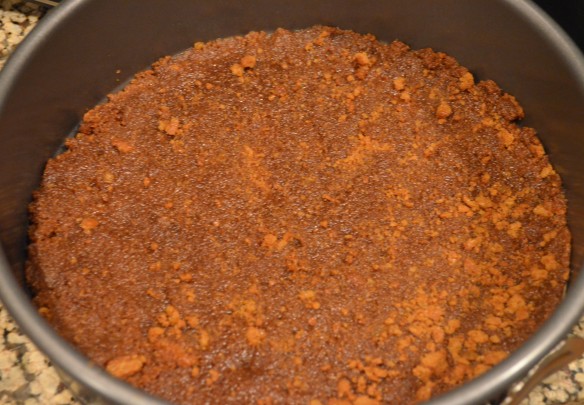 Next comes the part that makes this a CHEESEcake! This filling is a basic vanilla filling— 3 (8-ounce) packages of softened cream cheese (I used one reduced fat block) thoroughly combined with just under a cup of granulated sugar in a stand mixer until light and fluffy with 3 room temperature eggs added one at a time, mixed until well combined, followed by two teaspoons of vanilla extract and 3/4 cup sour cream (I used low fat with no problem). I spread half of the cream cheese filling on the crust.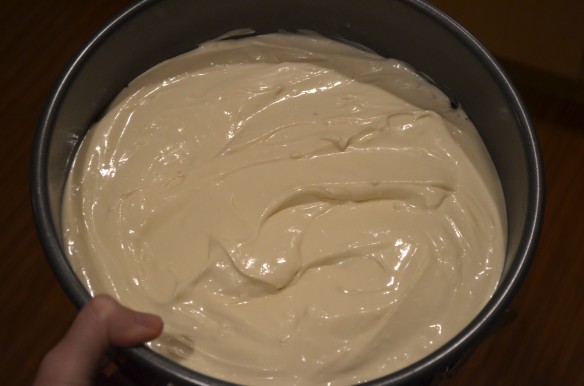 Next I mixed half of the lemon curd with the rest of the cream cheese mixture and added that to the pan. I topped the cake with the rest of the lemon curd and tried to make a cool swirly pattern, but it didn't really work that well so the lemon curd and vanilla cheesecake part pretty much completely mixed to make a solidly lemon filling. It might not have looked as cool as it could have, but I didn't mind the lemon flavor creeping into and combing with the cheesecake filling one bit.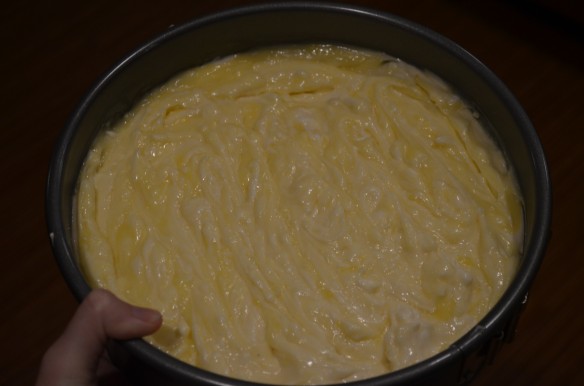 Here is what it looked like before it went in the oven at 300° and cooked for approximately 50 minutes or until the outside is set but there is still a little wiggle in the middle. Refrigerate for at least four hours (if not overnight) to set before cutting and serving.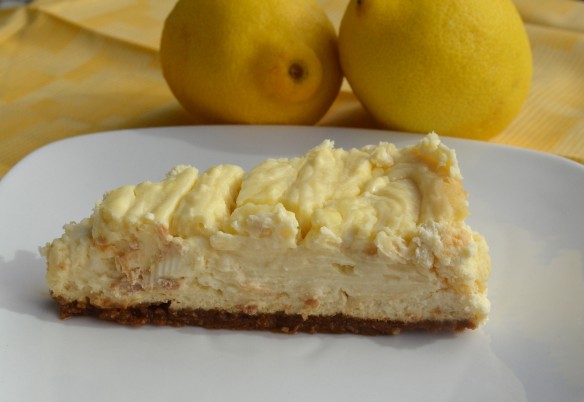 Here is one of the leftover slivers from our cook off celebration dinner. There wasn't much left when we got home, but luckily we were able to save a sliver to snap a photo!