Chocolate Chip Cookie Dough Froyo
I think this is probably the best idea ever. Take eggless cookie dough and combine it with yogurt, freeze it, and you have cookie dough frozen yogurt.
It's quite brilliant for a cookie dough lover like me, and while not exactly healthy, if you use Greek vanilla yogurt, you do get a lot of protein and calcium. Always looking for excuses to eat dessert.
I had been planning on making traditional chocolate cookie dough ice cream in the near future— vanilla with chunks of cookie dough— but after I saw this recipe, homemade froyo was all I could think about.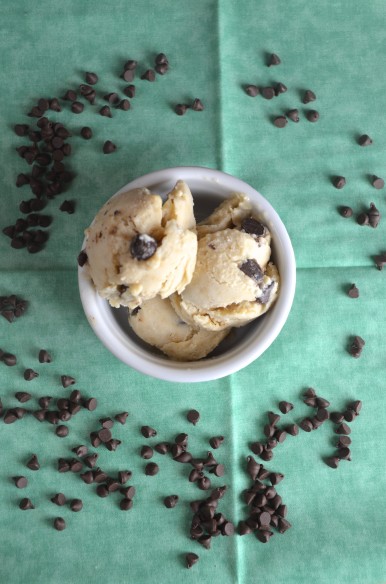 I actually used a slightly modified eggless cookie dough from the cookie dough brownies I made, which is pretty similar to the original recipe, mixed with non-fat vanilla Greek yogurt in my stand mixer.
Cookie Dough Froyo
adapted slightly from Crunchy, Creamy, Sweet Makes ~8 servings
1/2 cup unsalted butter, room temperature
1/2 light brown sugar, packed
1/4 cup granulated white sugar
2 tablespoons milk
3/4 teaspoons vanilla extract
3/4 cup all-purpose flour
3/4 cup semi-sweet chocolate chips
1 cup fat-free vanilla Greek yogurt
Cream together butter and both kinds of sugar until light and fluffy.
Add in milk and vanilla extract and mix.
Add in flour and mix.
Add in yogurt and mix.
Fold in chocolate chip with wooden spoon.
Place in covered glass container and freeze overnight before serving.
I think the only way to improve upon this recipe would be to add chunks of cookie dough to the frozen yogurt— you know, for the sole purpose of making it more texturally interesting :)