Cookie Butter Granola Bars
Our first attempt at homemade granola bars was a huge success, so when I saw this recipe for Biscoff granola bars I knew they'd be perfect for our trip to Olympic National Park. As fate would have it, I had a jar of Trader Joe's cookie butter in the cabinet, begging to be used.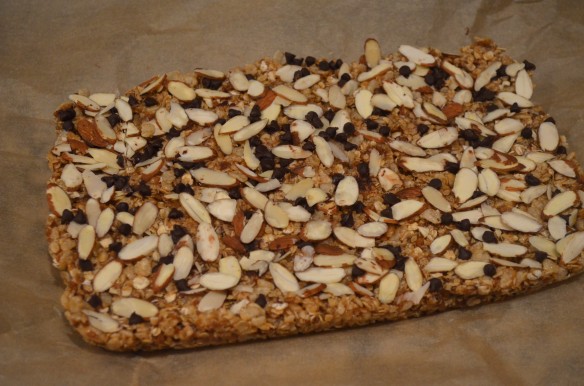 These are pretty much the same as the other granola bars, except I used cookie butter instead of peanut butter and chopped gingersnap cookies instead of pretzels. These granola bars are a little sweeter and less salty than the other ones, but just as tasty. I also added slivered almonds to the top in addition to the chocolate chips— the perfect hiking treat.
Here is Dustin enjoying one of the granola bars at the famous Hurricane Ridge. Happy boy!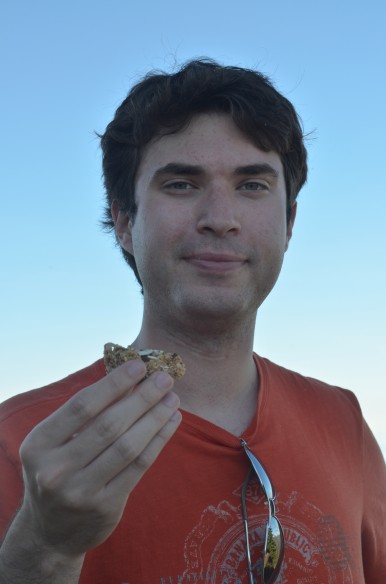 And here's the view from the top of Hurricane Hill.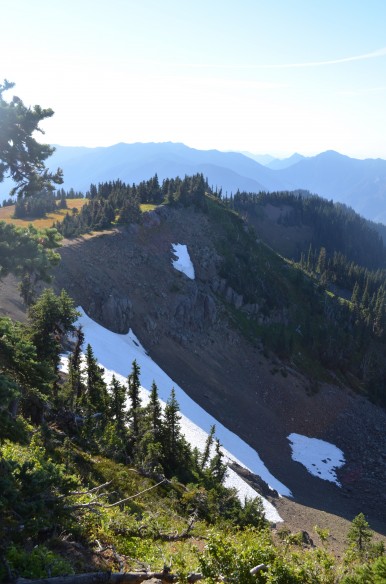 Following our ferry ride to the Olympic peninsula and a visit to Hurricane Ridge, we spent the night in Port Angeles and had some really delicious black and bleu burgers (local blackened beef patty with bleu cheese, barbecue sauce, bacon, and beer battered onion rings at the Next Door Gastropub alongside a cold glass of beer (for Dustin) and a bottle of the local Finn River sparkling pear cider (for me). Not exactly the healthiest of dinners, but considering all the hiking we did/were about to do, it felt well deserved.
The next morning we set out early to hit the sights after a quick breakfast at First Street Haven, a diner in Port A (where I got a s'mores mocha!). Of course, given my obsession with waterfalls, I really enjoyed the short hike out to Marymere Falls— a 90-foot waterfall just off of Lake Crescent.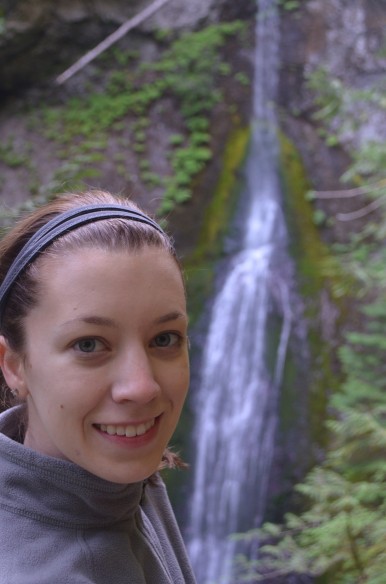 A short drive from the mountains, we next hit the rocky, drift-log strewn beaches of the northwest. Here I am at Rialto Beach looking pensively into the Pacific on the way to the Hole-In-The-Wall.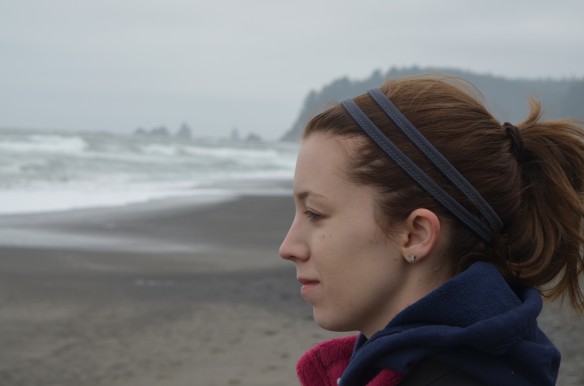 Definitely a Washington-style beach— cold, cloudy, and gray. But still beautiful in it its own way. It reminded us of the place where Voldemort's cave would be! Yes, we're nerds. Hole-In-The-Wall is exactly what is sounds like— a giant hole inside a rock formation on the coast— that you can climb underneath. We chose not to climb because the tide was rather high and our long pants would have gotten soaked. I, for one, was not not willing to walk the mile-and-a-half (made long given the difficulty of walking through all of the rocks) back to our car with wet pants in the cold. Afterwards we had our requisite picnic in the national park.
And just a few miles from the cloudy beaches, you hit rainforest with enormous trees and gorgeous weather (at least for us this time of year). It was pretty spectacular and hard to imagine we'd just left the mountains and the beach.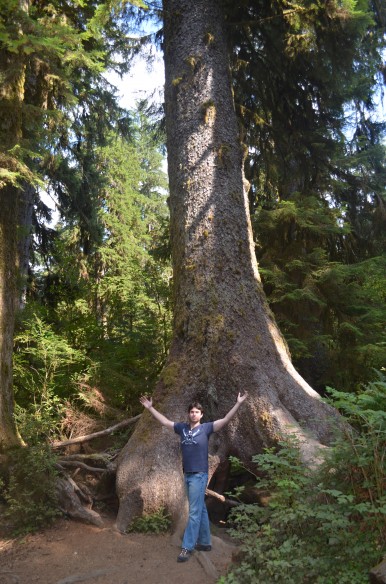 Following our treks through the rainforest, our feet were pretty tired, so after a visit to Ruby Beach (where supposedly the sunsets are gorgeous, but who would know given the clouds and fog we saw at sunset), we settled in at The Misty Valley Inn, a sweet little bed and breakfast with great views in Forks (no, we were not Twilighters, thank you very much), where we had some delicious freshly baked treats (brownies, lemon bars, AND chocolate raspberry cake) and an even better breakfast the next morning. The Inn's breakfast menu was totally my kind of breakfast menu—pancakes, waffles, crepes, French toast, and an apple  soufflé alongside only one egg dish— a Mediterranean omelet! I had the Northwest apple soufflé— so light and fluffy while Dustin got the Irish waffles with orange syrup and mounds of whipped cream. While my portion size was reasonable, Dustin's was not (especially after scones and jam and spiced apples). He had a rough time scarfing down any more than one of the five waffles on his plate! But perhaps my favorite part of the bed and breakfast experience was our wake-up in which we received a knock on the door and two large mugs of decadent hot chocolate with raspberry syrup and whipped cream! I could get used to waking up like that!
Olympic National Park is a pretty spectacular place with beautiful and diverse landscapes— three completely different areas to explore. We only touched the surface of this amazing place. You could easily spend a week or more here and still not see all of the sights. It's hard to believe it took us a year to get out there! Now we can't wait to head back when the weather is cooler to see some snow on Hurricane Ridge. I imagine it will look like a completely different place!