Hatch Chile, Chicken Sausage & Cheese Kolaches
Kolaches were not something that I ate all that often when I was back in Texas, but once you are away from something and can't get it, you suddenly realize just how much you miss (and want to devour) it. For anybody that isn't aware of the beauty of the kolache, they are Czech pastries that are super popular all across Texas' bakeries made from a slightly sweet, yeasted dough and can either be filled with something sweet— peaches or strawberry preserves and cream cheese for example— or something savory— sausage and cheese is by the best by far. Both kinds are equally delicious.
Kolaches have been on my to-make list for some time now. I've seen recipes in both my Homesick Texan and my Pastry Queen cookbooks, and each time I flip though, my mouth waters for a little taste of home. The only problem with making kolaches is that they take awhile (7-8 hours) due to lots of rising time, and they definitely taste best fresh from the oven, so I kept pushing off making them. I read up on freezing the dough, but I couldn't decide the best way to do it. In the end I saw these delicious chicken sausages with Hatch Chiles at the store and knew it was time to make them. I didn't do any freezing— I just made the kolaches and tasted them fresh from the oven then reheated them in the oven each morning for breakfast over the next few days. They weren't quite as good reheated, but still are a perfect reminder of a taste-of-Texas.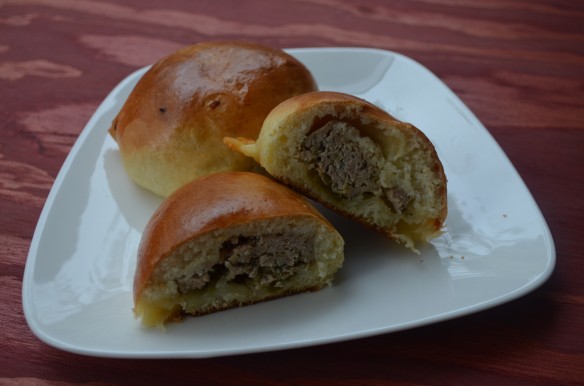 I followed the kolache dough recipe from The Pastry Queen cookbook.
Hatch Chile, Chicken Sausage & Cheese Kolaches
2 cups milk
1 (1/4 ounce) package active dry yeast
1/2 cup water (110°F to 115°F)
1/2 cup unsalted butter, melted
3 large eggs (divided)
1 1/4 cups granulated sugar
2 teaspoons salt
8 1/2 cups all purpose flour
Kolache fillings of your choice
Dissolve the yeast into the water and let sit for 10 minutes until foamy. While waiting for the yeast, warm the milk in a medium saucepan until it starts to steam, but does not boil. Remove and allow to cool to 110° - 115°.
In the bowl of a stand mixer, mix sugar, two eggs, salt and  butter. Add in milk and the yeast mixture. Add in the flour, 2 cups at a time until it is fully incorporated. The dough will be fairly sticky. Do not add more flour or overwork.
Transfer the dough to a bowl sprayed with cooking spray, then cover it with plastic wrap and let rise for at least an hour or until the dough has doubled in size. Punch down the dough, cover with plastic again, and place the bowl in the refrigerator for 4 hours (or overnight).
Spray baking sheet with cooking spray. Roll the dough into balls, and weigh each ball (2.5 ounces) if uniform sizes are desired. Arrange the balls on the baking sheet and lightly flatten each. Cover the balls with a dishtowel and let rest for approximately 15 minutes. Use your fingers to make an impression in the middle of the each ball so that there is a well for the filling and the kolaches' edges touch each other.
I filled each kolache's impression with some chopped Hatch Chile chicken sausage, some chopped roasted Hatch Chiles, and small blocks of Hatch Chile infused white cheddar cheese to make these the ultimate Hatch Chile kolaches.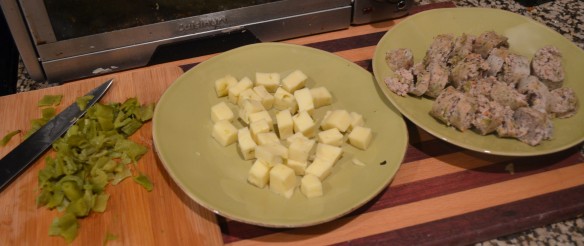 I stretched the dough over the filling so you could not longer see any of it.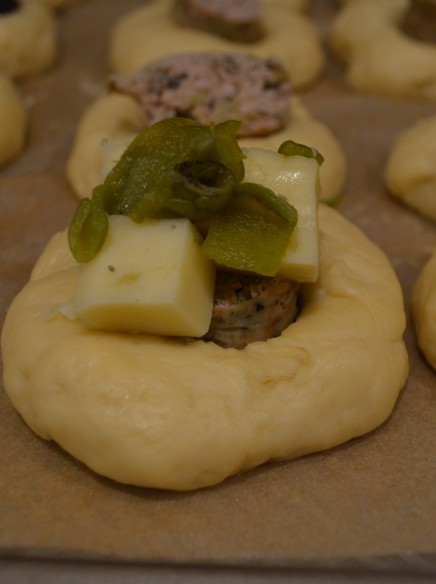 Let the kolaches rest for another 15 minutes while the oven is heated to 375°. Make an egg wash with the remaining egg and brush it over the kolache tops to give the kolaches a nice browned top when they bake. Bake for 25 minutes or until golden. Allow to cool for at least half an hour before you sample them, as the centers will be incredibly hot!
Since the dough for sweet and savory kolaches is the same, I used half of the dough to make these savory ones and the other half to make sweet ones (you can see those tomorrow!) I definitely recommend using two separate baking sheets for sweet and savory. I didn't and ended up with my sweet filling spilling over the edges to puddle around the bottoms of my savory ones. Oops! Nonetheless everything was delicious, and I can't wait to make them again!