Homemade Pop-Tarts (Shortcut Way)
I've been wanting to make homemade pop-tarts for forever and ever. I literally had this recipe opened up in Safari for weeks and weeks. In the end though, I decided to do something a little different when I made my pop-tarts— I used premade pie dough I had leftover from the mini cannoli cups (although I still plan to make those brown sugar cinnamon ones completely from scratch in the not-too-distant future) and made my own wacky pop-tart fillings.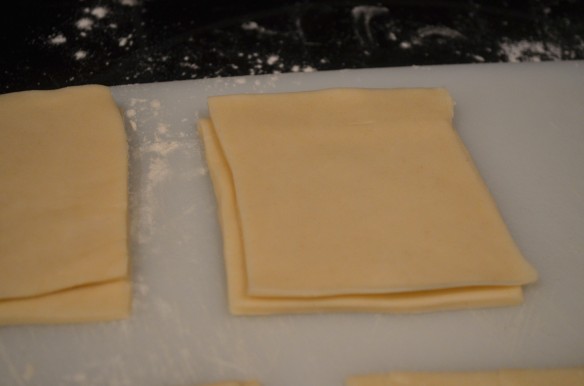 First I rolled out the pie dough very thin and cut it into rectangles, pairing each rectangle up with a similarly sized piece, which was somewhat difficult since I didn't do the best job of cutting equally sized rectangles. On one rectangle of each pair I poked holes with a fork for that authentic pop-tart look and so they wouldn't burst open. I'm not sure if they actually would when baked, but I thought it was better to be cautious.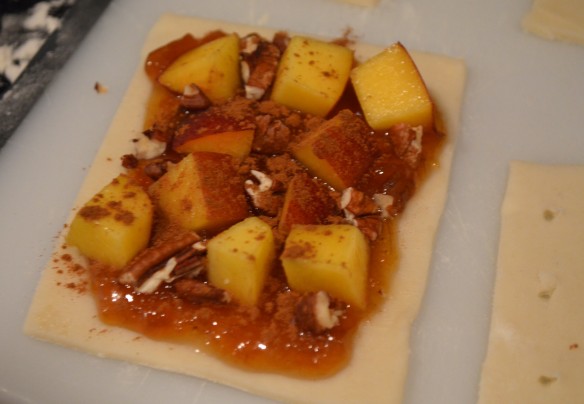 Then I made my first filling— an amaretto peach pecan jam with freshly chopped peaches and pecans topped with cinnamon— and spooned it over the non-hole-poked rectangle of pie dough.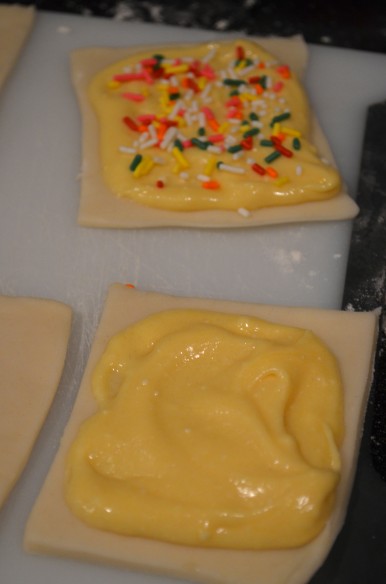 Then I made my second filling, a copycat of the confetti cake pop-tarts I impulsively bought at Target a few months ago. I mixed 1/2 cup of cake mix with a few tablespoons of milk until it reached a creamy consistency. Then I spread it on the pie dough and added sprinkles for some color.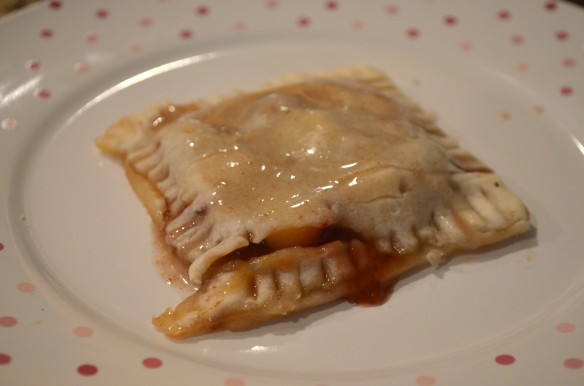 I put the hole-poked piece of dough over the filling and the other dough, pressed the edges together and used a fork to make pretty crimped edges. The pop-tarts were then baked in the oven for 20 minutes at 400°. Once the pop-tarts had cooled a little I made two glazes with a powdered sugar and milk base. For the peach-pecan pop-tarts I added a little cinnamon and for the birthday cake pop-tarts I added a little bit of cake mix (and of course more rainbow sprinkles on top). I added way too much milk for the amount of powdered sugar that I used because my frosting was really runny unlike a real pop-tart where the frosting is really thicken and hardens nicely. Oh well— live and learn. Those future cinnamon brown sugar pop-tarts will have an amazing topping I guarantee it!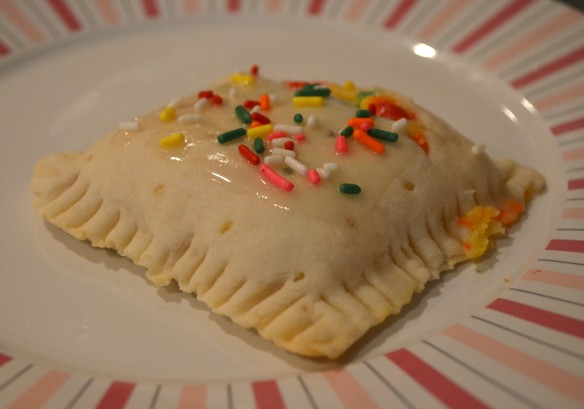 As you can see from the two pictures, these aren't the prettiest pop-tarts. Filling oozed out the sides and even broke a little bit, but they were still delicious. I've decided to blame the ugliness on the shortcut dough. My completely-from-scratch pop-tarts will be gorgeous!