Smoked Salmon Breakfast Tacos
Surprisingly, one of the things we miss most about Texas is breakfast tacos. Amazingly enough, nobody seems to serve them out here. Apparently they are a Texas phenomenon. These breakfast tacos definitely aren't the kind you'd get late night at Taco C or Dustin's personal favorite place, Taco Palenque—no chorizo and egg or bean and cheese here. These are no 99 cent breakfast tacos; instead they have a distinct Northwest flair with smoked salmon in the middle.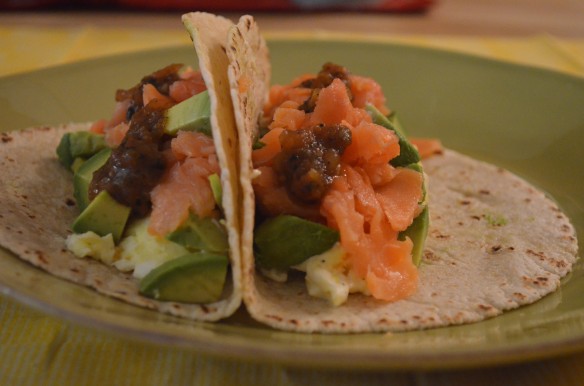 We scrambled some eggs with some reduced fat cream cheese (because you can't have smoked salmon in any form without some), chopped some avocado and topped the smoked salmon off with some fire-roasted tomato salsa inside a whole wheat tortilla. With all of the protein, fiber, and healthy fats, this was a great way to start out a bland workday.
However nothing can quite replace the breakfast tacos from back home. I know Taco Palenque will be Dustin't first stop the next time he gets off of a plane in San Antonio!