Greek Nachos
These nachos might be one of the best savory things to ever come out of our kitchen. Seriously. These were ridiculously good and have lots of healthy ingredients.
There are tons of recipes for greek nachos across the internet, so we decided to wing it and throw together all of our favorite Greek flavors.Pita bread turned into homemade pita chips covered in a thick tzatziki sauce made with greek yogurt and sour cream, topped with chopped chicken breast, cherry tomatoes, red onions, kalamata olives, and lots of (reduced-fat) feta!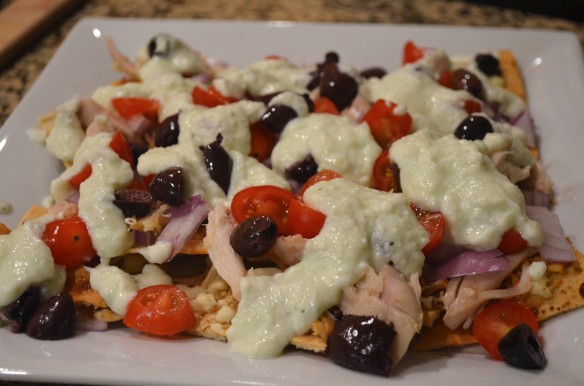 Making pita chips at home really takes this dish over the top, especially when you melt the feta on top of them, but you could totally buy pita chips at the store, a rotisserie chicken, and all of the accouterments, and then all you'd have to do is whip up some tzatziki. For the tzatziki, we blended one cup of  non-fat Greek yogurt with one tablespoon of lemon juice, 1/4 cup of grated cucumber (salted to drain the excess water), two tablespoons of minced garlic, a pinch of salt and pepper, and 1/4 cup of low-fat sour cream (because these are nachos...) in a food processor until smooth. We also folded in a little bit of the feta to make it a cheesy sauce.
Bake the pita chips in the oven with a layer of feta until the cheese is melted, then add all of the toppings and drizzle the sauce over.
We are totally in love with this combination of flavors. Dustin even says these were even better than the much-loved Mediterranean pizzas because of thick and cheesy tzatziki topping. I think the sour cream was a great addition to the tzatziki that really gave it some extra body.