Mini Apple Cider Donuts
Last year around this time, we went apple picking as a family (Bonnie included). We had a great time, but the only thing that was missing from our trip was the experience of eating donuts alongside freshly pressed apple cider, something Dustin remembered very vividly from his trips as a kid.
We haven't managed to find time to go apple picking yet, but lately I've seen a bunch of recipes for farmstand apple cider donuts— the kind you apparently get while apple picking. I decided I wanted to make Dustin this special treat for breakfast one weekday.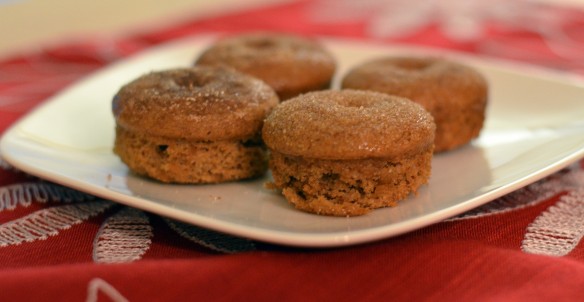 These donuts are super easy and quick to come together. We let them cool while we worked out in the morning, then we got to enjoy fresh, yummy donuts that are actually healthy as our reward (and we didn't undo all of our hard work). They are baked, not fried, and they have no butter in them and very little oil. I looked at a lot of recipes, but I couldn't find one I liked. I was missing ingredients or the recipe made way too many donuts and was hard to reduce. Instead I took of elements from a bunch of recipes I liked and just sort of winged the whole process, hoping they would work out. They did! Dustin was very complimentary.
To make these extra special, you can dip them in a little bit of butter and sprinkle cinnamon and sugar on top like we did this morning.
Mini Apple Cider Donuts
makes 18-20 mini donuts; adapted from the many recipes I looked at online
1/2 cup all-purpose flour
1/2 cup whole wheat pastry flour
3/4 teaspoon baking powder
3/4 teaspoon baking soda
1/4 teaspoon salt
2 teaspoons ground cinnamon
1 egg
1/3 cup packed light brown sugar
1/2 cup unsweetened applesauce
1/6 cup agave nectar
1/3 cup apple cider
1 tablespoon canola oil
2 tablespoons butter, melted (optional)
1/4 cup sugar + 1 teaspoon of cinnamon (optional)
Preheat the oven to 400°. Spray mini donut pan with cooking spray.
Mix together flours, baking powder, baking soda, salt, and cinnamon in a medium sized mixing bowl.
Thoroughly combine egg, sugar, applesauce, agave nectar, apple cider, and canola oil in a large mixing bowl.
Add the dry mixture to wet mixture and mix.
Spoon batter directly into the mini donut pan or put it into a plastic bag with a corner cut off and pipe the batter into the pan. Each donut cavity should be about 3/4 full.
Bake for 10 minutes.
When donuts are removed from the oven, use a knife to circle the edge of each donut to help ensure they don't stick to the pan.
Allow the donuts to cool for 15 minutes in the pan before removing.
Optional— Mix together cinnamon and sugar; dip each donut in melted butter followed by the cinnamon sugar mixture.
Serve with a glass of hot or cold apple cider for an authentic apple cider donut eating experience.