Peanut Butter Explosion Banana Bread
From pancakes to pie, I've been a little obsessed with peanut butter lately, and I hadn't made banana bread in forever, so I figured it was time to make peanut butter banana bread. But this couldn't be just any peanut butter banana bread. It had to be moist and dense, (sort-of) healthy (i.e. using whole wheat flour and no oil or butter), and extra delicious with multiple sources of peanut buttery goodness— creamy peanut butter, peanut butter chips, and Reese's Pieces.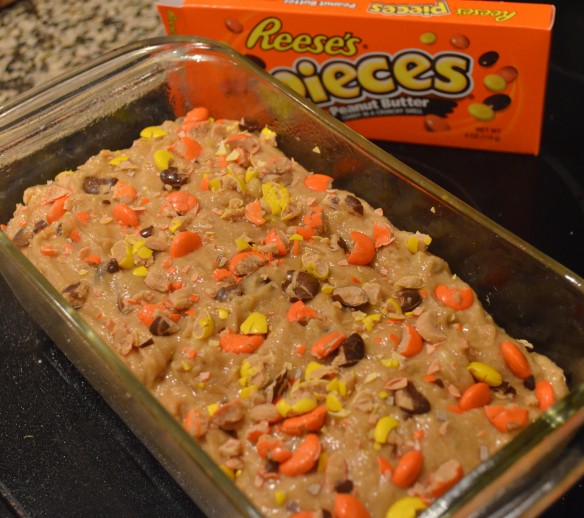 This has got to be some of the best banana bread I've ever tasted, and it will be the base for many variations of banana bread that I will be making in the near future. Plus the peanut butter flavor (plus a little bit of chocolate) really explodes, hence the word explosion in the title, from all the different sources and would probably taste great with an extra layer spread on top for breakfast!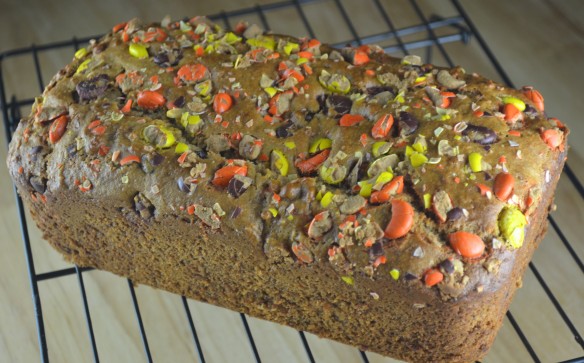 Peanut Butter Explosion Banana Bread
3 extra ripe bananas, mashed
1/2 cup reduced fat peanut butter
1/4 cup nonfat Greek yogurt
1 egg
1/2 cup granulated sugar
1/4 cup brown sugar
1 1/2 cups whole wheat pasty flour
1/2 tsp baking soda
1 1/2 tsp baking powder
1/2 tsp salt
1/3 cup peanut butter chips
1/3 cup chocolate chips
1/3 cup Reese's Pieces, crushed
Combine bananas, peanut butter, yogurt, egg, and both sugars in a large bowl with an electric mixer.
In a separate medium bowl, sift flour, baking soda, baking powder, and salt together.
Slowly add dry mixture to wet mixture and stir with a large spatula. The mixture will be very thick.
Fold in peanut butter chips and chocolate chips.
Pour into greased 11" x 7" loaf pan and sprinkle with crushed Reese's Pieces to give the top some crunch.
Bake in the oven at 350° for approximately 50 minutes or until an inserted toothpick comes out clean.
Let the bread cool in the pan for 20 minutes before moving to rack, then let cool for another two hours before slicing.