Pumpkin Risotto + Seared Scallops
I'm so excited for the next few weeks, as I've planned so many meals that incorporate different seasonal produce, which I absolutely love. I'm not of a fan of the weather getting cold, but I do love all of the flavors that come with it— pumpkins, butternut squash, and sweet potatoes; cinnamon, nutmeg, and allspice! Bring it on!
I know most people think of pumpkin as a dessert ingredient, but pumpkins are a type of squash and only taste like dessert when you add a bunch of sugar.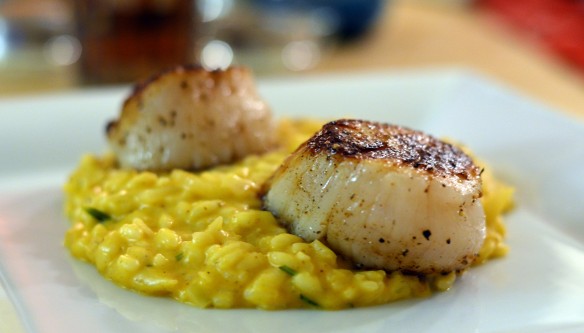 I used a basic recipe I found for pumpkin risotto, but I really spiced it up and added my own flair. To make this meal complete, we added seared scallops because scallops and pumpkin risotto go amazingly well together. You don't have to trust me. Just search for pumpkin risotto on the Internet and Google will autocomplete with scallops. I am now completely and absolutely 100% in love with pumpkin risotto.
I made the risotto, and Dustin prepared the scallops since now he is an expert.
Pumpkin Risotto
Serves 3-4
1 tablespoon butter
1 tablespoon olive oil
1/2 large yellow onion, chopped
2 cloves garlic, crushed
1 1/2 cups arborio rice
1 cup canned pumpkin
2 tablespoons half and half
2 tablespoons brown sugar
3/4 teaspoon cinnamon
1/4 teaspoon nutmeg
3 1/2 cups chicken broth
1/2 cup grated parmesan cheese
2 tablespoons reduced fat cream cheese
1 tablespoon rosemary, chopped
1 tablespoon thyme, chopped
salt and pepper to taste
In a small bowl, mix the pumpkin puree with the half and half to smoothen it up. Add the brown sugar, cinnamon, and nutmeg. Mix thoroughly and set aside.
Heat butter and olive oil in a large sauté pan over medium heat. Cook the onion and garlic until the onion is translucent.
Add in the rice, making sure to coat the rice with oil and butter mixture.
Stir in pumpkin mixture.
Add chicken broth, one cup at a time, each time waiting until most of the liquid has been absorbed. The mixture should never burn, only boil. Add another 1/2 cup of stock or water if rice is not tender after 3 1/2 cups. The whole process should take around 15 minutes.
Add in the parmesan cheese, cream cheese, rosemary, thyme, and salt and pepper to taste.
Serve immediately alongside seared scallops.
Adapted from recipe on Food.com