White Chocolate Alfredo Sauce + Lobster Tails
At the end of September we went to the Northwest Chocolate Festival here in Seattle. Dustin and I have a good working relationship— I go to beer festivals with him and he goes to chocolate festivals with me. It works out well for both of us. We had a lot of fun watching cooking demos, sampling tasty treats and purchasing chocolates from vendors (including blue cheese truffles, probably the most unique thing we saw there), and exploring the chocolate and alcohol room.
Of course, we ate lots of dessert and even learned how to make perfect salted caramel. But it was so much more than celebrating chocolate as a dessert. There was lots of information about the sourcing of cocoa beans and how the bars are made. In addition to all of that, we learned how to make a gin-based chocolate cocktail, The Holy Mole, and we learned about some of the savory uses of chocolate— particularly the secrets of mole and how to make a white chocolate alfredo sauce— at the cooking demos. I once made a pretty good white chocolate and tomato sauce buerre blanc, but it was nowhere near as good as this alfredo sauce given that I didn't use the highest quality white chocolate. This alfredo sauce, however, was absolutely amazing. I literally scarfed it down at a ridiculously fast rate and ate entirely too much.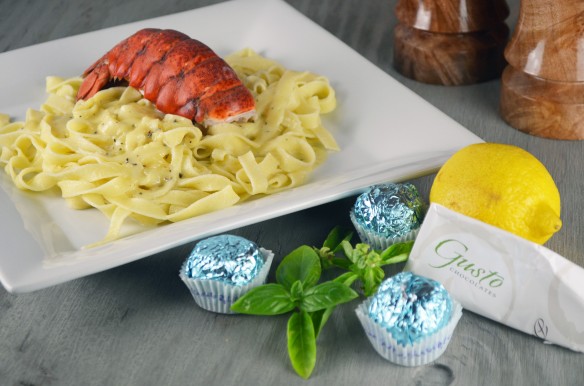 There really isn't much information on the internet about white chocolate alfredo sauce when you perform a search. Basically when making the alfredo sauce you use white chocolate (or cocoa butter) instead of regular butter. We bought a high quality white chocolate bar from the savory chocolate line, Gusto. The chocolate bar we bought has rosemary and sea salt and imparted that flavor into the sauce. The sauce will have an extra creamy texture and will be slightly sweeter than your typical sauce, but it's really not all that sweet if you use good high quality white chocolate, which is actually less sweet than the cheap stuff.
First, I melted one bar of the rosemary and sea salt white chocolate bar (1.38 ounces) in a small saucepan on medium heat. You can obviously use whatever white chocolate you have and then add some salt and rosemary to taste, but just make sure you use the highest quality white chocolate you can (the highest percentage of cocoa butter). Once the white chocolate begins to melt add 2/3 cup freshly shaved parmesan cheese. Then slowly add 1/2 cup of warm cream, stirring constantly until the mixture is smooth. Add the zest of one small lemon for some brightness and freshly ground pepper to taste.
We served the sauce over fresh homemade pasta, something we are getting much better and faster at making. We've streamlined the process from when we first started making pasta. We've gotten to the point that we will probably not go back to store-bought pasta unless we are in a big pinch because the fresh stuff is really so much better. We also bought some lobster tails because they were on sale at Whole Foods, boiled them up with a squeeze of lemon to serve with our fancy pasta dinner.
White Chocolate Alfredo Sauce
serves 2-3
One bar of rosemary and sea salt white chocolate or other high quality white chocolate (1.38 oz)
2/3 cup of shaved parmesan
1/2 cup of warm cream
Zest of a lemon
Fresh ground pepper
Melt the chocolate in a small saucepan on medium heat.
Stir in the parmesan.
Slowly add the cream, stirring constantly until smooth.
Add lemon zest and pepper to taste