Whole-Wheat (Smoked) Chocolate Chip Cookies
If you are reading this post this morning, I am currently taking the GRE, so wish me luck! I sure wish I still had some cookies to come home to following my test... Sadly enough, these have already been consumed. I guess I'll have to find something else to celebrate with.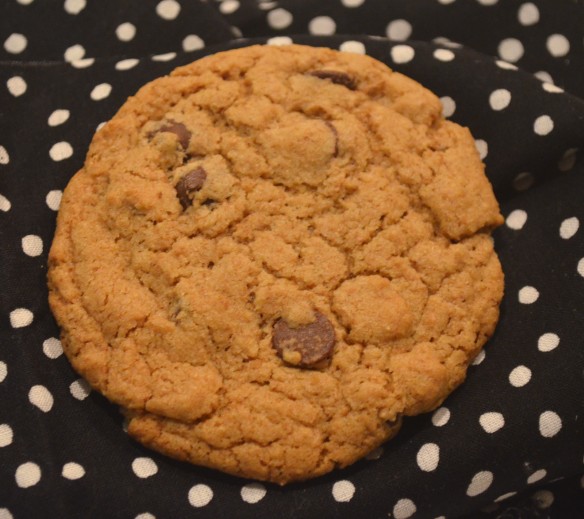 In other news, I've started collecting cookbooks. I'm a little ashamed to admit how many cookbooks are currently on my Amazon wish list. Cookbooks have practically replaced clothes and shoes as the things I want to buy, but I have to limit myself or else I'd spend way too much money. I'm thinking I'll let myself buy two cookbooks a month, and then I'll have all the cookbooks on my list in about a year. It's a little sad, but I've found I can spend almost an entire day pouring through cookbooks, bookmarking recipes, and making lists of things I want to make in four months (yes, that's how full my baking calendar already is). This recipe for whole-wheat chocolate chip cookies is adapted from Good to the Grain, a cookbook I am currently reading my way through as though it is a novel. This cookbook focuses on baking with non-traditional whole-grain flours rather than regular old all-purpose.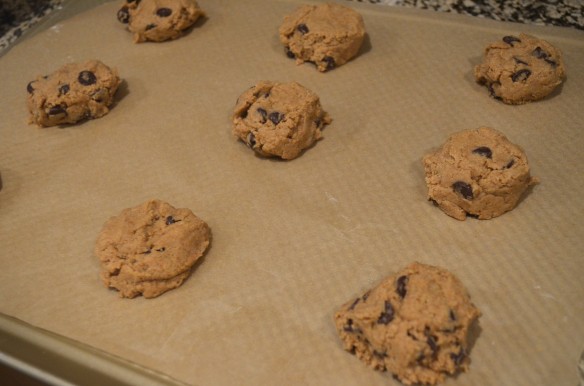 The whole-wheat flour gives the cookie an almost nutty flavor, which I think makes it a lot more complex and perfect for fall. My favorite part of making these cookies is that they looked exactly like enormous bakery cookies— perfectly round with a soft interior and crunchy exterior. The original  recipe called for the use of dark brown sugar, which I didn't have, so I made my own in the sense that I used light brown sugar and added molasses. I was trying to add about a tablespoon, but I was accidentally a bit heavy handed and probably added an extra teaspoon or so. However I really liked the flavor with the extra molasses, and it really complemented the flavor of the special smoked chocolate chips (from a place out here in Seattle) that I had been saving to pair with the grainy flavor of whole-wheat flour cookies. There is also a hint of saltiness that tied everything together nicely.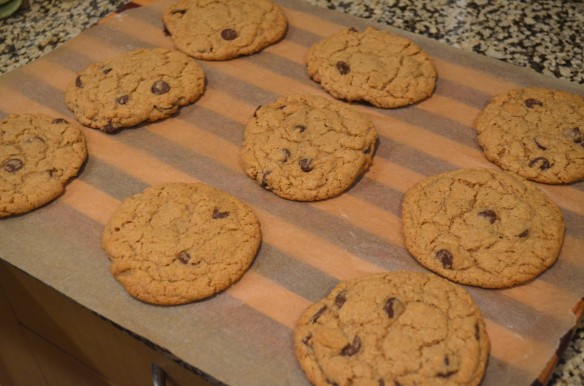 These aren't the cookies you'd make when you1r craving for a plain chocolate chip cookie hits, but rather, I think you'd make these cookies when you want to elevate the chocolate chip cookie to something a little more gourmet. I could totally see these being big sellers at an upscale bakery. There is a slightly earthy, almost rustic feeling to them I can't really describe. I guess you'll have to try them for yourself and find out what I mean!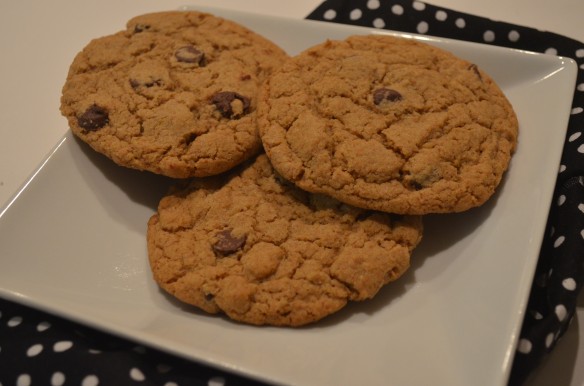 Whole-Wheat Chocolate Chip Cookies
(adapted from Kim Boyce's Good To The Grain; makes ~15 cookies)
1 1/2 cups whole-wheat flour
3/4 teaspoons baking powder
1/2 teaspoon baking soda
1 teaspoon salt
1/2 cup cold unsalted butter, cut into 1/2" cubes
1/2 cup granulated sugar
1/2 cup light brown sugar
1 tablespoon + 1 teaspoon molasses
1 egg
1 1/2 teaspoons vanilla extract
1/2 cup smoked chocolate chips (obviously these aren't a common ingredient, so you can substitute high quality bitter chocolate)
Preheat the oven to 350°.
Sift the dry ingredients together in a medium sized bowl.
Using a hand mixer on medium-low speed combine the chunks of butter with the sugar until thoroughly blended. This will take at least 3-4 minutes because the butter is cold and doesn't combine as easily.
Add in the egg and mix until combine.
Add in the molasses and the vanilla extract. Mix.
Slowly add in the flour and mix on low speed until barely combined.
Using a large spatula, fold in the chocolate.
Using a large cookie scooper, scoop out dough into approximately 2 tablespoons in size. Place on a parchment paper lined baking sheet spread at least 2 inches apart. I got 9 cookies on a single sheet.
Bake in the oven for 16 minutes, or until browned around the edges. The middles will look slightly soft, but they will harden as they cool. Allow to cool for a couple of minutes on the baking sheet. Then transfer to a cooling rack.
These cookies don't taste healthy at all. Naturally, they have their fair share of butter and sugar in addition to more fiber than your traditional cookie. Dustin normally complains that the things I make with whole-wheat flour are less fun, but he had no complaints here and happily shared these delicious cookies with his friends and coworkers the next day (while still reserving a few for himself of course). The cookies taste best fresh from the oven (duh) or on the same day as baking, but when you warm them up in the microwave for 20 seconds on the second or third day, they taste almost as good perfectly paired with a glass of vanilla almond milk.