Apple Pie Bread
I really love making quick breads to have for fast and easy weekday breakfasts. My favorite recently was the pumpkin cider bread I created— so moist and delicious. This recipe for apple bread from Penzeys makes your whole house smell like you are baking an apple pie, so I decided to modify the name. Whereas the pumpkin cider was light and fluffy, this apple pie bread came out thick and dense, but equally delicious.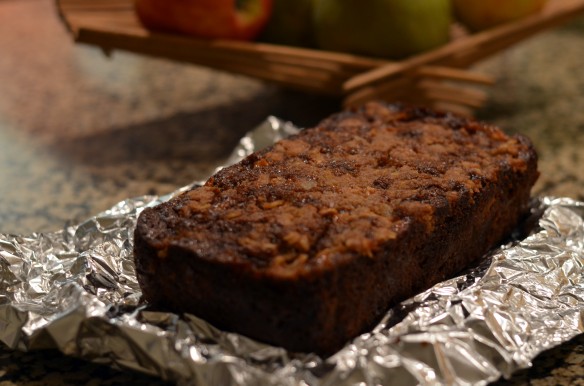 I made a few changes to the original recipe, and if I was to make this bread again, I'd make a few more changes, particularly grating the apples instead of chopping the apples. Most of the other similar recipes I found used grated apple, but I liked the idea of the bread having apple chunks for some extra texture. I think my bread ended up so heavy and didn't rise much courtesy of the apple chunks. They either need to be much smaller in size or grated in my opinion, which I've reflected below.
 Apple Pie Bread
adapted from Penzeys; makes 1 loaf
Bread
2 sweet apples, peeled, cored and chopped into 1/2" pieces (or grated)
2 eggs
3/4 cup granulated sugar
1/4 cup canola oil
1/4 cup applesauce
1 teaspoon vanilla extract
1 teaspoon baking soda
1 teaspoon salt
2 teaspoons cinnamon
3/4 cup all-purpose flour
3/4 cup whole wheat pastry flour
Streusel Topping:
1/8 cup all-purpose flour
1/4 cup rolled oats
1/4 cup brown sugar
1 teaspoon cinnamon
1/4 cup butter, softened
In a large bowl, beat eggs and sugar with an electric mixer. Add oil, applesauce, and vanilla.
In a medium bowl, combine flours, baking soda, salt, and cinnamon.
Slowly add dry mixture to wet mixture and mix thoroughly. Batter will be thick.
Fold in apples.
Pour into greased bread loaf pan.
Make topping by combining flour, oats, brown sugar, cinnamon and butter in a small bowl using fingers to create a moist and crumbly mixture. Spread over top of batter.
Bake 50-60 minutes at 350° or until a toothpick inserted into the middle comes out cleanly.
This bread tastes delcious on it's own or with a little bit of butter, but you could add some fruit jam or even pumpkin butter to really amp up the fall flavor!