Fluffy Pumpkin Pancakes
Usually, when I make pancakes at home, they end up too thin for my liking. Don't get me wrong, they are tasty. But they aren't like the thick and fluffy pancakes you get from the best brunch spots. That being said, I had buttermilk and some leftover pumpkin puree in the fridge with no planned uses, so I was bound and determined to make thick and fluffy pancakes for brunch last Sunday.
I literally searched for "thick buttermilk pumpkin pancakes," and came across this recipe from Baking Bites. The picture looked exactly like what I wanted. Sold.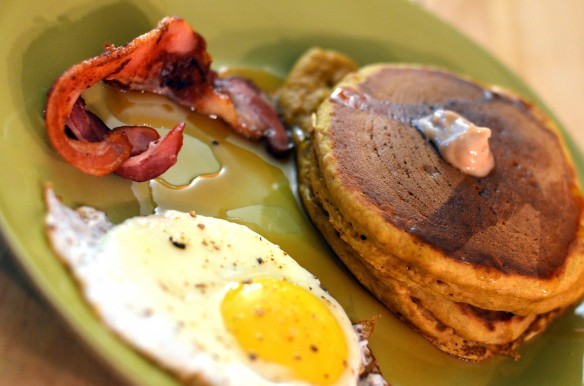 I followed the instructions exactly and was careful in my measurements (except for the pumpkin pie spice, which I amped up by 1/2 teaspoon). No thin pancakes! The batter was very thick and off to a promising start before I ladled the batter on to the griddle. They took awhile to cook, but these pancakes stayed thick and puffed up just as I hoped.
And when we bit into the pancakes, they were so light despite their thickness— the absolute perfect texture. Served with maple butter from our venture into Canada, real maple syrup alongside delicious, thick-slab bacon from a local butcher and fresh fried eggs from the farmer's market, this was a true grand slam breakfast— with a spicy fall twist!