Viva Vancouver!
We spent one of our last summer weekends exploring our northern neighbor, Vancouver, British Columbia. One of the coolest parts of living up in the Seattle area is that we've been able to enjoy some cool new cities, like Portland and Vancouver, that are just a few hours drive from here (unless you decide to cross the Canadian border at a popular time, in which a drive from Vancouver becomes exasperatingly long). This trip was the first time either of us had ever been Canada, and once we got used to all of the signs being in kilometers per hour, we felt right at home in Canada— they are even better drivers there than in Seattle according to Dustin! Of course, Vancouver is known for being one of the world's top food cities, so naturally we had a great time eating our hearts out there!
I bought a Groupon deal awhile back to for a two nights stay at the Metropolitan Hotel right in the heart of downtown Vancouver. It ended up being a great deal because it included valet parking with in-and-out privileges (which is regularly like $40 per night) and free continental breakfast (regularly $19 for some average croissants, fruit, coffee, and orange juice) in addition to the discounted rate. We also upgraded our room to a deluxe room with more modern decor and an incredibly comfortable king-sized bed. The room was a little small, but very nice and had a great marble bathroom. The hotel was also great with a friendly staff and an indoor pool and hot tub that we made sure to take advantage of! Our only negative was the quality of the continental breakfast, but given that we didn't actually pay for it, it's really not much of a complaint. Oh, and also the hotel's bar was closed at 11 o'clock on a Friday night when we tried to stop for an after dinner drink, which we found a little strange.
On our first night in Vancouver, we ate dinner at a sushi restaurant called Miku. I wish we had remembered to bring the camera to this dinner because the sushi looked fabulous. Unfortunately, all we had was an iPhone 3GS camera and poor lighting, which didn't make for great pictures. We were told by our waiter that Miku is the owner and executive chef's first restaurant outside of Japan, and that they are known for their aburi sushi— a special flame seared preparation method with delicious, specially prepared sauces. They actually don't bring soy sauce to the table because of all the hard work the chef has put into developing the sauces to be the perfect complement to the fish, but we were assured multiple times by the incredibly friendly Canadian waitstaff (seriously everyone there was ridiculously nice) that they would bring it to us if we so wished. But we definitely didn't need any soy sauce to mask any funky or fishy flavors because the sushi was incredibly fresh and delicious. We ordered two of the aburi sushi samplers (so we wouldn't have to share and/or fight over each piece). We had salmon, tuna, shrimp, scallops, and more, each prepared with it's own complementary sauce positioned on the top. We also ordered two rolls— the crunchy scallop roll with fish roe and bits of tempura and the red wave roll with (real) crab and avocado wrapped with red tuna and covered in a special sauce. The scallop roll was simple, fresh, and overall very good, but didn't knock our socks off. However, the red wave roll and all of the aburi sushi blew us away with their unique flavors. I honestly can't even tell you which was my favorite because they were each so delicious. We finished off the already large meal with the coconut blueberry cream dessert, which you can see a picture of here. It's definitely worth a look because the presentation was fabulous! There were so many components to this dessert, and I will let the description from Miku's website do the talking— "coconut cream , blueberry & blackberry compote, mint glaze, blueberry sauce, sour cream chantilly sauce, whipped cream, coconut cookie, blueberry/lavender sorbet." I think the blueberry/lavender sorbet was the most interesting part and definitely makes me want to experiment with lavender in the kitchen. We'd defintiely hit up Miku again for some great sushi, but we'd try to sit at the sushi bar, so we could better see the masters at work!
We spent the evening wandering around— walking down the famous Robson Street and seeing all of the bars and clubs on Granville Street (kind of like a more tame Sixth Street in Austin but less crowded and with younger people since the Canadian drinking age is 19). We decided to forgo the clubs and ended up getting a drink at a quiet hotel bar a few blocks from the Metropolitan.
Saturday morning we woke up and skipped our free continental breakfast in favor of a dim sum brunch at Kirin. Vancouver is well known for its Chinatown; it's the second largest in North America. A quick search for good dim sum restaurants in Vancouver led us to Kirin, and although not located in Chinatown, it was quite delicious. Our meal started out slightly awkwardly because we were the only people there. Yes, we did get there when they first opened, but it was still a little awkward and the service was a little slow leaving some room to be desired. The dining experience was overall quite nice. We started out with a light jasmine tea that I enjoyed much more than I thought I would. We also ordered several different small plates to eat. We were expecting dim sum with plates pushed around on little carts— something I have yet to do, but Dustin has frequently mentioned and hyped up— but much like here at Din Tai Fung in Bellevue, you order individual plates from the kitchen. We still aren't sure which is more traditional or "right," but I guess ordering from the kitchen is good because you know they are fresh and made-to-order. We ordered BBQ pork buns, green onion pastries, prawn and garlic spring rolls, crab and corn dumplings, and the shark fin dumpling (because it sounded unique and we were feeling adventurous) served as a soup with a side of some special bright pink sauce that we can't even begin to describe. All of the food was great, and we left with our stomachs full and quite pleased, but I'm not sure Kirin would be a must-see on the Vancouver food scene.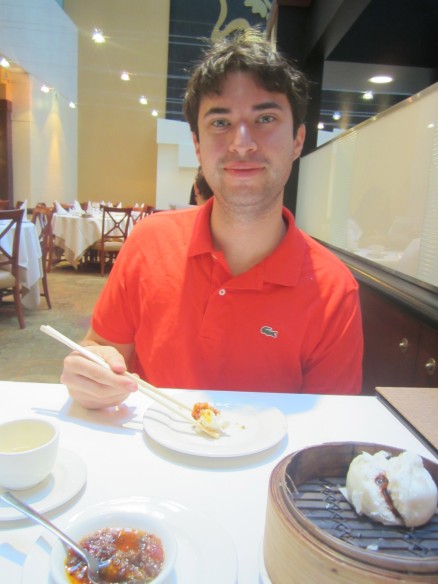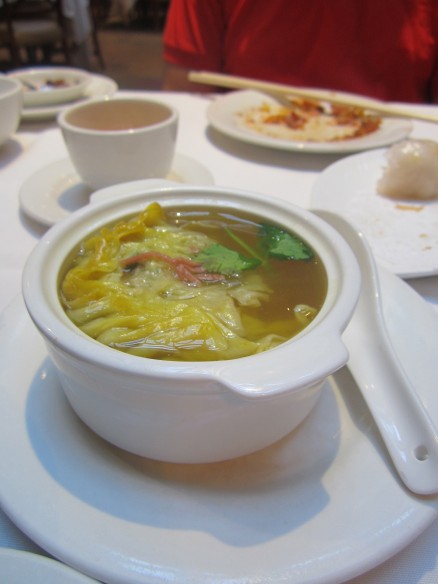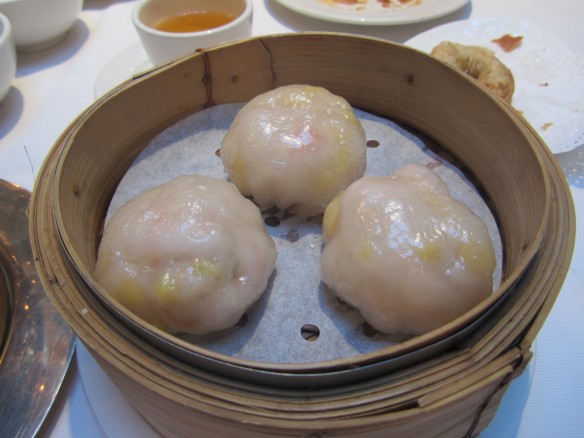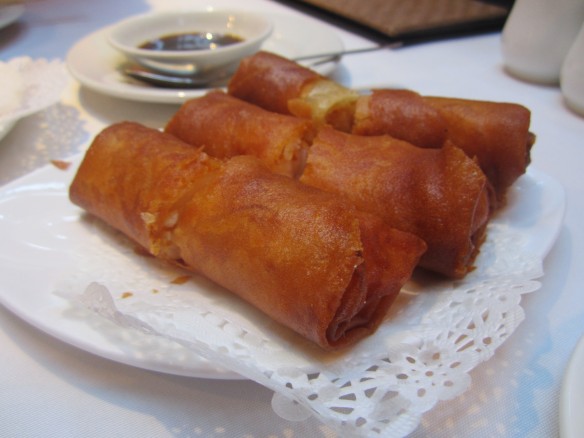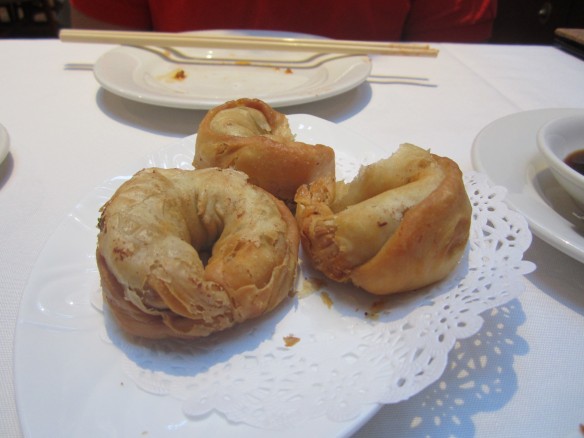 Following dim sum, we headed to the Granville Island Public Market, which reminded us a lot of our own Pike's Place Market, but a little less cool (although maybe we are biased).
We had a great time wandering around all of the food and merchandise vendors, stopping to buy a brownie pop, beautifully decorated with a coral colored flower, and a couple of trinkets to take home as souvenirs (including some Canadian maple butter and fancy hand-crafted maple syrup).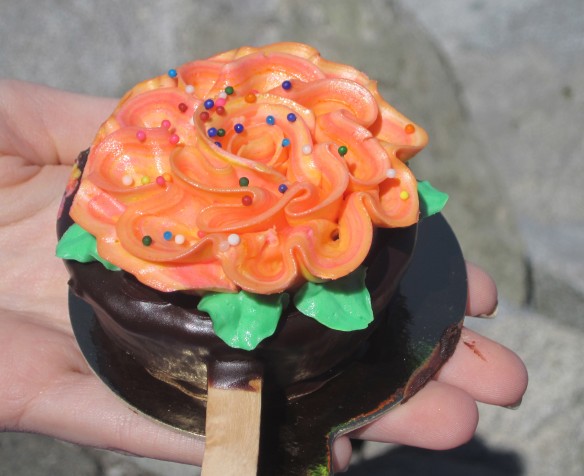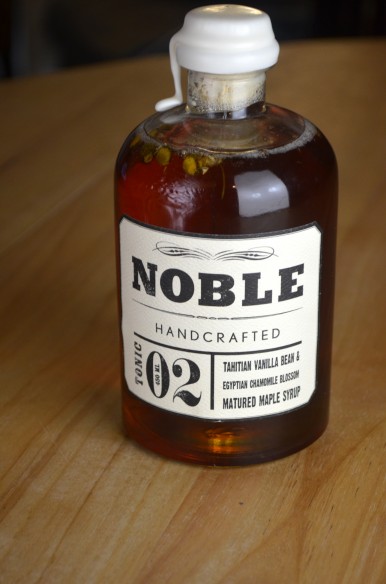 The market was packed and finding parking on the island was a nightmare, but we had a great time there and would definitely recommend it during a visit to Vancouver. In the middle of our Granville Island adventure we stopped at Backstage Lounge for a quick bite of Canada's national dish— poutine. For anyone who has never heard of poutine (and we hadn't until we moved up north), poutine is basically Canada's version of cheese fries. Fries are smothered with brown gravy and topped with cheese curds. It's basically pure delciousness, and you can get it just about anywhere you go in Canada (although it's actually from Quebec), including Burger King and McDonald's. Of course Backstage Lounge's menu claimed it's the best poutine around, and while yes it was good and hit the spot, next time we are in Canada, we will move away from the traditional Poutine and eat some of the funkier versions, like Philly cheesesteak and meatball poutine, that we saw at some of the hole-in-the-wall poutine stands downtown. Unfortunately, the timing of our day didn't allow us to stop at any of those places, but that just means we have another reason to go back, right? Sidenote— somehow I discovered this poutine pizza literally the day after we got back, and consequently, I am fully ready to hop in the car and head north at any moment.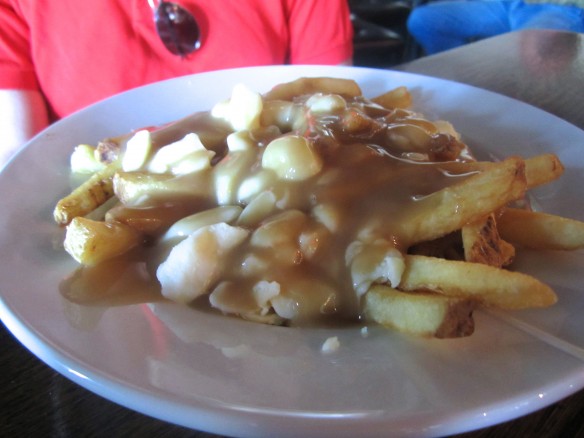 If you search for best dessert in Vancouver, without a doubt you will stumble upon Thomas Haas Patisserie, a wonderful chocolate and dessert shop and bakery. We spent some time in the afternoon sitting on their patio drinking a refreshing fruit tea cooler and a twice-baked almond croissant, something they are quite famous for, while a bag full of goodies sat next to us waiting to be taken home.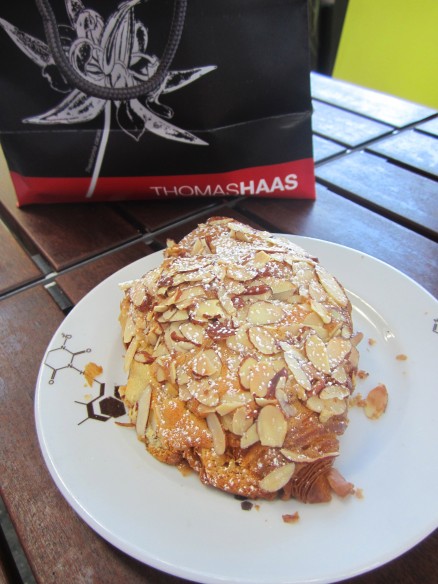 Although we wanted to buy everything in the store, we settled upon a box of assorted chocolates and a selection of petit macarons (clockwise, starting with the yellow one in the picture below— lemon, raspberry, chocolate, strawberry & vanilla, mocha, and pistachio) we enjoyed when we made it back stateside. Everything we got was top notch, and this stop was a definite highlight of our trip! It totally reminded us of the patisseries we stopped in and loved while in Paris.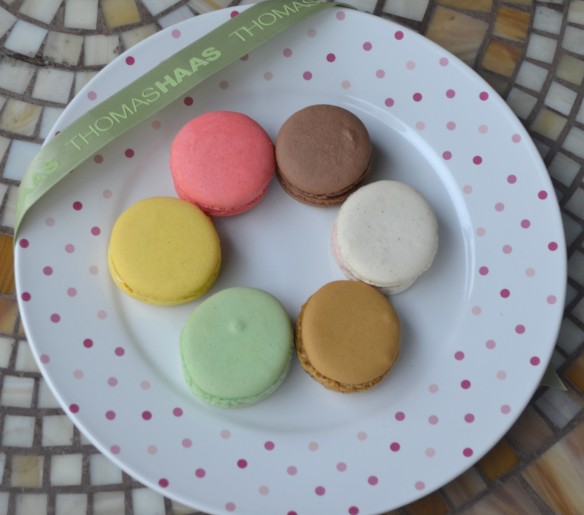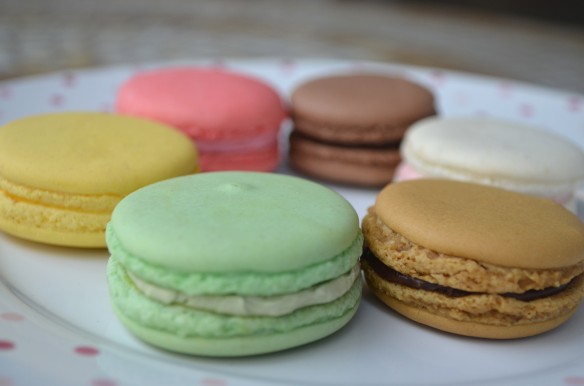 After our stop at Thomas Haas, we drove over to Stanley Park, a ginormous urban park with gorgeous trees, beaches and views. We spent a few hours walking around trying not to melt in the hottest part of the day.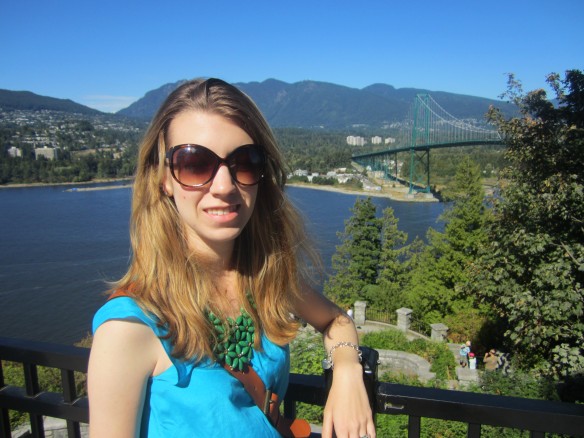 We saw lots of families and cute puppies running around as we strolled through the park. I'm sure if we were Vancouver locals, we'd definitely spend a lot of time with Bonnie at this place!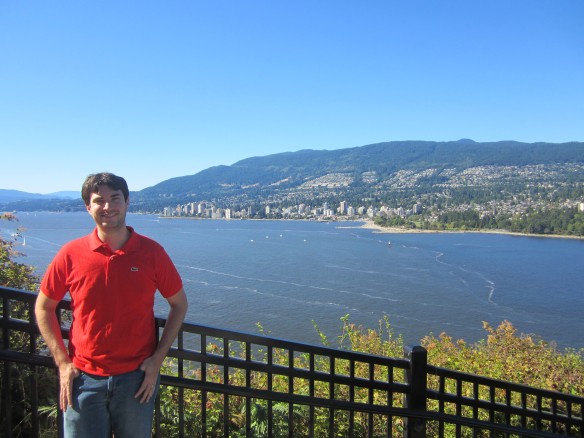 While we were pretty stuffed from our gluttonous and unhealthy day of eating, we did save room for dinner at Chambar— a highly regarded Belgian restaurant (with a large selection of Belgian beers, something Dustin was quite excited about) in the Gastown neighborhood of Vancouver and a short walk from our hotel. Chambar describes themselves as "unpretentious fine dining," a trend I feel we see a lot up in the Northwest. The ambiance is trendy casual, but you don't have to be super dolled up to eat here. In the end you still get elegant and creative dinners. We started out with a tomato and peach bruschetta, which after we ordered we realized was a lot like the panzanella we made not so long ago, which is probably why this dish sounded so good to us. The dish was alright, but not the highlight of the trip or even the dinner for that matter.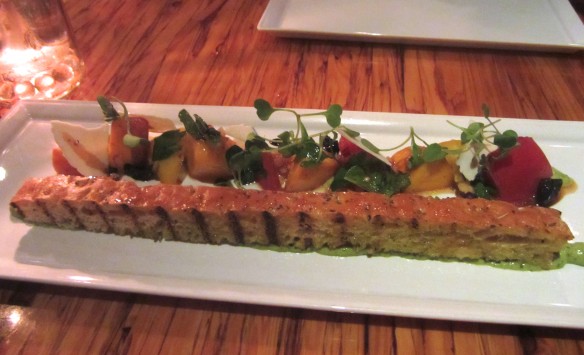 However our entrees were another story. Dustin ordered mussels in a white wine cream sauce with bacon lardons that came with a large side of frites and an addictive aioli. The sauce (especially soaked into a slice of freshly baked bread) and Dustin's mussels were out of this world, not to mention enormous. Without a doubt these were the largest mussels either of us had ever seen. At least twice the size of your standard mussel, theses babies were on steroids! Not to mention, you get a ginormous order of them.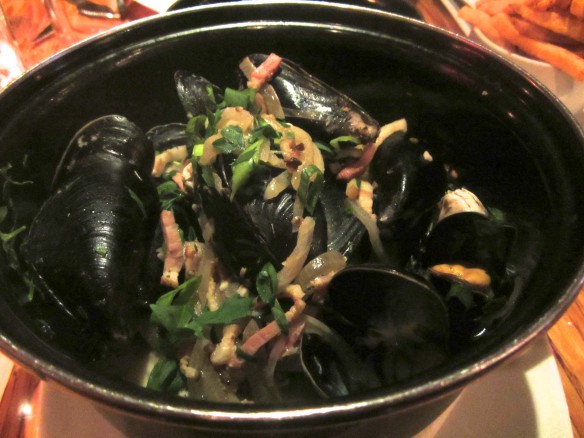 I ordered the spiced duck breast with herbed goat cheese, ricotta gnocchi and toasted hazelnuts. The duck breast was phenomenal and perfectly cooked, and while I must say Dustin made a delicious duck breast in his cookoff challenge, Chambar takes top duck breast honors in my book. As much as I love goat cheese and as great as the combination of everything sounded, I actually wasn't a huge fan of the goat cheese in this dish. It probably had something to do with the choice of herbs used than the actual goat cheese and duck combination; however, I did greatly enjoy the gnocchi and the hazelnuts as complementary flavors to the duck. In the end we were way too stuffed and over-desserted as it was to pick something from the dessert menu, but if the desserts are anything like the entrees, I'm sure they are delicious as well.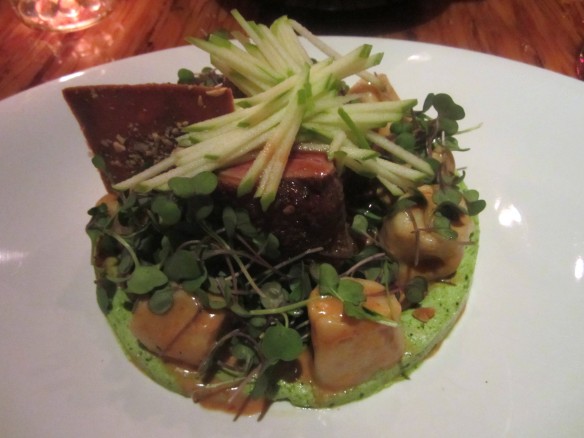 The next morning we ate the sad continetnal breakfast and headed out to Lynn Canyon and the Lynn Canyon smaller-than-the-famous-Capilano-but-plenty-tall-for-someone-with-vertigo suspension bridge for some light hiking. While apparently not quite as impressive as the Capilano Suspension Bridge, Lynn Canyon's is completely free (I believe Capilano will set you back around $35 a person plus parking) and still gives you the same suspension bridge experience. I didn't particularly like when I was standing still on the bridge to take pictures. Too much movement. But the rest of the time I was surprisingly fine walking over it. It was a nice, relaxing morning walking over the bridge and through the forest, and I'm definitely glad we chose to head there over Capilano.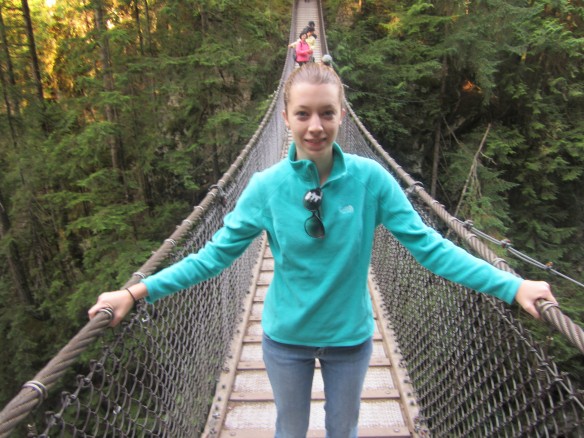 We did get some great views though too.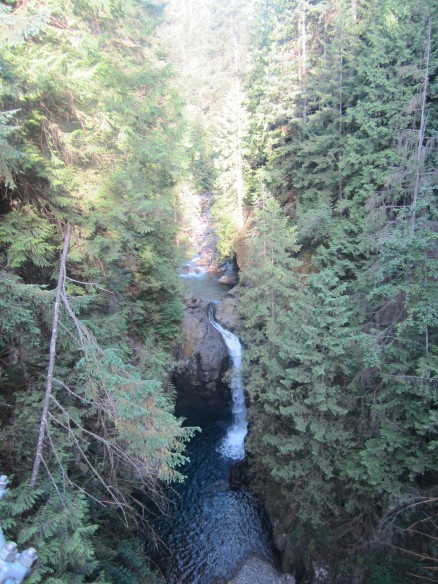 Before heading back to shower and check out of our hotel, we stopped in Chinatown for a quick visit. This was by far the most legit Chinatown I've ever seen, and we were one of the few, if only, non-Asian people roaming the streets on a Sunday morning. There were Asian fish and fruit markets dotting the streets and herb and grocery shops mostly with items we couldn't remotely begin to recognize. We were tempted to stop into one of the bakeries but opted against it since we were low on Canadian money and would be on our way to lunch soon. Although we just took a quick look around, it was still a cool place to experience.
Our final meal in Vancouver consisted of afternoon tea at The Urban Tea Merchant. We had so much fun with our afternoon tea at Harrod's in London last year that we decided we'd do it again while in Canada. This place has a ridiculous selection of teas. While both Dustin and I drink tea occasionally, we are far from experts, so the menu was a bit overwhelming. I chose a light and refreshing white tea with berry undertones and Dustin chose a nutty black tea that was perfectly mixed with a bit of milk and sugar— two very different choices! We ordered the Petite Tea Service with a selection of sweets and savories to enjoy alongside our tea. On the savory side, there were mini sandwiches including a traditional cucumber sandwich, an egg salad sandwich, and a smoked salmon sandwich as well as my favorite, a mini cone filled with a really delicious, tea-infused chicken salad. As far as the sweets go, there was quite a selection including a traditional scone served with clotted cream and some of the most delicious strawberry jam I've ever eaten, as well as seasonal fruit, a chocolate covered strawberry, petit fours filled with marzipan, and a tea infused macaron to top it all off. Despite ordering the smaller petite service, we were quite full after all those small bites, and ready to head back to the U.S. completely satiated.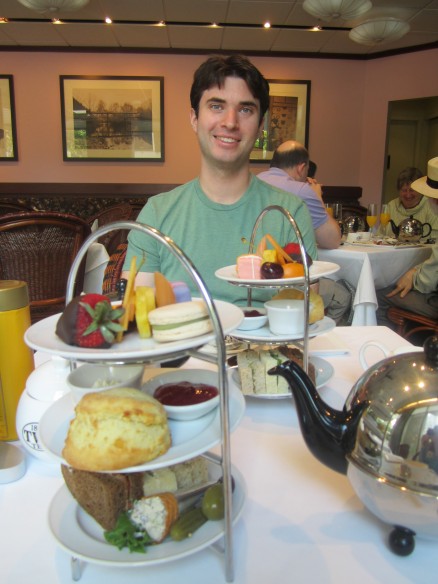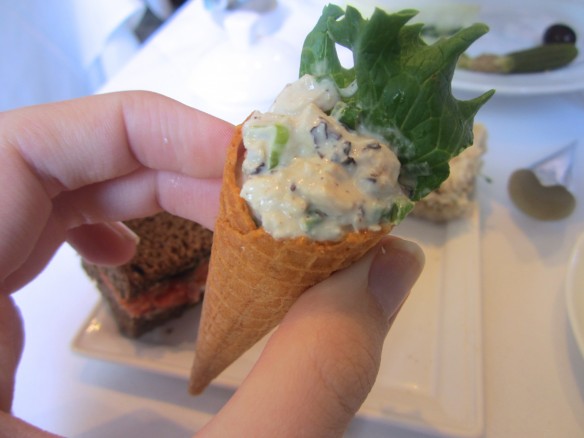 Just as with our trip to Portland last fall, we had a great time visiting a neighboring city and are looking forward to our next opportunity to go back! Next time I think I'd like to try Vij's, a very famous Indian restaurant (unfortunately they don't take reservations, so we skipped them this time), but apparently it only staffs well trained Indian women in the kitchen, so it's very authentic. Of course, we'll also get our fill of poutine!
Here is our breakfast from the next morning! Be very jealous! This syrup is really good.