Gin and Lime Cake
I wanted to make Dustin a cake for his birthday that incorporated flavors he really likes, but that I wouldn't normally bake with since it was his special day. I had seen a recipe for a gin and tonic cake from How Sweet It Is awhile back that I figured would be perfect for him.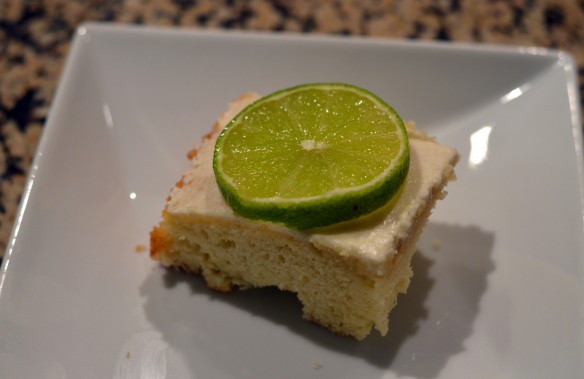 I originally intended to change things up and turn this recipe into a circular layer cake, but with Dustin at home for the day, I didn't have nearly as much free time to experiment with that idea. I was also a little worried about it falling apart if I did mess with it. So it stayed a plain sheet cake. Not nearly as impressive as the birthday cake for Dustin's parents.
I followed the cake recipe exactly, but did my own thing for the glaze and the frosting. Even though the batter had raw eggs, I did a quick taste test where I could definitely taste the gin, but I guess I didn't use enough gin in the glaze that you put on after baking because the gin flavor really wasn't too apparent in the cake when we ate it. It was still a delicious and very buttery cake with a nice crumb to it.
For the frosting I used half a stick of butter and then added milk, gin and powdered sugar until it reached a consistency I was happy with. I think the frosting was my favorite part, but I only had enough to frost a thin layer on the cake. I must remember to be more liberal with the butter and sugar next time I make frosting.
It was late by the time the cake was ready. Both of us were ready to eat cake, so we opted to take a few snapshots instead of trying to take nice photos. Apparently we don't have very much self control when it comes to eating desserts!