Pumpkin French Toast Casserole
Thanksgiving morning started out on a sweet note with pumpkin French Toast casserole and a Texans victory (even if just by the skins of their teeth). What a nerve-wracking week to be a Texans fan!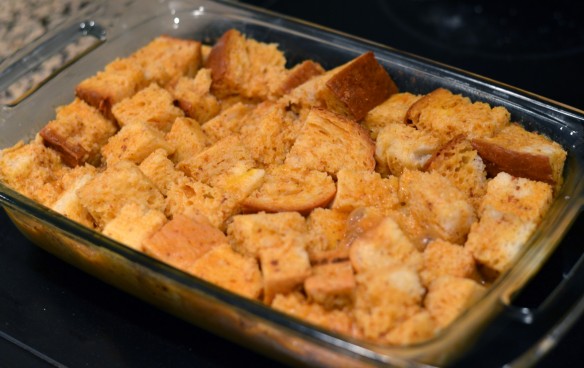 For the Texans first ever Thanksgiving day game (morning game for us West Coasters), we decided to prepare this French Toast dish the night before and then pop it in the oven for breakfast during the game. Cube 2/3 loaf of brioche bread and spread out in a 9"x11" baking dish. In a large bowl, combine 1 1/2 cups of milk, 4 eggs (lightly beaten), 1 teaspoon of vanilla, 1/2 cup of granulated sugar, 1/2 cup canned pumpkin, 1 teaspoon of cinnamon, 1/2 teaspoon of allspice, 1/2 teaspoon of nutmeg, and a pinch of salt, and then pour over the cubed bread.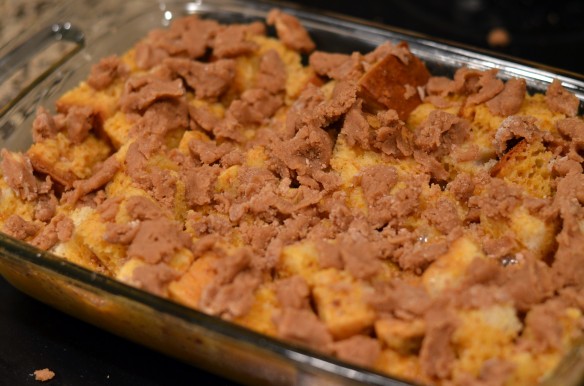 Cover the casserole with aluminum foil and let sit in the fridge overnight. The next morning, preheat the oven to 350°. While the oven is preheating, make a streusel topping by combining 1/2 cup of flour, 1/4 cup brown sugar, 1/4 cup cold butter cut into pieces, 1/2 teaspoon of cinnamon, 1/4 teaspoon of allspice, and 1/4 teaspoon of nutmeg with a fork until the mixture is crumbly. Spread the streusel over the soaked bread cubes and bake for 40-45 minutes until the top is golden and set. Serve with real maple syrup.
Covered in anything other than maple syrup, this French Toast might be rebranded as pumpkin bread pudding. We began brainstorming other complementary pumpkin flavor combinations— bourbon and white chocolate coming to mind.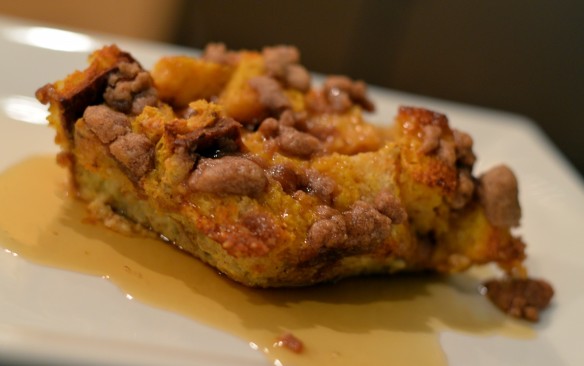 The rest of the day was filled with lots of cooking— a perfect and juicy turkey from Dustin's dad, the famous cornbread, chorizo, and green chile stuffing from Dustin's mom, Joel Robuchon style mashed potatoes (basically equal parts potato to butter) courtesy of Dustin, along with a cranberry sauce made with fresh cranberries, canned pineapple, and an orange.
Dustin's mom also made the traditional bourbon chocolate pecan pie, and I made a cream filled pumpkin roll cake from my Pastry Queen cookbook for the obligatory pumpkin dessert (in case we didn't have enough pumpkin flavor at breakfast).
We are very thankful for all of the wonderful things going on in our life and our families, those whom we were able to spend the holiday with and those we weren't. Love you guys!