Brown Buttered Eggnog Bread
Nothing says Christmas like eggnog. We've made our own, and now we are baking with this popular holiday drink.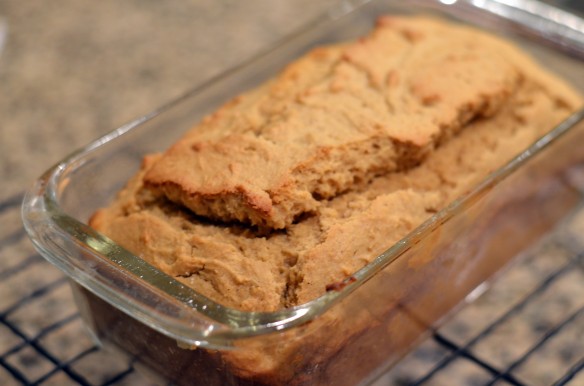 This Christmas morning you can drink your eggnog for breakfast as well as eat it. The bread definitely has an eggnog flavoring to it, but it's not overwhelming or overpowering, and the texture of the bread is really smooth. My favorite part was a random little pocket in the top center that stayed extra moist and was saturated with a little extra eggnog flavor. I'm not sure what happened there, if was a little underbaked and needed to be in the oven a little longer or what, but I definitely saved that part of my slice to eat last!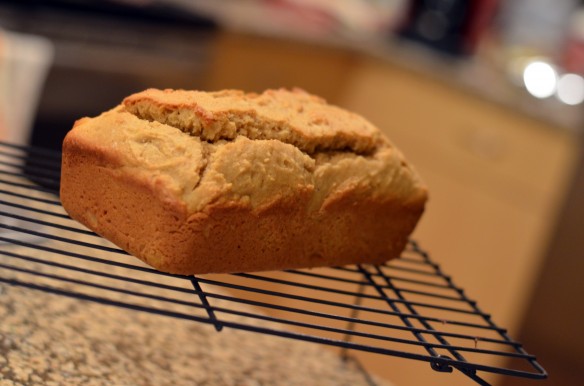 Brown Buttered Eggnog Bread
yield 1 9"x5" loaf
1/2 cup unsalted butter
2/3 cup granulated white sugar
2 eggs
1 teaspoon vanilla
1/4 cup spiced rum
2 1/2 cups whole wheat pastry flour
1/2 teaspoon nutmeg
1/4 teaspoon baking soda
1/4 teaspoon baking powder
1/3 teaspoon salt
2/3 cup eggnog (light works)
In a small pan, melt butter, stirring over medium heat until browned and aromatic.
Transfer browned butter to a small bowl and allow to cool.
Preheat oven to 35o°. Spray 9"x5" loaf pan with non-stick spray and set aside.
In a medium sized bowl, mix together flour, nutmeg, baking soda, baking powder, and salt.
In a large bowl, combine cooled melted butter and sugar and whisk until combined.
Add in eggs, one at time, mixing.
Add in vanilla extract and rum.
Alternate adding the flour mixture and the eggnog to the wet mixture and combine until smooth.
Pour batter into loaf pan, smoothing the top.
Bake for 50 minutes or until a toothpick inserted into the middle comes out cleanly.
Allow to cool in the pan for at least an hour before attempting to remove.
For extra fun add cinnamon chips or top with an eggnog/rum glaze, but even plain, this bread is great. A delicious way to kick start your holiday (or pre-holiday) morning!