Chocolate Sugar Cookies
I love the holiday season in general. I told Dustin the best part of marrying him is that I get to celebrate Christmas AND Hanukkah!
In celebration of Hanukkah, I busted out my menorah and dreidel cookie cutters from Crate and Barrel to create some special cut out cookies for The Festival of Lights!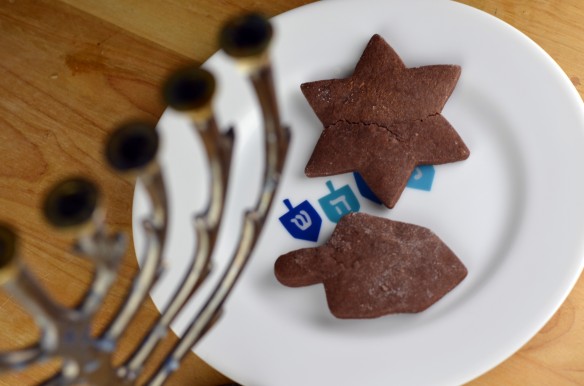 These aren't the traditional sugar cookies I make every Christmas in memory of my grandpa, but instead incorporate cocoa powder into a basic sugar cookie recipe to make them chocolatey. Regular ol' sugar cookies will always be my favorite, but I'm a little biased. These cookies, however, are a fun twist on sugar cookies. They really aren't super sugary tasting, and could totally be sweetened up by some decorative royal icing. Perhaps regular sugar cookie can be my Christmas cookie tradition, and chocolate sugar cookies can be my Hanukkah cookie tradition from here on out!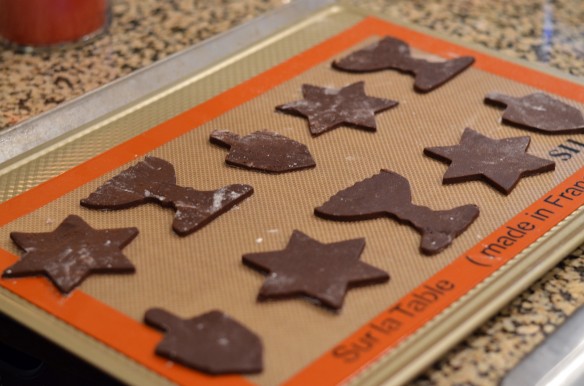 Chocolate Sugar Cookies
makes approximately 3 1/2 dozen but depends greatly on the size of your cookie cutters
1 2/3 cups all-purpose flour
2/3 cup Dutch process cocoa powder
1/2 teaspoon salt
1 teaspoon baking powder
3/4 cup butter, softened
1 2/3 cups powdered sugar
2 large eggs
1/2 teaspoon vanilla extract
Sift together flour, cocoa powder, salt, and baking powder in a medium bowl.
Using a hand mixer, cream together butter and powdered sugar in large bowl starting on low and then increasing to high as the powdered sugar becomes more incorporated until the mixture is completely smooth.
Add in egg and vanilla extract and mix until incorporated.
Cover the dough and allow to refrigerate for at least a couple of hours or preferably overnight. The dough must be very cold or else it will be sticky and difficult to roll out.
Preheat oven to 350°.
Roll out the dough to about 1/4" thickness on a lightly floured surface and cut out various shapes with cookie cutter(s) of your choice.
Place on silicone mat lined baking sheet (or parchment paper) and bake for 8-9 minutes. Cookies should still feel a little soft when touched but will harden as they cool.
Let cool on the baking sheet for about 10 minutes and then transfer to a wire cooling rack.
Happy Hanukkah!