Eggnog Cheesecake with Gingerbread Crust
Merry Christmas 2012!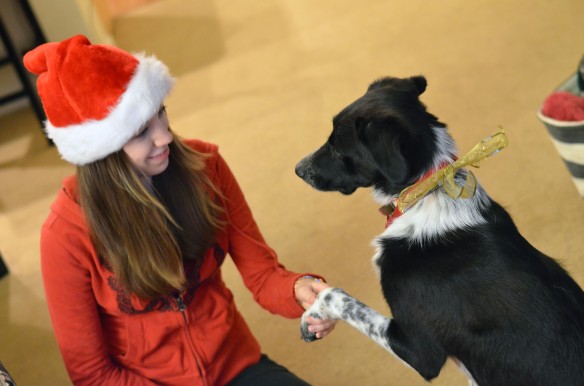 Currently sitting in our fridge waiting to be eaten later tonight for Christmas dessert is this eggnog cheesecake with a gingerbread crust, topped with crushed peppermints. All three popular Christmas flavors rolled into one (hopefully) delicious and rich cheesecake. I hope it tastes as good as it looks (UPDATE: it did!).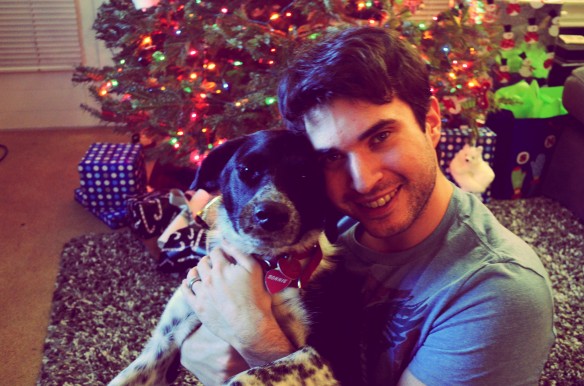 I guess we'll just have to wait until after Christmas dinner with our neighbors to find out!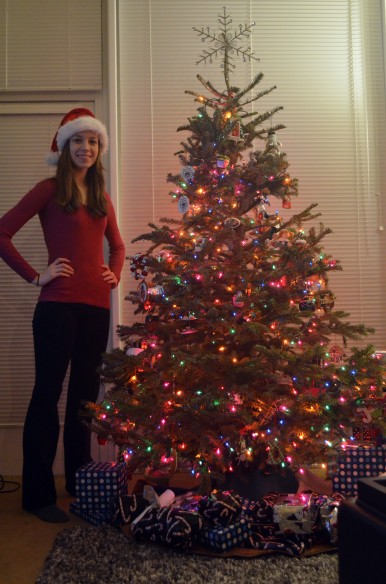 We shared our Christmas presents with each other last night. Bonnie was the real winner of the night, making away with more presents than either me or Dustin.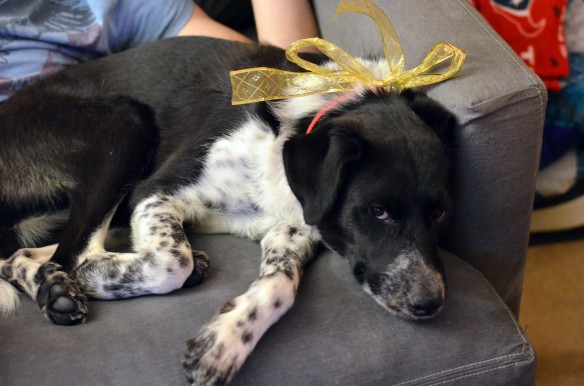 She got new food and water bowls, and bunches and bunches of toys including a Lamb Chop stuffed animal similar to the one I had as a child, a mini bra toy (it made us laugh, so we had to get it), to this random blue monster toy she keeps bringing up on the couch and using as a pillow. So far it appears to be her favorite.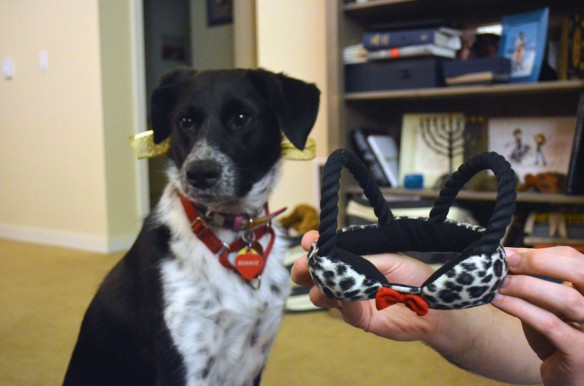 She was so cute with the presents. When I was first wrapping her presents, I sat on the floor, and she started trying to steal them from me, so I should have known that Christmas would be a success!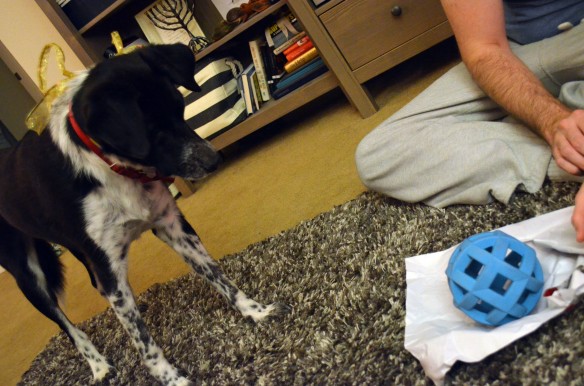 She got so used to us calling her over during the opening portion of the present giving that she started coming over when either of us were opening a gift, thinking they were for her.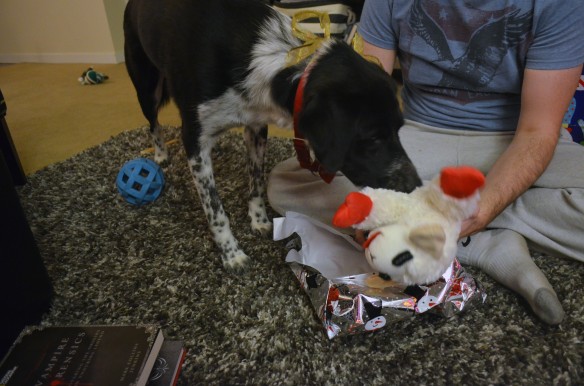 What an entitled puppy! How things have changed since we first brought her home!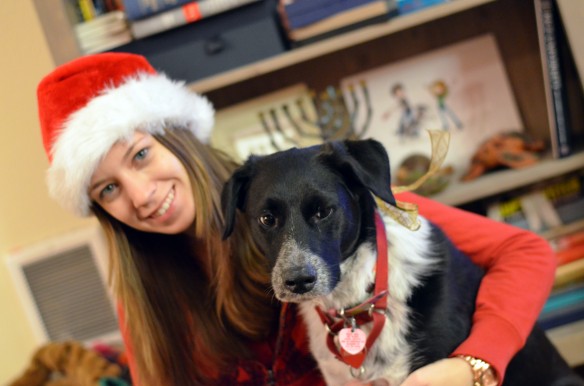 Dustin got me some great gifts, including but not limited to a new Macrina bakery cookbook.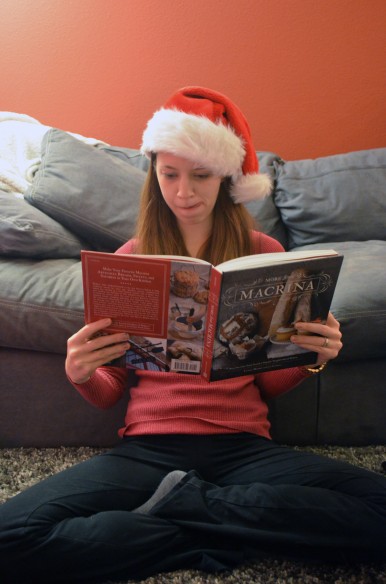 He also got me some fancy salts (like those at John Howie Steak), a bottle of salted caramel vodka, and a pair of fancy aviator sunglasses to replace my Ray-Ban's that disappeared on my visit to Indiana over the summer.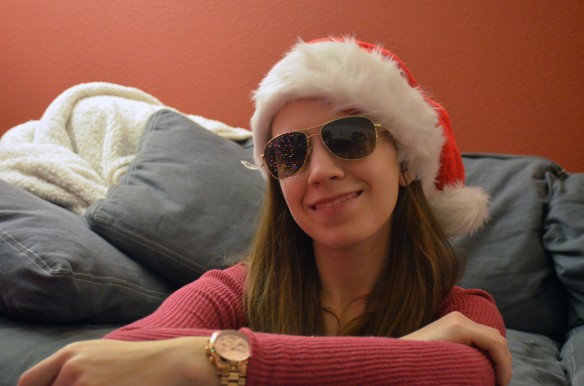 Dustin got some new grilling tools (from my parents), some old fashioned glasses (and the promise that I'd try whiskey with him sometime), a Nambé wine coaster, as well as some books (including one called Vampire Forensics)!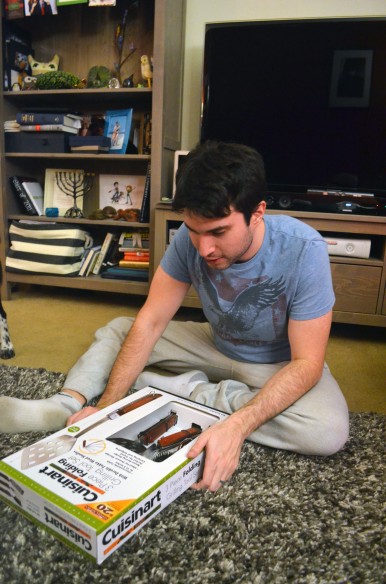 Eggnog Cheesecake
makes 1 9" cheesecake; serves 12-16
Crust
1 1/2 cups crushed gingersnap cookies
5 tablespoons melted butter
3 tablespoons granulated sugar
Preheat oven to 325°. Cover the bottom of 9" springform pan with aluminum foil.
Combine crushed gingersnap cookies, butter, and sugar together in a small bowl, making sure to throughly coat crumbs.
Press the wet crumb mixture into the bottom of the pan.
Bake for 15 minutes. Then allow to cool on wire rack.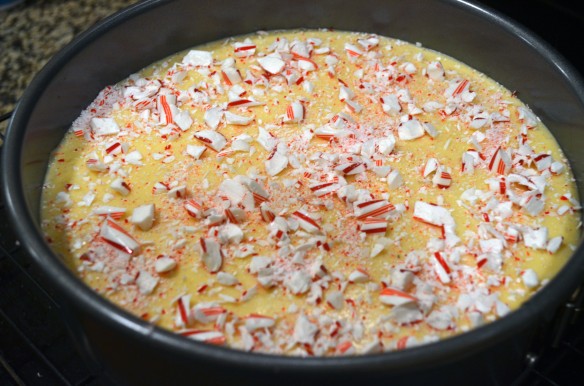 Filling
3 8-ounce blocks cream cheese, softened (I used two full fat and one reduced fat)
1 cup granulated sugar
3/4 cup eggnog (I used a lite version)
2 eggs
2 tablespoons spiced rum
1 teaspoon ground nutmeg
pinch of salt
3 candy canes, crushed
Bring the heat of the oven up to 425°.
In the bowl of a food processor, process the cream cheese until smooth. Add in the sugar, eggnog, eggs, rum, nutmeg and salt, and process for several minutes until smooth.
Pour over cooled crust.
Place the cake pan in a rimmed baking sheet and pour hot water into the pan to create a water bath of approximately 1". Bake at 425° for 15 minutes.
Reduce the oven heat to 250° and bake for 45 minutes or until the cheesecake is slightly jiggly in the center.
For garnish, add the crushed candy canes.
Allow to cool on the wire rack for at least an hour. Then use a knife to loosen the cake's edges before transferring to the fridge to set overnight.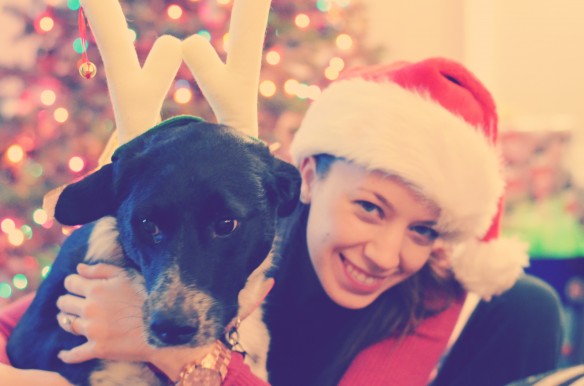 Sorry for the all of the Christmas pictures! We really like our nice camera, and we have really cute photography material!