Holiday Cake Mix Cookies
In the fall and winter, I eat oatmeal almost everyday for lunch when I am by myself. It's healthy, quick to make, and warms me up on chilly days. I can also customize it in dozens of ways, so it's never quite the same, and I get to add a little bit of sugar or stevia, so my natural sweet tooth is satiated. However, lately my favorite version of oatmeal has been cake batter oatmeal (other favorites include oatmeals made with chai tea spice and cookie butter). Basically, I'd just prepare oatmeal as I always would with a banana and some almond milk and add two tablespoons of boxed cake mix and sprinkles. While my cake batter oatmeal was still healthier than eating say, a cupcake, it still wasn't the healthiest form of oatmeal I could be eating. As a result, I decided the only way I'd be able to convince myself to stop making it was to get rid of the cake mix in the house. I decided to get rid of it by using it to make cookies, of which I could eat one or two and then happily ship the rest off to work with Dustin, as now his coworkers have expectations of me to deliver desserts on a frequent basis. These are perfect cookies to take to a holiday party if you are baking-inept because they only require one bowl, very little measuring, and they come together in about 15 minutes total. No dough chilling, rolling, or cookie cutting required!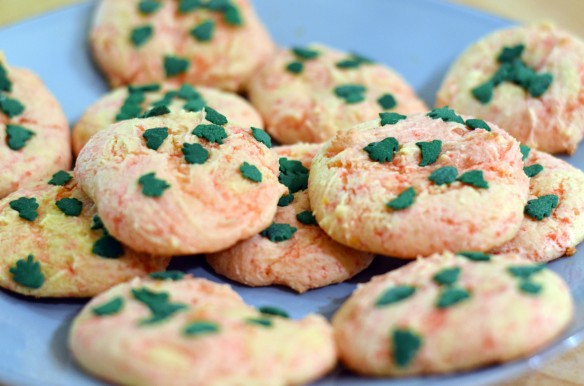 I had what I would guess to be about 2/3 of a box of standard white cake mix in the cabinet, and I used a hand mixer to combine it with 1/4 cup fat free Greek yogurt, a teaspoon of vanilla, and an egg along with some tiny red sprinkles to give the cookies themselves a festive swirl of color.
I dropped spoonfuls of dough (which will be very sticky and quite difficult to work with) on to my Silpat lined baking sheet (I really love the one I bought— it has been a great investment thus far— and was key to these cookies not sticking) and then baked them for 8 minutes at 350°. As I said before, the dough is very sticky, so you'll probably end up with a bunch of dough stuck to your hand mixer, which you will just have to lick off because it's impossible to get off any other way, unless you wash it off, but that's just wasteful of the deliciousness. You'll also probably end up with a slight stomach ache, but it's totally worth it. I ate at least a cookie or two's worth of the dough, I'm a bit ashamed to say.
I like my cookies (especially light cakey cookies like these) slightly underdone, so they almost, but not quite have a doughy center in them once cooled. But you could easily bake for an extra minute or two if you'd like them a bit firmer. I'm sad to say these cookies weren't made more from scratch because they are absolutely amazing. The texture is out-of-this-world soft. Dustin kept saying "Oh my God, I want to eat the whole plate." They taste amazing, like turning cake batter ice cream into cookie form. It's almost as if a vanilla cupcake and a sugar cookie had a delicious love child. I also decided to add my Christmas tree sprinkles to the top before baking because I only get basically one month to use them, so I'd better make the most out of any opportunity I can!
Bonnie had a little snack too.