Latkes Benedict
Being the food people we are, the best part of Hanukkah is unequivocally the latkes. Obsessed and enamored with these Jewish hashbrowns, Erin and I were compelled to make our own delicious brunch meal (actually for dinner) starring latkes and corned beef (another Jewish staple). We have to tip our hats to Stopsky's Delicatessen on Mercer Island for the idea of Latkes Benedict.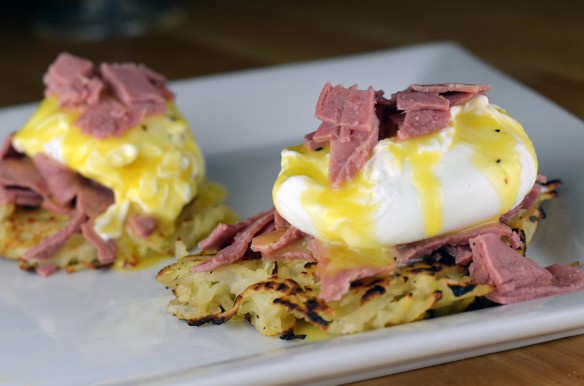 Imagine it. Crunchy, delicious, and steaming hot latkes covered in corned beef, topped with a perfectly poached egg and then smothered in hollandaise sauce. Yeah, it got our hearts pumping too! Let's start with the latkes. Smitten Kitchen has a tasty and simple recipe for latkes that beat out our recipe from last year. We used our food processor with the grater attachment (yay new tools!) to grate the potatoes and onions. This is orders of magnitude better than hand grating, so definitely scrounge through your kitchen drawers to find the darn attachment. We fried the latkes up on a really hot cast iron skillet to help create a crunchy crust, then let them stay warm in the toaster oven. At the same time, we microwaved up some corned beef, and Erin whisked up a simple hollandaise recipe.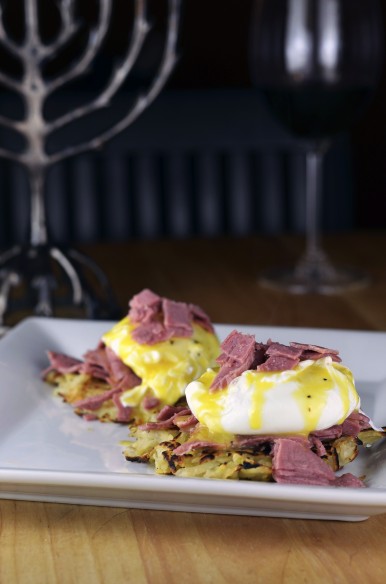 Finally, we poached up 4 eggs to top our latkes. We tried out Smitten Kitchen's take on poached eggs (there are thousands of opinions on how to do poached eggs like when the use of vinegar, when to add it, etc.) and came out with relatively correct poached eggs (i.e. there's still room for improvement). We quickly plated the latkes, then a big helping of corned beef, followed by the poached egg, a heaping spoonful of hollandaise, and more crumbles of corned beef.
It tasted just as good as it looks!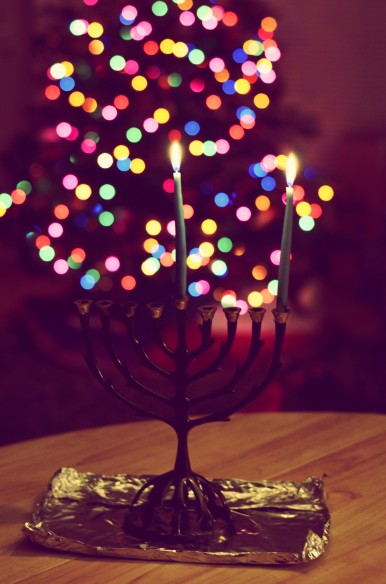 What a wonderful meal to kick of Hanukkah!