Black Bean and Sweet Potato Pizza
On way we are keeping our New Year's resolution to eat healthier is to eat more vegetarian dinners. One of our favorite ways to eat vegetarian is through interesting pizza toppings.
Black beans and sweet potatoes are hearty and delicious flavor combination that work on a variety of dishes from chili to enchiladas and even to this pizza inspired by Confections of a Foodie Bride. Add goat cheese to the mix, and I'm definitely sold.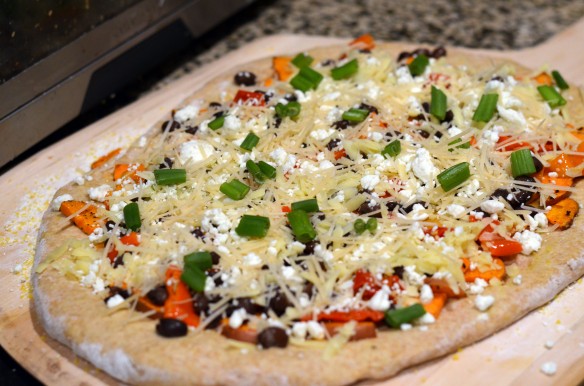 Roast a medium sized sweet potato, by first thinly slicing the sweet potato, spritzing the slices with olive oil, and sprinkle with salt and pepper. Spread on baking sheet and roast in the oven at 375º for 20-30 minutes (depending on how thinly you were able to slice your sweet potatoes).
Take your favorite dough recipe, spread it out, and rub a thin layer of olive oil over the crust. Sprinkle the oiled crust with a healthy dose of shredded mozzarella and pepper Jack cheese (about 1/2 cup of each). Add sweet potatoes, approximately 2/3 cup cooked black beans (drained and rinsed), and as many sliced peppers as desired to the top (of course we used Dustin's favorite— Mama Lil's). Finish with 2 ounces of crumbled goat cheese and a chopped scallion.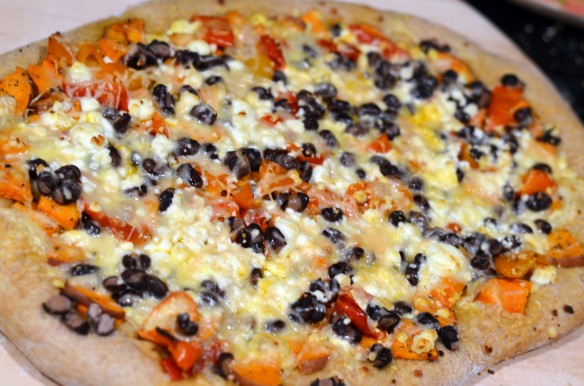 Bake in a hot oven (525º) on a preheated pizza stone for approximately 8 minutes to get an awesome crispy crust.
You really don't even miss the meat on your pizza!