Blood Orange Sorbet
Many moons ago when I first bought and flipped through Molly Moon's Homemade Ice Cream cookbook, I remember seeing a recipe for blood orange sorbet. The description of the sorbet described the flavor as "amazing" and "bright" to "have kicking around [your] mouth in cold, wet January." Well I remembered those words. Now it's mid-January and cold and wet, and I needed something bright. Seeing as we love blood oranges, this sorbet was just begging to be made.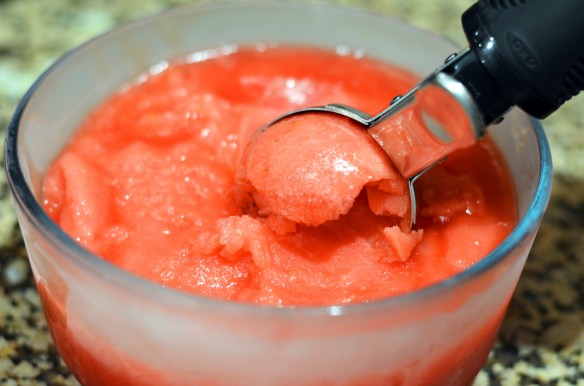 I reduced the sugar and upped the lemon juice to keep the sorbet more on the tart side. All expectations for this sorbet were met and exceeded— a great kick for winter, just as promised. I'm not one for cold snacks on cold days, but I'll make an exception for this treat!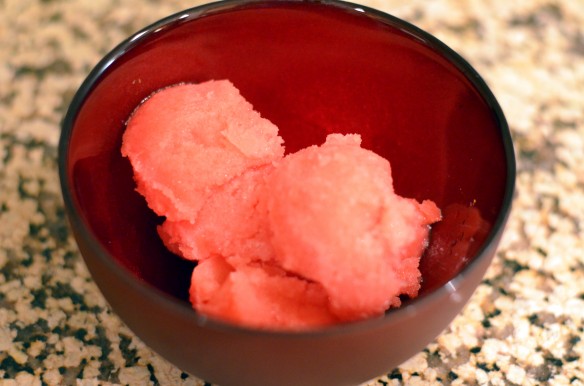 Blood Orange Sorbet
adapted from Molly Moon's Homemade Ice Cream Cookbook; yields approximately 3 cups
1/4 cup water
3/4 cup sugar
2 cups freshly squeezed blood orange juice (took 6 oranges for me)
2 tablespoons freshly squeezed lemon juice
Dissolve sugar into the water over medium-high heat in a small saucepan.
Remove from heat and stir in blood orange and lemon juices.
Transfer mixture to a bowl and allow to thoroughly cool in the fridge (at least two hours).
Pour into an ice cream maker and follow maker's instructions.
Transfer to airtight freezer container and freeze until firm (overnight is best, but at least 5-6 hours should do the trick in a pinch).