Cheesy Garlic Basil Tilapia
The words cheesy, garlic, and basil all in the title of a recipe? And it's healthy? Count me in!
I found this recipe for Cheesy Garlic Basil Tilapia while flipping through the Penzey's Spices catalogue, and decided to make this as an easy dinner one evening for company. Fortunately, I had all of the needed Penzey's Spices on hand to make this dish consisting of some of my absolute favorite (savory) flavors.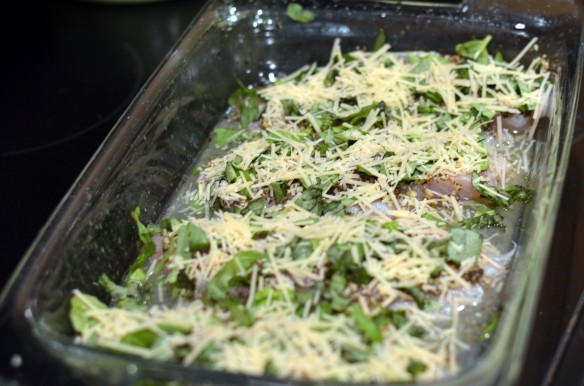 Cheesy Garlic Basil Tilapia
slightly adapted from the Penzey's Spice catalogue; serves 4
4 4-6 ounce tilapia filets
olive oil
1 tablespoon dried basil
1 teaspoon minced lemon peel
2 teaspoons minced garlic
1/4 cup white wine
1/2 cup fresh basil, chopped
4 tablespoons parmesan cheese, grated
salt
pepper
Preheat the oven to 350°.
In a small bowl, soak the dried basil, lemon peel, and minced garlic with the wine for at least 5 minutes.
Mist or rub both sides of your tilapia filets with olive oil and then place in large baking dish.
Pour the wine and spice mixture over the filets.
Add chopped basil to tops and sprinkle each filet with a tablespoon of parmesan.
Season with salt and pepper.
Bake for approximately 20 minutes until fish is flaky and serve with the rest of the white wine you didn't use in cooking!
As a side, we served Dustin's simple, yet delicious fresh pear salad with two different kinds of pears for some nice textural and flavor variety!