Chopped Stetson Salad
We really enjoyed our visit to Arizona last month. One of the highlight dishes we heard so much about before the trip was the chopped Stetson Salad from Cowboy Ciao that definitely lived up to its hyped up status. Dustin's mom secured us a copy of the recipe before we left, and we decided to go ahead and give it a try since we already had tons of the sweet dried corn from when we ground our corn powder to make crack pie.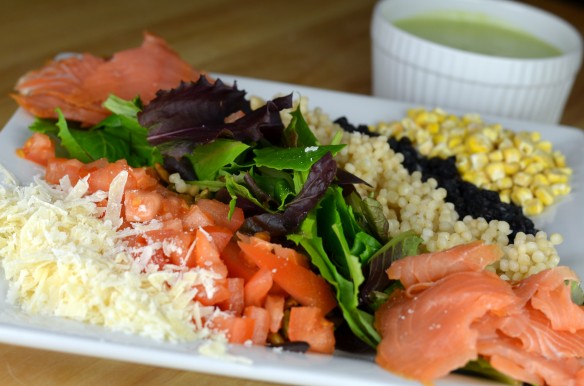 We made a few small changes to the recipe, which I'll make note of, but overall this was a great recreation of the dish, tasting very much like what we remember the restaurant version tasting. We omitted lemon juice and shallots from the dressing and changed a few ratios up in the salad. This salad requires a small amount of a large number of ingredients, so the bulk aisle at Whole Foods will become your very best friend and makes the dish quite affordable in the end. We actually made our own pesto and aioli for the dressing, but you could buy store-bought to make this meal even faster. And the salad dressing can be made earlier in the day. With these steps out of the way, all you are really looking at is a few minutes of assembly to a pretty unique dinner.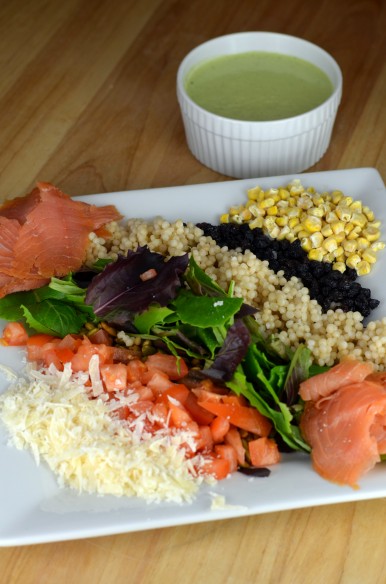 Chopped Stetson Salad
from Cowboy Ciao in Scottsdale, AZ; serves 2 as an entree
Salad
4 ounces Israeli couscous (cooked)
4 ounces arugula, chopped (we used romaine lettuce because amazingly enough the enormous Whole Foods we went to didn't have arugula)
4 ounces smoked salmon, cut into pieces
1 ounce asiago cheese, coarsely shredded
1 ounce pepitas, toasted
1 ounce black currants
1 ounce sweet dried corn
Line ingredients up on plate, then throughly toss to combine.
Pesto Buttermilk Dressing
1/2 cup pesto
1 cup aioli
3/4 cup buttermilk (add up to 1/4 cup more if dressing needs to be thinned out)
1 teaspoon lemon peel
salt and pepper to taste
Combine pesto and aioli in the food processor.
With the motor running, slowly add buttermilk.
Add lemon peel, salt and pepper.
Store in the refrigerator until ready to use. Pour over salad right before serving.