Cinnamon Raisin Bagels
Dustin and I have been creating a mutual list of cooking/baking projects we want to tackle in the near future. Most are things that we would have never thought to attempt in our home kitchen a short while ago, but we've realized if we follow instructions, take the time, and use quality ingredients, most foodie things we'd think to go to a restaurant for are actually within our reach. Most of the items on this list are related to bread, like baguettes and croissants. One of the things we crossed off this list (before it was actually officially started) was homemade bagels, and I think it is one of the items we are most proud of. Dustin mentioned wanting to do that agin, and I had been thinking of making cinnamon raisin bagels for sometime, so his words were enough to cue me into action. However, I'm pretty sure Dustin wasn't thinking about sweet bagels when he mentioned wanting homemade bagels again. As a result, I have promised we'll make some savory ones (or maybe bialys) soon.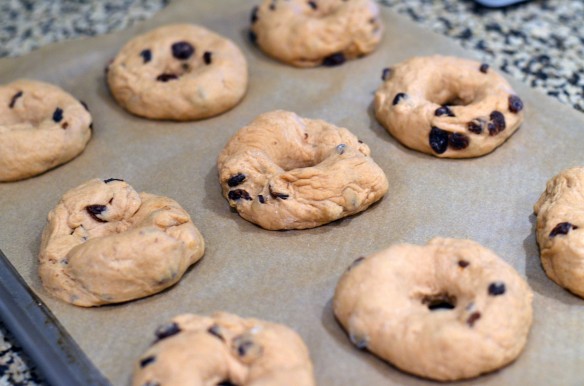 I found several recipes for cinnamon raisin bagels, and in the end I chose the easiest recipe I found. I was pleasantly surprised by the texture of these bagels. This time around I used bread flour to make for a better bagel texture. They taste very similar to what you'd get at your local bagel shop (even if they  don't look quite as perfect) and taste great with a schmear of honey cinnamon cream cheese.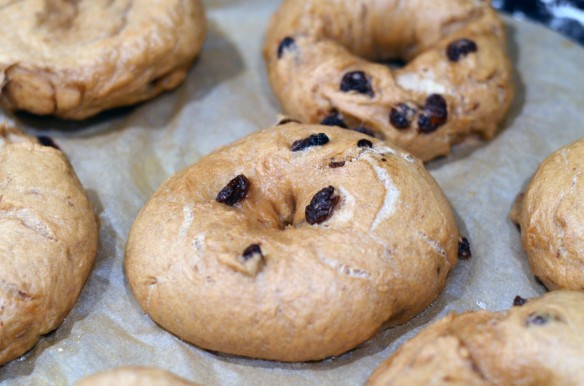 Cinnamon Raisin Bagels
yields 10 bagels
Bagels
1 cup raisins
2 cups boiling water
1 1/2 cups warm water (between 105-110°)
1/4 cup light brown sugar, packed
2 tablespoons honey
2 packets active dry yeast
1 tablespoon canola oil
1 cup whole wheat flour
2 tablespoons ground cinnamon
1 tablespoon salt
3 1/2-4 cups bread flour
For Boiling
6 quarts of water
2 tablespoons light brown sugar, packed
Soak raisins in a bowl with boiling water for 10 minutes. Drain and allow to dry completely.
Combine the warm water with brown sugar, honey, yeast, and oil in a bowl. Allow to sit for 5 minutes until slightly foamy.
Add in the whole wheat flour, cinnamon, salt and raisins until smooth.
Slowly add in the bread flour until a soft dough forms (start with about 3 cups).
Knead the dough on a floured surface for approximately 8-10 minutes, adding more flour until dough has firmed.
Cover with a clean towel, and let rest for 20 minutes.
Divide the dough into 10 equal sized pieces. Roll each piece into a ball, flatten it out slightly, poke a hole in the middle, and shape until it resembles a bagel. Place on a parchment lined baking sheet.
Cover the bagels and let rise for 30 minutes.
Bring 6 quarts of water and 2 tablespoons of brown sugar to a boil. At this point, preheat the oven to 425º.
Cook each bagel for 45-60 seconds per side. Use tongs to remove the bagels from the pot, and move them back to the baking sheet.
Bake the bagels for 15 minutes, then flip and bake for another 5 minutes.
recipe slightly adapted from Eating Well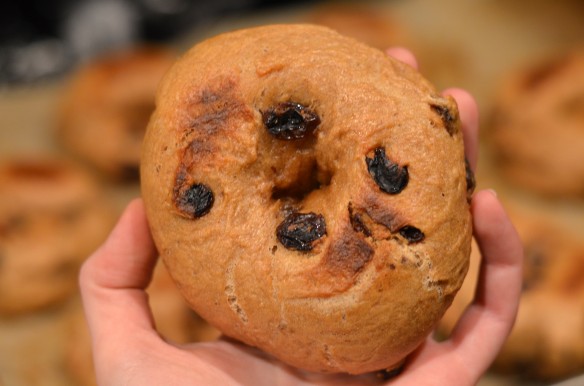 I accidentally baked my bagels slightly too long, which is why they look slightly too dark on the tops, but they still tasted great! We ate bagels for breakfast three days in a row (stored in the fridge after day 1), then froze the rest for another (lazier) week.