Coffee Cake Muffins
As many things as I have mastered over the last year and a half of perfecting my baking, one seemingly simple thing that has managed to elude me is streusel topping. I have tried multiple different recipes with different ingredient ratios and butter temperature all over the map from right-out-of-the-fridge cold to just short of melted. But no matter what I do, the streusel always ends up baked into the muffin or cake, and I ended up with splotches of brown "streusel" (as you will see in these coffee cake muffins), or it looks like practically nothing at all (as see on these kolaches) on the top instead of the beautiful crumbly sugary crunch you get atop a bakery muffin. Guess this is something I'll have to add to my list of things to work on.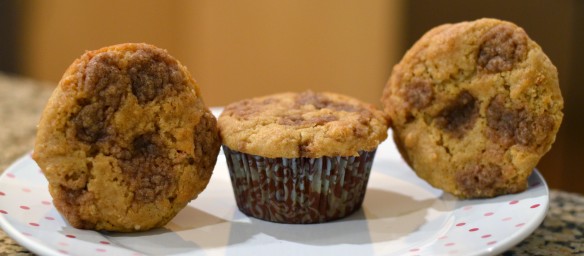 I decided coffee cake muffins were more practical for just two people.  You need a lot less batter to make muffins than you do to make a whole cake, and I figured muffins would stay fresh a little longer than a cake that had been cut into.
The inside of these muffins were soft and fluffy with a swirl of brown sugar and cinnamon throughout the center. I really liked incorporating the butter a little differently than you usually would with muffins. With a better topping, these muffins would be pretty perfect. I originally intended to include some nuts (walnuts to be exact), but somehow remembering to add them slipped my mind (I had exciting news regarding potential graduate schools earlier in the day and was feeling a little scatterbrained). I think the crunchiness of the nuts would be a welcome addition, especially if you aren't able to master a perfect streusel topping.
Coffee Cake Muffins
yields 10 muffins
3/4 cup whole wheat pastry flour
3/4 cup all purpose flour
1/2 cup granulated sugar
1 teaspoon cinnamon, divided
1/2 teaspoon baking soda
1/4 teaspoon salt
1/4 cup unsalted butter, softened and cut into small cubes
1 large egg
1/2 cup buttermilk
1 teaspoon vanilla
1/2 cup dark brown sugar
1/2 cup walnuts, chopped (optional)
Preheat the oven to 400º. Line a standard sized muffin tin with paper baking cups.
Combine flours, granulated sugar, 1/2 teaspoon cinnamon, baking soda, and salt in a large bowl.
Use your fingers to cut the butter into the dry mixture until it becomes sand-like.
In a small bowl, combine the egg, buttermilk, and vanilla.
Create a well in the middle of the sand mixture, pour in the wet ingredients and slowly incorporate the wet into the dry.
In another small bowl, combine the brown sugar and the rest of the cinnamon.
Fill each muffin cup 1/3 full with batter, top with a layer of the brown sugar/cinnamon mixture, followed by more batter until each cup is 2/3 full.
Bake for 15-18 minutes until a toothpick inserted in the middle comes out cleanly.
Top with streusel before you bake, but I'll leave you on your own for how to figure that out!