Dahlia Bakery Chocolate Truffle Cookies
My only gripe about Dahlia Bakery is that they aren't on the Eastside, so we can't stock up on their freshly baked bread, treats, and delicious breakfast sandwiches all of the time. So we'll have to settle for the next best thing—making Dahlia's treats in our own kitchen from The Dahlia Bakery Cookbook (I love the tagline— Sweetness in Seattle).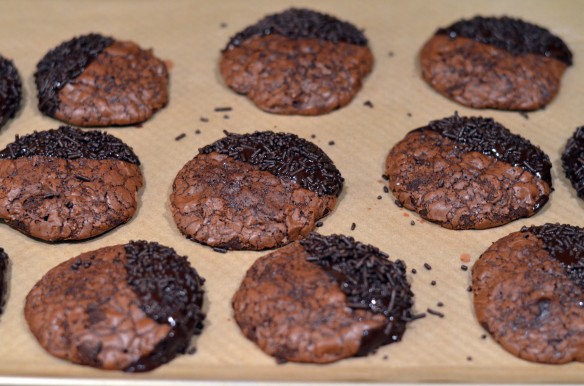 We actually stopped by Dahlia Bakery on New Year's Eve morning after picking up Bonnie from the boarding facility in Seattle she stayed at while we were in Scottsdale. We got there as soon as they opened and ordered their made-to-order doughnuts with vanilla mascarpone and seasonal jam (for me) and an English muffin breakfast sandwich with house-cured ham (for Dustin). The sandwich took a little longer than one would expect, but the service at Dahlia Bakery was outstanding. They handed me some dog treats for Bonnie, who was impatiently waiting outside, and tucked in a three pack of their enormous chocolate chip cookies for free for the long wait. Now that's customer service!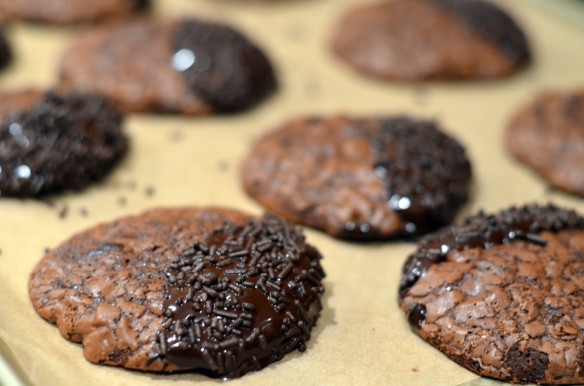 It just so turns out that we were asked to bring, not one, but two desserts to the New Year's party we were going to (my dessert reputation proceeds me), so in addition to the crack pie, I wanted to make a chocolate dessert— the chocolate truffle cookies from The Dahlia Bakery Cookbook. Needless to say we were rolling in Dahlia Bakery cookies for the next couple of days, and each and every one was consumed.
The original recipe from the book said it made 30 cookies, so I decided to half it for the small party we were going to, which seemed like a smart idea considering there would be several other desserts. I could have quartered the recipe because even after halving the recipe, I still ended up with two dozen cookies to share! We sent everyone home with leftovers. Perhaps my cookie scoop was smaller than what the recipe called for; however my cookies were approximately 3" in diameter, which is similar to what the recipe said to expect. Either way, these cookies were the perfect size for a choc-o-holic. For the average person they might have been too big!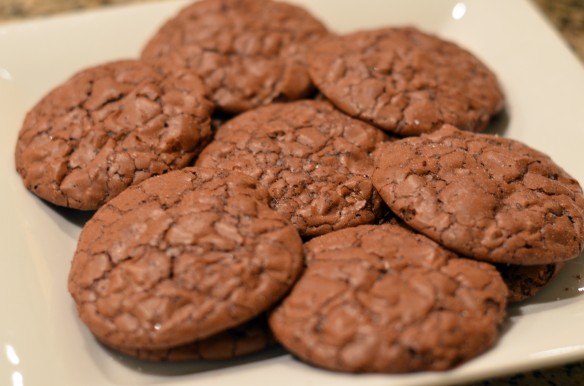 These cookies are the ultimate chocolate cookie. They are rich, decadent, and probably the most chocolately cookie I've ever consumed— bordering on brownie territory, but definitely still a cookie. They are slightly hardened around the edges, but super soft in the middle and the crust get perfectly crackly. There's relatively little flour in them, so the chocolates and cocoa powder really shine through. I took these cookies to the next chocolate level by melting dark chocolate, dipping them in it, and adding chocolate sprinkles, reminiscent of one of our favorite gourmet bakeries for cookies in Houston, Desert Gallery. I only had enough chocolate and time before the party to dip half of the cookies, and those were the ones that definitely went first!
You definitely want to use the highest quality chocolate you can since that is the starring ingredient here. I bought 70% cocoa in a block from Whole Foods. Making these cookies this good isn't cheap! That's why Dahlia Bakery can sell them for $2.50 a piece. Everyone who eats one of these cookies will comment on the amazing chocolatiness of them, and you'll be super popular!
Dahlia Bakery Chocolate Truffle Cookies with Crackly Crust
slightly modified from The Dahlia Bakery Cookbook by Tom Douglas and Shelly Lance
8 ounces high quality bittersweet chocolate (I used 70% cocoa), chopped
1/2 cup all-purpose flour
2 tablespoons high quality unsweetened cocoa powder (I used Dutch-process)
1/4 teaspoon baking powder
1/4 teaspoon salt
1/4 cup butter, room temperature
1 cup granulated sugar
3 large eggs, room temperature
1 teaspoon vanilla extract
3 cups bittersweet chocolate chunks, divided
1 2.5 ounce bottle chocolate sprinkles
coarse sea salt for sprinkling (optional)
powdered sugar for dusting (optional)
Preheat the oven to 350º.
Line two cookies sheets with silicone baking mats or parchment paper.
In a double boiler (or a heat proof bowl sitting on top a saucepan with simmering water), melt the chopped chocolate, stirring until smooth. Remove the bowl from the heat and allow to cool for 5-10 minutes.
While the chocolate is cooling, sift the flour, cocoa powder, baking powder, and salt together in a medium sized bowl.
In a large sized bowl, cream together the butter and sugar with a hand mixer on medium speed until light and fluffy.
Add in eggs one at a time, and beat well.
Add in the melted chocolate and the vanilla extract and mix until uniform.
Fold in 1 cup of chocolate chunks with a rubber spatula.
The dough will get stiffer the longer it sits out, so start using it right away and DO NOT chill it (they won't spread properly if you do). Use a small cookie scoop, to portion out the dough into 24 equal sized balls.
Optional: sprinkle the top of each ball with coarse sea salt (sea salt + dark chocolate = amazing) or roll in powdered sugar, especially if you do not plan on dunking them in additional chocolate (so you can really see the crackling of the crust).
Lightly press down on the dough balls as you place them on the baking sheet.
Bake for approximately 15 minutes until the tops are set, but not hard.
Allow cookies to cool on the cookie sheet for at least 5 minutes, or they will break as you try to remove them. They do stick slightly (even to a Silpat), but use a spatula and be gentle, and you should be fine.
Once the cookies have completely cooled, use your double boiler (or heatproof bowl and pan) to melt the remaining 2 cups of chocolate chunks. Dip each cookie into the melted chocolate and coat with sprinkles.
Place cookies on parchment paper and in the fridge for at least 30 minutes to set the chocolate. Return the cookies to room temperature before serving.